Level 39, Europe's largest accelerator space for financial technology companies, has opened in Canary Wharf with the aim of shaking up the financial, retail and smart city industries. Alistair Charlton sat down with the man behind Level 39, Eric van der Kleij, to find out more.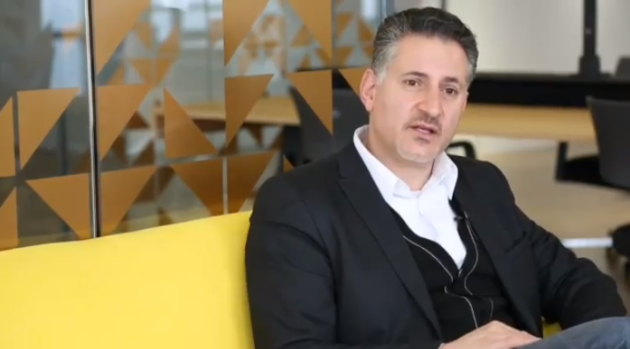 "We really should be leading the world in financial technology - this is London's birthright."
Strong words from Eric van der Kleij, the former CEO of Tech City who is now leading the Level 39 start-up accelerator space in Canary Wharf, with a goal of disrupting financial, retail and smart city technology.
But his confidence shouldn't be passed off as the over-exuberance of someone hooked on the buzzword world of entrepreneurs and start-ups. Level 39 is Europe's largest accelerator space for financial technology companies, offering 29,000 square feet of workspace for budding entrepreneurs to establish companies - and with their customers are right on their doorstop.
With 360-degree views of London from the 39th floor of Canary Wharf's tallest building and an interior designed by Google and Facebook architect Gensler, Level 39 hopes to give financial technology companies the environment they need to grow into successful companies.
Buzzwords - What is Level 39?
But first, those buzzwords; what is a fintech company and what does Level 39 do to help them grow?
"A fintech company is either a technology business which has a solution that helps solve a problem for a bank, or a technology company which has a solution or innovation in a thing like payments or vouchering.
"We fit them into two camps. One is enterprise fintech, which is solutions such as intelligence or solutions which help solve transparency questions and challenges the banks have. And the other side is retail, which is something a consumer might use, such as apps and personal management planners, that kind of thing."
To break down van der Kleij's well-rehearsed description, a fintech company could be a service like PayPal, or an application that lets you pay a friend by tapping iPhones together.
Once a financial technology company has been created and has between two and 10 staff they can apply for work space at Level 39, which provides offices, mentoring from people with industry experience, and close proximity to the world's largest banks, who are fintech customers and surround Level 39.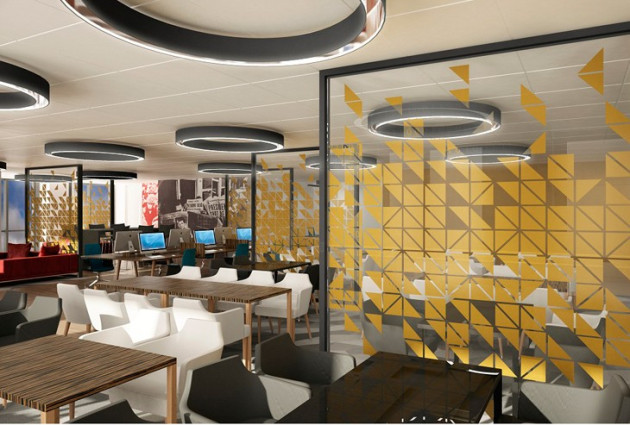 Sitting on a bright yellow sofa, van der Kleij goes on: "The idea behind Level 39 is to make it very accessible as a soft landing for young companies to come to Canary Wharf, this is something that hasn't really been done before.
"The level of enquiries we've had is kind of overwhelming, and that really is good because it confirms our original theory that London's birthright really should be fintech, we should be leading the world. Because the financial services sector is so strong in London and in the UK we really should be leading the world in fintech."
As heavy snowfall (in April, naturally) obscures an otherwise impressive view of Stratford's Olympic Park, van der Kleij tells me how London has always had huge potential to conquer the fintech market, and Level 39 now provides that catalyst to get a whole host of new companies up and running.
iPad-controlled coffee machine
Stroll past the yellow sofa, through a canteen area with equally bright furniture, bowls of colour-coded sweets and an iPad-controlled coffee machine, and you reach the west-facing wall and a view of the City, close to where London's first major technology accelerator, Tech City, is based.
Is Level 39 in competition with Tech City, or do the two technology hubs work together?
"We consider ourselves very much part of Tech City and so yes you might even get a fintech company start-up happen in Shoreditch, but when they want to grow up this is a very good place for them to do so."
And growing up, physically but perhaps mentally too - despite its Facebook-inspired design, Level 39 is more suit jackets than skinny jeans - is what this place is all about.
"We can offer a proposition to, say, a two-person business to come here, and they could grow to a 20-person business within the estate, maybe a 200-person business, then they might ask us to build them a headquarters of 2,000 or 5,000 people."
With the 20-acre Wood Wharf site coming to Canary Wharf's doorstep in the future, along with Crossrail and its four-floor station/shopping centre, expansion to a 5,000-person headquarters is genuinely something Level 39 can offer its tenants.
Growth is hugely encouraged by Level 39, but so is experimentation and this is mirrored in its interior design.
"The holes in the ceiling are interesting, because what [start-ups] tend to do is say 'let's poke a few holes in the ceiling to have a look at what's under the hood.' So when you arrive at Level 39 it tells you that this is a place that you can experiment."
A living laboratory
Beyond providing space and mentoring for what could be the next PayPal, van der Kleij, Level 39 and Canary Wharf have a much larger plan to turn itself into the blueprint of what a cutting edge 'smart city' should be.
With three bustling shopping centres and 105,000 office workers visiting daily, Canary Wharf is the ideal controlled environment to experiment with new retail technologies. This includes smart new ways to pay, but also ways to manage shops from storeroom to checkout, all in an area that can be monitored and adjusted in a controlled way, as the infrastructure is all managed centrally by Canary Wharf Group.
"So what we've decided to do," van der Kleij explained, "is transform our retail shopping malls into a living laboratory for next-generation retail technology companies to come and get their first pilot with us, experiment with us, and learn what they need to learn to become very successful companies."
Created the smart city blueprint
Over the coming decade the 20-acre Wood Wharf estate will offer more office and retail space, but because it is being developed while Level 39 helps fintech and retail tech companies grow, the new technologies they create will be implemented as Wood Wharf is constructed, creating the ultimate smart city.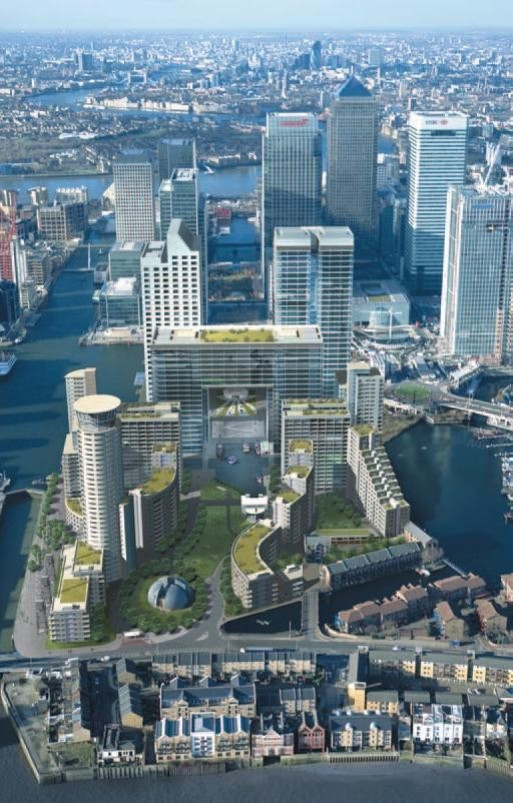 It will be a world away from the tight and twisting streets of central London, where roadworks are common place and improving infrastructure is difficult, and with Crossrail it'll be less than 40 minutes from Heathrow airport.
To promote the expected growth of 100 smart city technologies to be used in Wood Wharf, Level 39 plans to host competitions between start-ups to find the best ways of creating the most efficient, modern and flexible metropolis.
Where Tech City perhaps lacks a sense of direction, with hundreds of companies all fighting for attention in a bid to be different, Level 39 gives all of its start-ups a common goal, and one which can be reached by working with the banks and building development it is surrounded by.