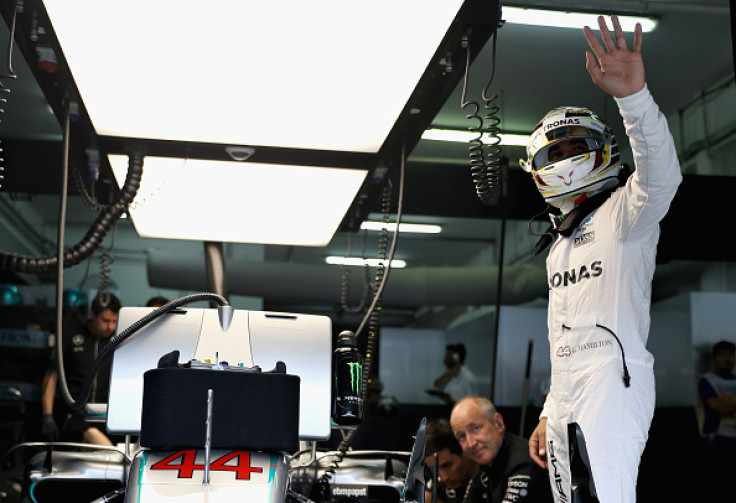 Lewis Hamilton will start on pole position for Sunday's (2 October) Malaysian Grand Prix. The Mercedes driver now has a great chance to close the gap on his teammate, Nico Rosberg, who finished in second spot and is currently eight points ahead in the race for the Championship.
This is a must win race for Hamilton, who saw his lead evaporate after the break, with Rosberg winning three races on the bounce. Meanwhile, Mercedes can seal the constructors Championship with a win this weekend, their third in succession. The Briton finished qualifying at the fastest time of 1'32.850, narrowly beating Rosberg, who came in a close second at 1'33.264.
The Red Bull duo of Max Verstappen and Daniel Ricciardo finished third and fourth respectively, followed by their counterparts in Ferrari, Sebastian Vettel and Kimi Raikkonen, in P5 and P6. The top ten was completed by the duo from Force India, Sergio Perez in P7 and Nico Hulkenberg in P8. Mclaren had a sole entrant in the form of Jenson Button at P9, with Williams' Felipe Massa coming in at P10.
"It's been a difficult few weeks with Nico's wins but today the car felt fantastic. I really enjoyed the lap - but could have been faster," Hamilton spoke to the BBC after the race. "The [newly resurfaced] track is generally better, a lot smoother and works better with the tyres. It will be a difficult race because they were looking strong on the long runs, but I think we will be pretty strong too."
Rosberg, despite being disappointed at losing out on pole, was upbeat about his chances, "Lewis' lap was very quick so it was always going to be difficult. I would have come close but I had a mistake in the last corner. Something just wasn't going right there. But anyway, second place - I've got to live with that now, and as we know from this year second does not mean victory is not possible."