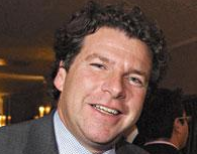 A former football league club deputy-chairman faces jail for conning millions from investors in a Ponzi scheme.
Nicholas Levene, 48, promised high returns, but it was all a mirage.
He used money from investors to pay fellow members of the scheme. It netted him more than £32m from 2005.
Levene, nicknamed Beano after the children's comic, used to be deputy chairman of east London club Leyton Orient, currently in League One.
Victims in the Ponzi scheme thought they were trading shares in global brands like HSBC and Rio Tinto.
His first victim was Tadco Limited, which parted with £571,261 Levene had pledged to invest in Imperial Energy.
Two years later he conned Yigal Ahouvi out of £14.9m - paying the money straight into a Monaco bank account.
Among his victims were brother and sister Brian and Ann Gloag, the co founders of Stagecoach group, who lost £10m.
At Southwark Crown Court Levene pleade guilty to 12 counts of fraud, one count of obtaining money by deception and one count of false accounting. Judge Martin Beddore warned Levene to expect a "substantial sentence of imprisonment."
He was granted bail until sentencing on October 22.