LG's new Hecto TV laser projector is being shown off at CES 2013, with a confirmed price tag of $9,999.99 (£6,200).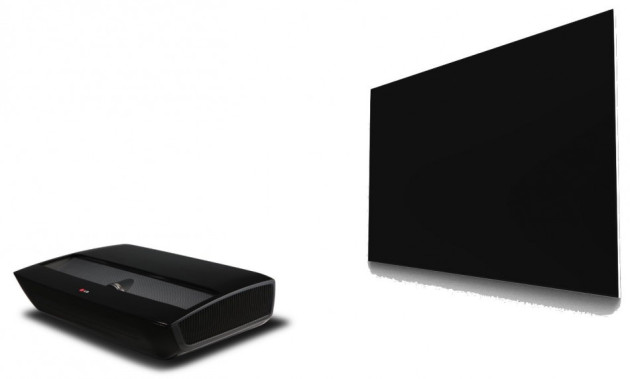 Follow all the latest news live from Las Vegas right here on our CES 2013: Live Blog
A large two foot by one black box, the Hecto is meant to sit 22 inches away from your wall and projects a 1080p image up to 100in in size.
However, journalists at CES have not been allowed to use the device, since LG is keeping it behind a barrier at its booth, and initial reports claim there are some issues with the colours produced, because of how close the projector is to the screen.
Aaron Souppouris of The Verg explained, however, that the negative effects would likely not be as visible if users were seeing the image from a further distance, such as the distance between a sofa and television screen in a conventional living room; he also said that the image's brightness and contrast were impressive.
"LG's 100-inch class Laser TV takes projection technology and makes it perfectly suitable for both the boardroom and the living room," said Havis Kwon , President and CEO of the LG Electronics Home Entertainment Company. "In the coming year, LG will continue to introduce innovative TV products to provide an outstanding productivity and entertainment experience for our customers."
The light element on the Hecto will not have to be changed until after 25,000 hours - or just under three years of contant us - LG has said, and that a replaced element will be roughly 50 percent less effective than a brand new one. For the $9,999 price tag, you will also get a 100in passive screen to project onto and an LG Magic Remote to control the projector's Smart TV features. That means the Hecto can also be used to access the web and stream on-demand video content from the likes of Netflix.
It also has three HDMI ports for hooking up games consoles and a Blu-ray player, a digital TV tuner and optical audio out, to save you using the projector's internal 10W speakers.
The LG Hecto also boasts an impressive one million to one contrast ratio. Unfortunately, no UK release date has been confirmed for the Hecto yet, but it will launch in North America in March.