On 3 May, while Samsung launched its new flagship smartphone Galaxy S3, LG Electronics also announced its Optimus LTE2 which will pack a 2GB of onboard RAM. The device will feature True HD IPS display and run on the latest Android 4.0 Ice Cream Sandwich operating system. It is expected to have 720p resolution. The device could have an edge over other competitive smartphones like Samsung Galaxy S3 and HTC One X because of its onboard memory.
The device will have a massive 2150mAh standard battery with 40 per cent longer life when compared to other LG smartphones, Optimus LTE. It will be powered by Qualcomm Snapdragon S4 dual-core processor.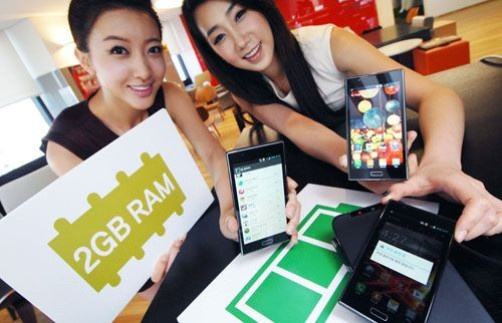 The name of the device itself says that the device will enable 4G LTE network. In today's tech world, the advanced wireless network is the most buzzing technology in high-end smartphones.
Interestingly, LG Optimus LTE2 will feature enhanced voice recognition functionality. It will include face unlock feature which has been one of the interesting capabilities in smartphones. It will also offer support to wireless charging through a separate dock.
The price and the release date of the smartphone has not been revealed by the company. The device could cost lesser than the Galaxy S3 which might be the strategy of LG to compete with Samsung smartphone. If the device is based on Android 4.0 ICS, it will feature easy multi-tasking, rich notifications, resizable widgets, face unlock actions and new home screen folder.
With the advanced features, the company might be trying hard to rival the new Galaxy S3. The Samsung's smartphone flaunts a Super AMOLED capacitive touchscreen with a resolution of 1280 x 720 pixels. It is powered by a 1.4GHz Cortex-A9 quad-core CPU and Exynos 4212 quad chipset. It contains an optional wireless charging kit which allows the user to charge the device even when it is in his/her pocket. It includes internal storage options of 16/32/64GB and 1GB RAM. The Galaxy S3 packs Li-Ion 2100mAh standard battery.