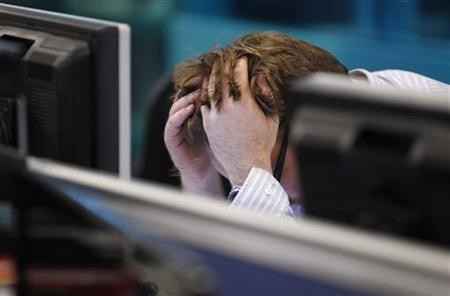 Deutsche Bank, Barclays, JPMorgan Chase, RBS, HSBC, UBS and Citigroup are the seven banks that have received subpoenas, which are related to the joint New York-Connecticut investigation of possible manipulation of the London Interbank Offered Rate (Libor), according to an unnamed source cited by Reuters.
According to person who was not authorized to speak publicly about the matter but was cited in the Reuters report, JPMorgan, Deutsche Bank and Barclays are the latest additions to the growing list of banks subpoenaed by New York Attorney General Eric Schneiderman and Connecticut Attorney General George Jepsen.
Four of the banks and the offices of Schneiderman and Jepsen have not yet returned calls for comment from IBTimes UK.
HSBC said: "Various regulators and competition and enforcement authorities around the world including in the UK, the US, Canada, the EU, Switzerland and Asia, are conducting investigations related to certain past submissions made by panel banks in connection with the setting of Libor, European interbank offered rates (Euribor) and other interest rates. As certain HSBC entities are members of such panels, HSBC and/or its subsidiaries have been the subject of regulatory demands for information and are cooperating with those investigations."
"In addition, HSBC and other panel banks have been named as defendants in private lawsuits filed in the US with respect to the setting of LIBOR and EURIBOR, including putative class action lawsuits which have been consolidated before the US District Court for the Southern District of New York. The complaints in those actions assert claims against HSBC and other panel banks under various US laws including US antitrust laws, the US Commodities Exchange Act, and state law. Based on the facts currently known, it is not practicable at this time for HSBC to predict the resolution of these regulatory investigations or private lawsuits, including the timing and potential impact on HSBC," it added.
Citi declined to comment other reiterating a statement it made in its results report: "
"Interbank Offered Rates-Related Litigation and Other Matters In connection with the investigations and inquiries regarding submissions made by panel banks to bodies that publish various interbank offered rates, certain Citigroup subsidiaries have received additional requests for information and documents from various U.S. and non-U.S.governmental agencies, including the offices of the New York and Connecticut Attorneys General."
UBS declined to comment.
Barclays was the first bank to settle with the US Department of Justice (DoJ), the US Commodity Futures Trading Commission (CFTC) and the UK's Financial Services Authority (FSA) for a record £290m ($450m) for the manipulating Libor between 2005 and 2009 by reporting false submissions.
Despite the record fine, the bank is still under investigation across different jurisdictions as well as from additional US regulators.
Other banks, such as HSBC revealed that it is under investigation by at least six jurisdictions for potential manipulation of interbank lending other interest rate markets as CEO Stuart Gulliver admits Europe's biggest bank has "lost its way" and warned that legal penalties could be significantly higher than the $700m it has earmarked to settle rate-rigging and money-laundering charges.
Regulators from Tokyo to Toronto have revealed that they are investigating a significant number of banks that help set the benchmark interbank rates, which means there could be up to 43 banks under investigation in Europe alone.
Individuals Under Investigation
Over the last few weeks, a number of traders at different banks have either left or been suspended after being under investigation for the possible manipulation or collusion to rig Libor.
This month, UBS confirmed that its head of swap trading, Jay V. Merchant, has left the bank, amid reports that he is under investigation for the possible manipulation of Libor.
A UBS spokesperson would not comment to the IBTimes UK as to whether Merchant, who reportedly worked for Barclays in New York from 2006 to 2009, exited the bank on Libor investigation related matters.
According to a number of media reports citing industry records, "Merchant began working for Barclays in 1998 and remained with the British bank until the end of 2009, after which he went to head a swaps trading desk for UBS in Stamford, Connecticut."
"Records maintained by UK securities regulators also show that Merchant was registered as working in Britain from 2001 through parts of 2007," said Reuters.
Merchant's exit follows a long line of named and unnamed individuals that are departing or being suspended from their posts at various banks, in the wake of the Libor rigging scandal.
Earlier this month, the Bank of Tokyo-Mitsubishi UFJ (BTMU) suspended a third London-based banker, allegedly in connection to investigations related to alleged manipulation of Libor.
A spokesperson for BTMU confirmed to IBTimes UK: "One London-based banker has been suspended" but declined to confirm whether it was in connection to the ongoing Libor probe.
According to media reports and an IBTimes UK source, the banker was suspended in relation to Libor and was in charge of submitting Libor rates. The banker was believed to be facing questions by the UK's Financial Services Authority (FSA), another unnamed source told Reuters.
While many reports declined to name individuals and banks, Barclays, Deutsche Bank, HSBC, Societe Generale and Credit Agricole have suspended or fired traders.
At RBS, senior staff conspired to fix the key interest rate between at least 2007 to 2011, said a former head trader in a court filing.
In papers filed in New York and with the Singapore High Court, Tan Chi Min, the former head of delta trading for RBS's global banking and markets division in Singapore, alleged that managers condoned staff setting the Libor rate artificially high or low to maximise profits.
Tan was sacked for gross misconduct in November 2011. He claimed he was made a scapegoat for malpractice condoned by managers.
He is issuing for wrongful dismissal and has named five staff members he alleges made requests for Libor to be altered. Three senior managers knew the situation while the practice "was known to other members of [RBS]'s senior management", he said.
According to media reports, traders at five banks are under investigation for interest-rate manipulation as part of a global probe of Europe's central banks. Regulators have accelerated efforts to address the way the Libor is calculated and investigate most banks, not just Barclays.
Philippe Moryoussef has left his derivatives trading post in Singapore with Nomura as he is also under investigation for the time he period he spent working for Barclays from 2005-07.
A spokesperson at Nomura told IBTimes UK: "Nomura is aware of the investigation into the setting of Euribor and Libor. The allegations against Mr Moryoussef are related to a period of time before he joined Nomura. We would point out that Nomura is not a member of either the Euribor panel or the Libor panel, and therefore has no role in the setting of those rates."
Citing unnamed sources and with no confirmation or comment from the people or the banks, reports said that regulators were also investigating the possible roles of Michael Zrihen at Credit Agricole, Didier Sander at HSBC and Christian Bittar at Deutsche Bank.
SG has confirmed that it has been contacted as part of a broad probe into the alleged manipulation of interbank lending rates but there has so far been no allegation of wrongdoing against the French bank.