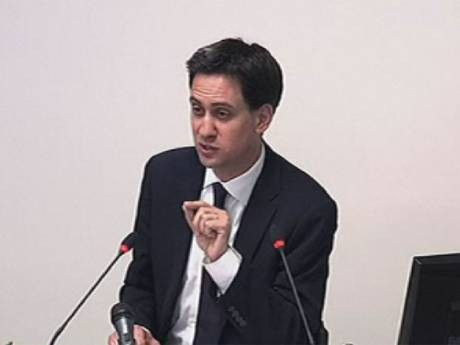 Labour leader Ed Miliband has sought a full public inquiry into the banking culture including the introduction of a stricter code of conduct and jail sentences for the "corrupt elite" of British banks.
Miliband made the comments in an interview to the Times published on Saturday in the light of the Libor rate fixing scandal that rocked major British banks over the week.
Miliband accused the banks of "institutional corruption" and sought a 12-month full public inquiry into the rate rigging scandal and into the happenings of the "dark corners of the banks".
"What has happened at Barclays is the unacceptable face of capitalism," The Times quoted Miliband as saying.
"There hasn't been a proper reckoning for what happened in the banking crisis. The bankers told us - it's all fine, we've cleaned everything up. But I'm afraid that doesn't hold water anymore," he said during the interview.
The Labour leader proposed a new code of conduct for bankers, a new professional standards board to look into their answers as well as quicker and easier prosecution for wrongdoers.
"We've got to have an open, independent inquiry with hearings to find out what is going on in the dark corners of the banks. Some of it clearly was illegal, but it goes well beyond that. There is a problem with how people operate. This isn't just about regulation, it's also about culture and ethics," he added.
The Bank of England's Mervyn King echoed almost a similar line when he opined on Friday that there should be a change in the work culture of bankers.
"From excessive levels of compensation, to shoddy treatment of customers, to a deceitful manipulation of one of the most important interest rates and now news of yet another mis-selling scandal we can see we need a real change in the culture of the industry," King said.
Barclays was fined £290m by the UK and US regulators for manipulating the interbank interest rates. The taxpayer-owned Royal Bank of Scotland (RBS) also reportedly admitted to rate- rigging which the bank said was not serious as in the case of Barclays.
HSBC and Lloyds were also involved in rate-rigging, according to disclosures by the Financial Services Authority (FSA).
While Barclays Chief Bob Diamond refused to step down from the helm of the bank, RBS boss Stephen Hester waived his 2012 bonus.