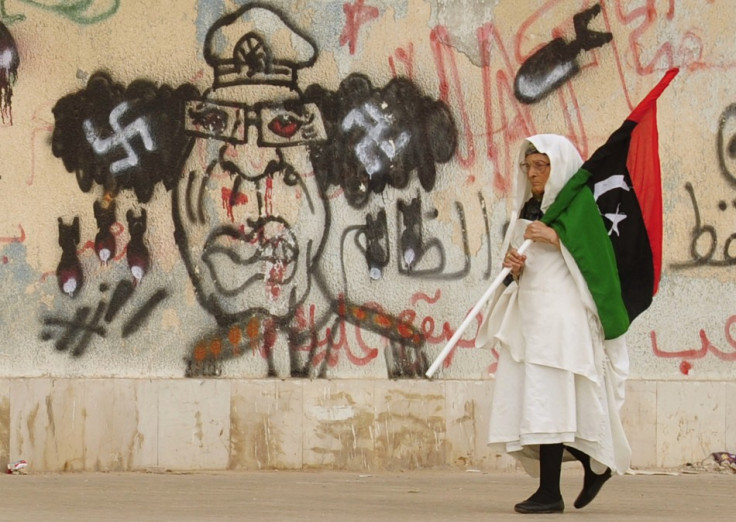 An investigation by Amnesty International has failed to find evidence for these human rights violations and in many cases has discredited or cast doubt on them. It also found indications that on several occasions the rebels in Benghazi appeared to have knowingly made false claims or manufactured evidence.
The findings by the investigators appear to be at odds with the views of the prosecutor of the International Criminal Court (ICC), Luis Moreno-Ocampo, who two weeks ago told a press conference that "we have information that there was a policy to rape in Libya those who were against the government. Apparently he [Colonel Gaddafi] used it to punish people."
Following the ICC findings, US Secretary of State Hillary Clinton last week said she was "deeply concerned" that Gaddafi's troops were participating in widespread rape in Libya. "Rape, physical intimidation, sexual harassment, and even so-called 'virginity tests' have taken place in countries throughout the region," she said.
Nato and the coalition forces leaders have widely used the allegations of rape to justify their campaign in Libya, and gain the support of NGOs and activists, however, Donatella Rovera, senior crisis response adviser for Amnesty, who was in Libya for three months after the start of the uprising, says that "we have not found any evidence or a single victim of rape or a doctor who knew about somebody being raped".
She stresses this does not prove that mass rape did not occur but there is no evidence to show that it did. Liesel Gerntholtz, head of women's rights at Human Rights Watch, which also investigated the charge of mass rape, said: "We have not been able to find evidence."
In one instance two captured pro-Gaddafi soldiers presented to the international media by the rebels claimed their officers, and later themselves, had raped a family with four daughters.
However, Ms Rovera says that when she and a colleague, both fluent in Arabic, interviewed the two detainees, one 17 years old and one 21, alone and in separate rooms, they changed their stories and gave differing accounts of what had happened. "They both said they had not participated in the rape and just heard about it," she said. "They told different stories about whether or not the girls' hands were tied, whether their parents were present and about how they were dressed."
Originally the strongest evidence for mass rape appeared to come from a Libyan psychologist, Dr Seham Sergewa, who claimed she distributed 70,000 questionnaires in rebel-controlled areas and along the Tunisian border, of which over 60,000 were returned. According to Dr Sergewa, the results showed that 259 women said they had been raped, and the doctor insisted she had interviewed 140 victims.
Intriguingly, when asked by Diana Eltahawy, Amnesty International's specialist on Libya, if it would be possible to meet any of these women, Dr Sergewa replied that "she had lost contact with them" and was unable to provide documentary evidence.
The accusation that Viagra had been distributed to Gaddafi's troops to encourage them to rape women in rebel areas first surfaced in March after Nato had destroyed tanks advancing on Benghazi.
According to Ms Rovera it is on this occasion that the rebels dealing with the foreign media in Benghazi started showing journalists packets of Viagra, claiming they came from burned-out tanks, though it is unclear why the packets were not charred.
Also, more evidence of rape came when Eman al-Obeidy burst into a hotel in Tripoli on 26 March to tell journalists she had been gang-raped before being dragged away by the Libyan security services.
The genuineness of some of the rebels claims' were further put into question after despite them repeatedly insisting that mercenary troops from Central and West Africa have been used against them, an Amnesty investigation found there was no evidence for this. "Those shown to journalists as foreign mercenaries were later quietly released," says Ms Rovera. "Most were sub-Saharan migrants working in Libya without documents."
Amnesty even goes further by revealing that other migrants were lynched or executed. Ms Rovera found two bodies of migrants in the Benghazi morgue and others were dumped on the outskirts of the city. She says: "The politicians kept talking about mercenaries, who inflamed public opinion and the myth has continued because they were released without publicity."
Also, Amnesty's findings confirm a recent report by the authoritative International Crisis Group, which found that while the Gaddafi regime had a history of brutally repressing opponents, there was no question of "genocide".
The report adds that "much Western media coverage has from the outset presented a very one-sided view of the logic of events, portraying the protest movement as entirely peaceful and repeatedly suggesting that the regime's security forces were unaccountably massacring unarmed demonstrators who presented no security challenge".
While international human rights organisations are now denouncing the one-sided view exposed by Nato and the Western media, it will be interesting to see how the ICC will respond to Amnesty's findings. Throughout the months, the rebel's claims have proven to be far less reliable than first expected and they have been accused of violating basic human rights and persecuting migrant workers from Sub-Saharan Africa. So are the allegations that Gaddafi used mass rape as a weapon true or are they a fabrication aimed at discrediting the regime even further? After four months of fighting, only one thing is sure: neither the rebels nor Gaddafi are as innocent as they pretend to be.