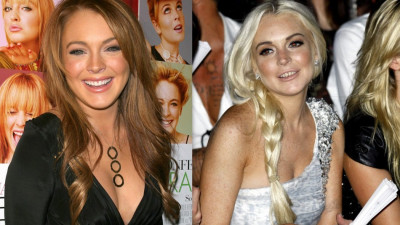 The once gorgeous Lindsay Lohan is being lashed out by media incessantly these days. First it was her decaying teeth, now it's about her alleged posing nude for Playboy.
Initially, after a successful stint in movies, she drifted towards substance abuse, messed up her career and became known for her troubled personal life. Lohan shot to fame after starring in the Disney remake of 'The Parent Trap' in a dual role where she played twin sisters, Hallie and Annie.
Her last big film was "Herbie: Fully Loaded" in 2006, which flopped. Now, according to sources, Lohan has posed nude for Playboy magazine.
The unnamed source told Access that Lohan had disrobed for the spread shot on Oct. 24 and 25 in LA.
Lohan's rep Steve Honig said: "I can neither confirm nor deny at this time."
"We don't comment on rumors about who may or may not be posing for the magazine...if anything changes, I'll be sure to let you know," a rep for Playboy said.
Not so long ago, it was Lohan's ground-breaking fashion choices and good looks that caught everyone's attention. Now, however, any attention that comes her way seems to be bad news. As of now, Lohan is busy completing 460 hours of community service as part of her probation requirements, as a consequence of the theft of a $2,500 necklace from an L.A. boutique.
"I am not to be made an example of anymore. If I travel, it's for work and it's been approved. As is anything I do when I leave the state. I'd appreciate it if people will just let me do what is asked of me, so that I can get my life back," said Lohan in a statement given as response to criticisms against her.
Talking to the Daily Beast, Lohan broke down and confessed: "It is clear to me that my life has become completely unmanageable because I am addicted to alcohol and drugs."
Start the slide-show to look at the transition of Lohan, from an outstandingly pretty actress to Playboy centrefold.