Lionel Messi denies Barcelona are over-reliant on him
Messi, 29, scored twice to help Barcelona beat Celtic 2-0 in midweek.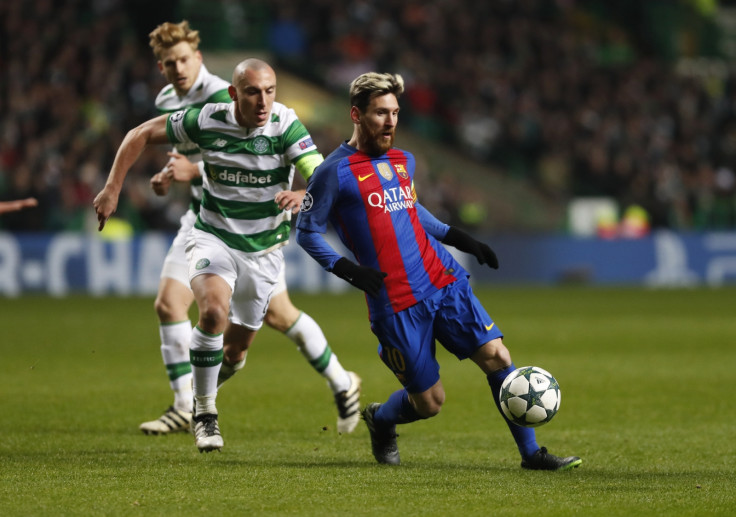 Lionel Messi has refuted suggestions that Barcelona are overly dependent on him to bail them out of tough situations.
Messi, 29, scored twice to help Barcelona beat Celtic 2-0 in midweek and secure top spot in Champions League Group C. He had missed the Catalan club's 0-0 draw with Malaga on 19 November due to illness.
After the Parkhead clash, Celtic boss Brendan Rodgers suggested that the result would have been different if Messi had swapped teams.
"It shows the difference he makes – you look at the game at the weekend [against Malaga]. Messi is arguably the greatest player ever, so when he plays in your team, he makes everyone else better," the former Liverpool manager was quoted as saying by Goal.
"He's a phenomenal player, an incredible player, and he always is hungry to score. His first goal was that run that he makes, and a wonderful finish. Our players will learn you can't give a player of that quality that space."
But Messi said he was playing in the "best team in the world" and denied that Barcelona were dependent on only one player.
"I don't consider talk of Barca being Messi-dependent to be praise or a concern because it's not the case," he was reported as saying by ESPN.
"I'm in the best team in the world, [Barcelona] don't depend on one player."
Messi has scored eight goals in nine La Liga appearances for Barcelona this season and is expected to start against Real Sociedad on 27 November. The Catalan giants have not won on their last seven visits to Anoeta.
"Anoeta is a complicated stadium where we haven't won in years," Messi added.
"Real Sociedad always make things tough for us there and it's going to be a hard game."
Barcelona are second in the La Liga table, four points behind leaders Real Madrid.
© Copyright IBTimes 2023. All rights reserved.