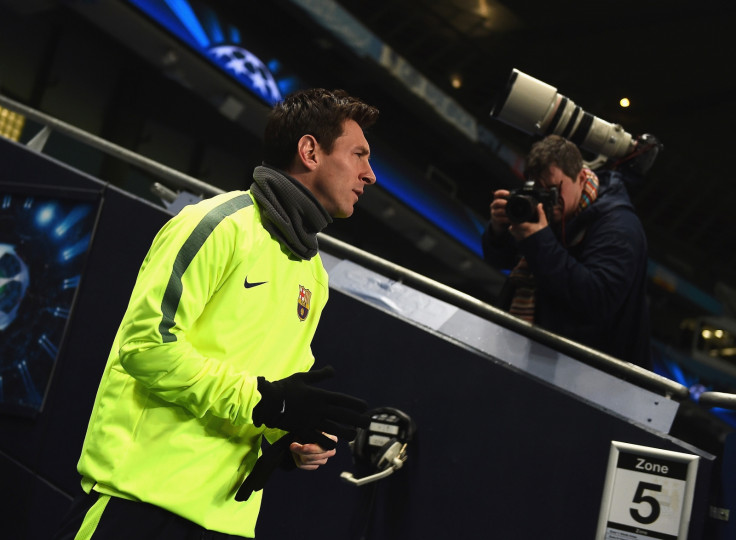 Manchester City midfielder Frank Lampard has expressed his firm belief that Lionel Messi is the greatest player in the world prior to Barcelona's visit to the Etihad Stadium on 24 February.
Messi, 27, has long been considered one of football's most formidable talents but has seen his status as the world's best come under serious threat in recent years due to the sublime form of a certain Cristiano Ronaldo.
With Real Madrid's talisman having pipped four-time winner Messi to the prestigious Fifa Ballon d'Or award in each of the last two seasons, there are those who believe that Ronaldo has now surpassed his great rival in terms of sheer consistency and influence.
Lampard is in no doubt as to the diminutive forward's enduring greatness, however, and is obviously anticipating an extremely tough test as Manchester City aim to progress through to the Champions League quarter-finals for the very first time.
"I think they were at their absolute best when Messi, David Villa, Iniesta and Xavi were absolutely flying," he was quoted as saying by The Mirror.
"It is a slightly new team as a bit of a transition has happened, but I think in recent games they have been getting up to those sort of levels again. We are going to be facing a really strong team with individuals including, for me, the greatest player in the world in Lionel Messi."
Barcelona suffer a surprise La Liga defeat
Luis Enrique's side, who recorded a comfortable 4-1 aggregate victory over City at this stage of last season's competition, suffered a disappointing 1-0 defeat at home to Malaga at the weekend yet had been on a run of 11 consecutive wins prior to that.
Messi, of course, was particularly crucial during such an impressive run that included three victories over reigning Spanish champions Atletico Madrid and extended his 2014-15 La Liga record to 26 goals and 13 assists from just 24 appearances. Ronaldo, by contrast, has notched 29 times and registered 10 assists in 21 domestic league matches.
Barcelona's visit to Manchester City is also significant as it represents Luis Suarez's first return to English football since he completed a £75m ($116m) transfer from Liverpool in July 2014 in the midst of another shameful biting row.
Uruguayan international Suarez, who was simply brilliant during his final campaign at Anfield and very nearly fired the club to their first Premier League title in 25 years but for a late collapse, has not been nearly as prolific during his early months at the Nou Camp but seems to be successfully transitioning to a more unselfish role alongside the sublime Messi and Neymar as part of arguably the most formidable attacking line-up in the game today.
But while Suarez will be hoping to impress on his return to England, one player who will not be afforded the same opportunity is experienced defender Thomas Vermaelen. The Belgian, who joined Barcelona from Arsenal in the summer of 2014 after falling out of favour despite his status as captain under Arsene Wenger, has continued to suffer from torrid injury problems and has yet to make a single first-team appearance so far this season.