11 am: Champions League draw.
Malaga v Borussia Dortmund/ Real Madrid v Galatasaray/ Paris Saint Germain v Barcelona/ Bayern Munich v Juventus
No British team in draw for first time since 1995/1996 season.
Europa League draw follows.
Chelsea v Rubin Kazan/ Tottenham Hotspur v FC Basel/ Fenerbache v Lazio/ Benfica v Newcastle United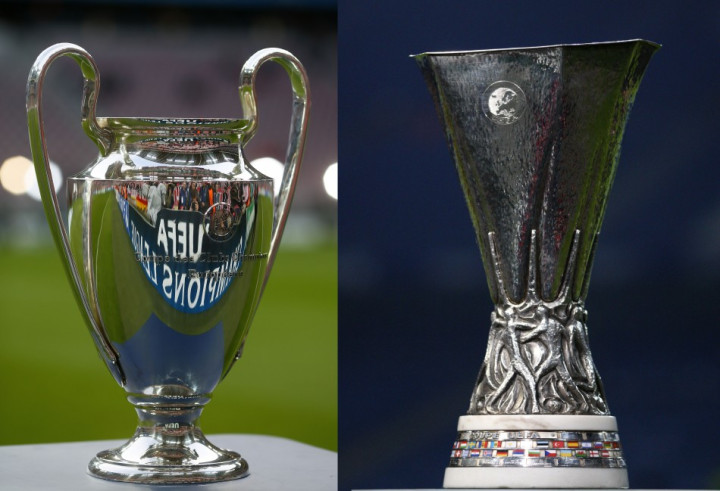 12:00: That just about brings and end to proceedings for both draws, and they have produced some mamouth ties, and as far as the English sides are concerned, look very favourable.
11:56: The three English sides have avoided each other in the last eight, and all will feel confident about reach the semi-final. Chelsea take on Russian side Rubin Kazan and Tottenham face FC Basel, both of whom will play the first leg of their ties at home, while Newcastle take on the much fancied Benfica, who were knocked out of the Champions League. The other tie see Fenerbache play Lazio. The ties will be played on the 4 and 11 April.
Benfica v Newcastle United
Fenerbache v Lazio
Tottenham Hotspur v FC Basel
Chelsea v Rubin Kazan
11:47: Europa League final ambassador Patrick Kluivert has joined the stage. A former Newcastle United forward of course; the Magpies will be hoping he can hand them a plum draw in the quarter final. Note: Unlike McManaman, he's actually from the city of whcih he is representing.
11:45: Lets remind ourselves of the eight teams in the quarter final draw:
Benfica
FC Basel
Chelsea
Fenerbache
Lazio
Newcastle United
Rubin Kazan
Tottenham Hotspur
11:42: Infantino is back. Europa League last 16 was 'extraordinarily competitive' he says. I think he means interesting.
11:41: A look at the bookies' odds for the Europa League outright and you'll see Chelsea leading the way, following by Tottenham Hotspur. Newcastle United are sixth favourites, ahead of Fenerbache and FC Basel.
11:37: Bayern Munich coach Jupp Heynckes: "I know Juventus very well. I have seen them a lot over the last two years"
11:35: We are ten minutes away from the big draw so in the mean time, read about how Rafa Benitez's Chelsea showed shades of the side under Jose Mourinho against Steaua.
11:33: Tottenham needed extra time and an away goal from Emmanuel Adebayor to knock-out Inter Milan, Newcastle United struck beyond added time through Papiss Cisse to bypass Anzhi, while Chelsea produced a sterling comeback to defeat Steaua Bucharest.
11:30: If the Champions League draw is anything to go by, which it shouldn't be, we're in for a cracker of a Europa League last eight draw in Nyon, which is moments away. English interest comes in the form of Chelsea, Newcastle United and Tottenham Hotspur who all suffered problems of some variety or another in reach the quarter final.
11:27: As for former players against former teams, they come no bigger than Zlatan Ibrahimovic, who will miss the first leg, going back to the Nou Camp to face Barcelona. If memory serves, he didn't leave in fabulous circumstances so his reception will be interesting.
11:24: Worth noting the Spanish and German sides have all been kept apart with no two teams from the same country playing each other. Lots of little lines from every tie, the first one off the top of my head; Didier Drogba taking on Jose Mourinho.
11:22: Few could have manipulated that draw any better. The four most fancied sides have all avoided each other and we have some cracking ties to look forward to. Malaga, who won't compete in Europe next season, will face double Bundesliga champions Borussia Dortmund in the first tie. Real Madrid take on Galatasaray, a repeat of the last time the Turkish side reach the last eight in 2001. PSG and David Beckham, meet Barcelona while in the tie of the round sees Bayern Munich, last season's beaten finalists, play Serie A champions Juventus. Ties will be played on 2-3 and 9-10 April.
Bayern Munich v Juventus
Paris Saint Germain v Barcelona
Real Madrid v Galatasaray
Malaga v Borussia Dortmund
11:13: Uefa's in-house scientist has taken to the stage now. He's explaining all the technicaility. He points to the ball, which presummably he ate his breakfast out of this morning. Not that he's fat; far from it, he just looks like he likes breakfast. We're ready to go!
11:12: McManaman addressing the question over English clubs' success in the competition. 'They have to improve' McManaman says. Epic stuff this.
11:11: The Champions League final ambassidor Steve McManaman has taken to the stage now. The final is being held in London, he hails from Liverpool. At least he's won the competition, but not with an English club. Wonder who turned the role down?
11:09: We saw a brief shot of David Beckham amid the highlights there. The only remaining Englishman in the last eight. No English team in the quarter final since 1996 of course after both Manchester United and Arsenal crashed out to Real Madrid and Bayern Munich.
11:06: As you can expect, Infantino is dragging it out like an old mule. Of course Wembley Stadium wil be hosting the final in The Football Association's 150th anniversary year. We're now being treated to a complication video of those eight teams who will be drawn in the coming minutes.
11:03: Here comes Infantino. He tells us there were 44 goals in the last 16 phase. He appears very excited by the proposition of teams from the same 'member association' (country to you and me) potetially drawing each other.
11:02: A quick look at the betting ahead of the draw tells us that after defeating AC Milan in the last 16 in exhilarating fashion, Barcelona are odds on to claim their fifth Champions League. Rivals Real Madrid and last season's runners-up Bayern Munich follow with Malaga the 66/1 outsiders.
11:00: Those of you expecting the semi-final draw for both competitions will be disappointed with the news that they will be delayed until the 12 April to add a little bit anticipation to proceedings. We're moments away from Mr Infantino leading us through the draw.
10:53: If you, like me, like your men slender, bald and with an impossibly difficult accent to comprehend, then Uefa general secretary Gianni Infantino, our master of ceremonies for today's draws, is your sort of guy. Infantino has conducted more draws than I've had hot dinners.
10:50: Ahead of the Champions League draw in around 15-20 minutes time, it's worth reviewing the names in the plastic bowl for the draw:
Barcelona
Bayern Munich
Borussia Dortmund
Galatasaray

Juventus
Malaga
Paris Saint Germain
Real Madrid
10:43: But if your patriotism is such that the Champions League is merely dead to you, we of course have the Europa League draw to follow as British football looks to cling to positives of its' competitiveness on the continent. European champions Chelsea are of course the big draw, but Newcastle United and Tottenham Hotspur, with Gareth Bale in toe, shouldn't be discounted. Italian giants Lazio, and 32-time Portuguese champions Benfica are the main threats, but I can't think a trip to Rubin Kazan or Fenerbahce would exactly attract.
10:40: No English teams in the Champions League last eight there may be, but there is undoubtedly plenty of interest ahead of the quarter final draw in Nyon. Attention will of course be on the La Liga pair of Real Madrid and Barcelona, while German duo Bayern Munich and Borussia Dortmund are among the dark horses for the title. Unbeaten Italian's Juventus, financially crippled Malaga, free-spending Paris Saint Germain and Turkish side Galatasaray make up the remainder of the line-up.