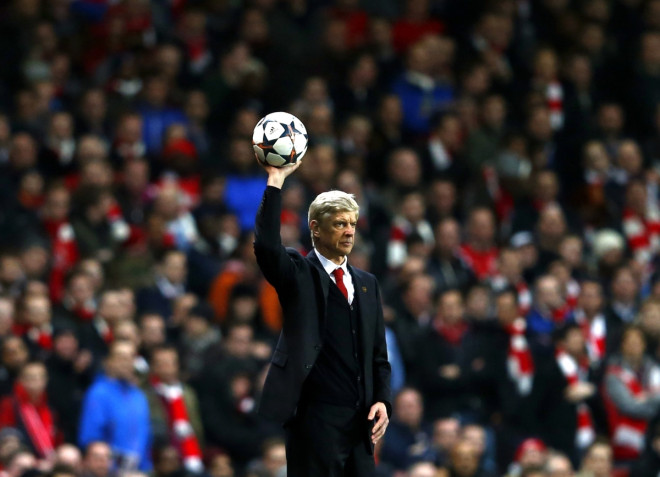 9:49: That's all from us this evening, join us again on Wednesday evening for coverage of Manchester City's trip to Barcelona and Paris Saint Germain's clash with Bayer Leverkusen.
9:41: That's that then. Much better from Arsenal in the second half but Bayern's telling advantage from the first leg was too much for them to surmount in Munich. Pep Guardiola's side endured one of their more lethargic evenings and a draw on the night would represent a fair result, all things considered.
Meanwhile Atletico have cruised into the last eight for the first time in 17 years thanks to a 5-1 aggregate win over Milan. A brief fight back from the Rossoneri in the form of a Kaka goal provided short-lived optimism but it was swiftly stamped out by a powerful Atletico who no one will fancy in the quarter finals.
FULL TIME
Bayern Munich 1-1 Arsenal (3-1 on aggregate)
(Schweinsteiger, 54, Podolski, 56)
Atletico Madrid 4-1 AC Milanm (5-1 on aggregate)
(Costa, 3, 85, Turan, 40, Garcia, 70)
9:35: Bayern catch Bayern on the break and Robben draws a foul out of a tired Koscielny. Muller steps up to take the resulting penalty to seal it but Fabianski somehow blocks it diving in the other direction! The ball agonisingly spins on the line but doesn't cross it and Muller fouls the Arsenal goalkeeper trying to prod it over the line.
Saved by Fabianski!
PENALTY - Bayern Munich
9:34: Four minutes of time added on.
9:32: Cazorla does well to switch the ball to find the fresh Gnabry on the right. The young winger cuts inside to shoot with his favoured left but he can't keep it down.
9:30: Atletico are running away with this in Madrid as Costa picks up a pass from Sosa and drills an effort across goal into the bottom of the corner. 5-1 on aggregate.
Goal! Atletico Madrid 4-1 Milan (Diego Costa, 85)
9:27: Oxlade-Chamberlain is off for Mathieu Flamini while Thomas Muller replaces Ribery.
9:24: Arsenal nearly fashion another break as Rosicky picks out Podolski on the left who has Cazorla for support. The German digs out a handy cross sent to the near post where Giroud has appeared, but Neuer does excellently again to pluck the ball out of the air.
9:22: Javi Martinez booked for cynically clattering Podolski on the half way line. Arsenal, particularly Oxlade-Chamberlain, are knackered here, but aren't wilting when they catch Bayern on the counter.
9:19: Serge Gnabry are on Mikel Arteta. Hugely ambitious move from Wenger to bring on the young winger with Alex Oxlade-Chamberlain now the only central midfielder on the pitch for the Gunners.
9:17: Robben again looks to dance his way in from the right, shifting the ball onto his left before hitting a low effort on goal, but it doesn't have the direction to trouble Fabianski.
9:15: Atletico extend their lead! The imposing presence of Raul; Garcia is well positioned to power in yet another header, meeting Koke's cross and leaving Abiatti with no chanace.
Goal! Atletico Madrid 3-1 Milan (Raul Garcia, 70)
9:13: Bayern so close to finding a second! The Bavarians are guilty of being over-elaborate as two great opportunities to shoot are passed up before the ball is eventually clipped over to Manduzkic, whose tame effort is saved by Fabianksi who then beats him to the loose ball.
9:11: The Bayern goalkeeper sort of atones for his moment of madness as he confidently collects the resulting corner.
9:10: A horrible clearance from Neuer finds Giroud 30 yards from goal who immediately looks up and tries to side the ball into Rosicky but Javi Martinez is quickly across to intercept and save his goalkeeper's backside.
9:09: Excellent defending from Koscielny with Robben hurdling towards him. The Arsenal defender pushes him slightly wide at the byline before winning a perfect tackle, and wins the goal kick for his trouble.
9:05: It has settled back down after that crazy five minutes with Bayern regaining some sort of control of the contest, but not without the intensity they had in the first half. Schweinsteiger suddenly has space in front of him and is invited to shoot but he balloons his effort over the bar.
9:02: And Bayern are rocking slightly here! Arsenal are rampantly attempting to win possession forcing one or two errors for the first time all evening. The ball falls to Oxlade-Chamberlain on the edge of the box and he hits a firm effort on goal, but Neuer is firmly behind it. Kroos on for Bayern.
9:00: Arsenal pull one back! But how it counted I'm not quite sure. Podolski chases a hopeful long ball down the left channel with Lahm ahead of him already clearing things up. The Arsenal man keeps his run going and sticks an arm out to bundle his compatriot over. There's no flag or whistle however and Podolski picks up possession before smashing a vicious effort past Neuer from an extremely tight angle. Game on!
Goal! Bayern Munich 1-1 Arsenal (Lukas Podolski, 56)
8:58: Bayern lead 3-0 on aggregate! Ribery battles his way in from the right and slides the ball into Schweinsteiger, who lifts the ball over Fabianski.
Goal! Bayern Munich 1-0 Arsenal (Bastien Schweinsteiger, 54)
8:56: Atletico hit the post! Diego Costa tees up Gabi who clips a precise effort on goal but its kept out by the woodwork.
8:55: Robben cuts in from the left but goes down after a challenge in the box, appealing for a penalty. The referee isn't interested.
8:52: Mikel Arteta needs to be more careful in this half. The Spaniard has just been penalised for a late challenge on Schweinsteiger after being booked in the first half.
8:51: The party line from Arsenal is that Mezut Ozil was withdrawn due to a tight hamstring.
8:50: And we are back underway at the Vicente Calderon too as Atletico look to see out a win that will them progress to the last 16 of the tournament for the first time in 17 years.
8:46: And Bayern get us back underway for the second half.
8:44: Another bad day at the office for Mesut Ozil, then. He has been replaced by Thomas Rosicky for the second half.
HALF TIME - Atletico Madrid 2-1 Milan (agg, 3-1)
HALF TIME - Bayern Munich 0-0 Arsenal (agg, 2-0)
8:31: Alaba again finds space down the left and swings in a cross that Vermaelen can't clear. Gotze is on the loose ball and hits a first time effort from 15 yards but Fabianksi is down quickly to make a smart save.
8:29: And Atletico nearly finish Milan off! A brilliantly acrobatic overhead kick from Raul Garcia just about evades the top corner of the net. Milan hanging on for dear life.
8:27: Minutes after that big miss from Kaka Atletico take the lead! The a ball falls to Turan on the edge of the area and the Turkish midfielder goes for the first time volley. He manages it, but it needs a huge deflection off Adil Rami on its way to bypass Abbaiti.
Goal! Atletico Madrid 2-1 Milan (Arda Turan, 40)
8:25: Milan with a great chance to take the lead! Taarabt's cross finds Kaka unmarked but the Brazilian cannot find the right connection and heads well over. Huge opportunity for Seedorf's side.
Kaka won all five of his Madrid derbies against Atletico while playing for Real, and he is also the highest scoring Brazilian in the Champions League. Tonight's header was his 30th CL strike.
8:24: Bayern are straight back at it as Robben swings an excellent deep ball into the box where Mandzukic does his best to hang in the air and steer a header in, but he gets too much on it and the ball bounces over Fabianski's net.
8:22: Brilliant defending from Koscielny! Robben probes down the right before slipping the ball into Gotze at the byline. The German returns the ball to Robeen who, from a tight angle, fires on go, but Koscielny is well placed to block and clear the danger.
8:20: Alaba drifts inside from the left and drifts past his man with an elegant first touch. He drives towards goal and hits a shot with his unfavoured right foot that is driven the wrong side of Fabianski's pass. The full back perhaps could have slotted Mario Gotze through there...
8:19: Close from Arsenal! Cazorla's free kick is whipped in and Olivier Giroud is just out of reach as Manuel Neuer confidently collects.
8:17: Another promising burst from Chamberlain as he dances past three Bayern defenders before he is caught just on the edge of the D. Santi Cazorla hits the free kick that takes a wicked deflection off the wall and goes the wrong side of the post.
8:15: A life line for Milan! The Rossoneri are level on the night as Kaka stoops at the back post to nod in Poli's cross.
Goal! Atletico 1-1 Milan (Kaka)
8:13: It was Thomas Vermaelen who conceded the free kick by the way, but Lukas Podolski is shown a yellow for hoofing the ball away in frustration. Arteta shortly joins him for a crunching challenge on Ribery.
8:11: Arsenal give away a free kick out on Bayern's right flank and Thiago swings in an excellent cross that Javi Martinez meets with a sweet first time volley. However the offside flag is up and replays suggest it was the correct decision as Arsenal's line moved up in unison to leave the would-be Bayern goal scorer in an offside position.
GOAL DISALLOWED - Bayern Munich
8:09: Ozil will have to wake up a bit defensively to counter Bayern's threat down the left. On three occasions so far this evening Alaba has ghosted in with Sagna simply unable to deal with him with Ribery usually in close proximity.
8:08: Ribery again finds Alaba down that left channel but the fullback's cross is stabbed out by Sagna.
8:06: Excellent move down the left as Ribery and Alaba bewilder down the left. The Frenchman swings a cross over the back post and Robben takes on an incredibly difficult shot on the bounce. It's hit into the ground and momentarily threatens to loop over Fabianski but it sails over the bar in the end.
8:05: Mario Balotelli stands over a free kick from a frankly ridiculous range with one thing on it's mind. It's not hitting Diego Costa square in the groin, but that's where it ends up.
8:03: Podolski breaks down the left and appears to outfox Martinez who hits the deck after the Arsenal man's arm accidently brushed him. The Gunners are awarded the corner however, which Neuer collects with ease.
8:02: Bayern's ferocious pressing game has stifled Arsenal's infrequent periods of possession here. Thiago in particular is looking menacing when he picks up the ball in the middle.
8:00: Credit to David Alaba there who, after pouncing on a hacked clearance from Koscielny, broke into the box and could have gone down after Sagna clumsily threw a leg out. The Austrian remained on his feet though but couldn't pick a man out in the middle.
7:58: Meanwhile Atletico have started brilliantly in Madrid and could be a two up. An excellent short free kick from Koke finds Godin on the stretch but his effort rolls wide of Abbiati's post. Atletico smell blood here.
7:57: Bayern predictably dominating possession in the early stages but that run from Oxlade-Chamberlain will give the Gunners' hope of fashioning something on the break.
7:54: Dante picks up a yellow card for crashing into Oxlade-Chamberlain. Koscienly clears a Bayern corner and Cazorla looks down the right channel where his teammate has found space but he is crudely chopped down by the Bayern defender. Arsenal fail to work anything from the resulting free kick.
7:52: Dream start for Atletico! The man who have them the win in Milan is at it again. Michael Essien gives the ball away rather cheaply allowing Koke to embark on goal. He sends an inviting ball over the back post where the newly crowned Spanish international meets it on the volley.
Goal! Atletico Madrid 1-0 Milan (Diego Costa)
7:50: Schweinsteiger lets fly with a viciously powerful effort from 25 yards out but it's straight at Fabianski. Bayern soon have the ball back however and resume probing at the Gunners.
7:47: Bayern neatly pass the ball around the park before Koscielny crashes through the back of Mandzukic 35 yards from goal. The free kick is swung in by Robben but the Frenchman clears.
7:45: And we are off and underway at the Allianz Arena and the Vicente Calderon.
7:41: Arsene Wenger speaking to ITV ahead of kick off:
We have seen in the first part of the tie that we can create dangerous situations and that's what we have to do.
Both teams have chosen a very offensive formula so I think it will be a cracking game or nothing at all, so let's hope it a cracking game. Let's hope we can do something special. The only way you can do it is to have total belief and really go for it."
7:38: 'Mission Impossible' has been one of the more popular buzz phrases over the past few days regarding Arsenal's hopes this evening and Bayern are doing their part to get in on the act.
Bayern playing 'Mission: Impossible' theme tune while introducing the home team players at Allianz Arena. Trying to tell Arsenal something?

— Sam Wallace (@SamWallaceIndy) March 11, 2014
7:36: Arsenal have named just players on the bench this evening. Ryo Miyaichi travelled with the squad but is ineligible for tonight's game having been removed from the UEFA list in December. Did that slip the mind of those in the Arsenal camp, perhaps?
7:29: 15 minutes away from kick off now; big news this evening is that Toni Kroos has been left on the bench for Bayern Munich, joined by another goal scorer from two weeks ago in Thomas Muller. Here are those line ups.
Arsenal: Fabianski; Sagna, Mertesacker, Koscielny, Vermaelen; Arteta, Oxlade-Chamberlain; Cazorla, Ozil, Podolski; Giroud
Bayern: Neuer; Dante, Thiago, Ribery, Martínez, Mandzukic, Robben, Gotze, Lahm, Alaba, Schweinsteiger
7:20: Milan will have to repeat that trick too, in order to keep their faint hopes of silverware alive this season.
7:18: In a measure of how big an achievement it would be for Arsenal to get the right result this evening, they would be just the third side to do overturn a first leg home defeat in the Champions League era. Ajax pulled it off against Panathinaikos in the 1995/96 campaign while Inter repeated that feat in the 2010/11 season after dismissing Bayern of all teams.
7:11: We are coming up to half an hour from kick off and here's what Diego Simeone and Clarence Seedorf have had to say ahead of tonight's match at the Vicente Calderon.
"The result of the away leg means Milan need to look for a goal. Intensity in midfield will be the key. If we are not well-protected in midfield, we will have an open match and it will be better for them. [Simeone, via BBC Sport.]
They are a very attacking team and we must take care with their quick players. If we can't control this, we will suffer.
We have to score goals. We saw in the first leg what our possibilities were. The difference in the score is minimal and the tie is still very much open. [Seedorf, via BBC Sport]
7:06: While Atletico Madrid have been in the ascendency this season, Milan have headed down the other, less fancied route. But all is fair game in the Champions and Michael Essien, Nigel de Jong and Adel Taarabt feature in Milan's starting XI with Mario Balotelli spearheading their efforts to overturn their first leg defeat in Madrid.
7:00: Yep, you've counted right, Arsene Wenger has named just six substitutes on his bench. 18-year-old Isaac Hayden takes one of those spots.
6:55: With both Kieran Gibbs and Nacho Monreal unavailable, Thomas Vermaelen slots in at left back in a very attacking starting line-up. Giroud returns up front to replace Yaya Sanogo, spearheading an attack comprised of Cazorla, Ozil and Podolski with Oxlade-Chamberlain partnering Mikel Arteta in midfield. Fabianksi replaces the suspended Szczesny.
TEAM NEWS
Arsenal: Fabianski; Sagna, Mertesacker, Koscielny, Vermaelen; Arteta, Oxlade-Chamberlain; Cazorla, Ozil, Podolski; Giroud.
Subs: Viviano, Jenkinson, Rosicky Flamini Gnabry Hayden
Bayern: Neuer; Dante, Thiago, Ribery, Martínez, Mandzukic, Robben, Gotze, Lahm, Alaba, Schweinsteiger
Subs: Starke, Van Buyten, Rafinha, Boateng, Muller, Kroos, Pizarro. #afc
Atletico Madrid: Courtois, Juanfran, Miranda, Godin, Filipe Luis, Turan, Gabi, Mario Suarez, Koke, Raul Garcia, Diego Costa
Subs: Aranzubia, Villa, Rodriguez, Alderweireld, Insua, Sosa, Diego.
AC Milan: Abbiati, Abate, Rami, Bonera, Emanuelson, Essien, Poli, De Jong, Kaka, Taarabt, Balotelli
Subs: Amelia, De Sciglio, Muntari, Mexes, Robinho, Pazzini, Zaccardo.
6:51: In a week where his future at Bayern has come under more uncertainty than ever, Toni Kroos has been left out of the starting line up by Pep Guardiola. The 24-year-old was mesmeric against the Gunners a fortnight ago but will start this game on the bench.
Bayern starting XI: Neuer; Dante, Thiago, Ribery, Martínez, Mandzukic, Robben, Gotze, Lahm, Alaba, Schweinsteiger
BREAKING - Toni Kroos left out of Bayern Munich's starting XI while Bastian Schweinsteiger and Franck Ribery return.
6:49: If Arsenal are to progress tonight, they are going to have to break some fairly formidable records that Bayern have effortlessly stacked up over the past year. The Bavarian giants have lost just twice in 54 games since the Gunners' win in Munich 12 months ago and have kept 22 clean sheets in all competitions this season.
More you say? Their 6-1 thrashing of Wolfsburg at the weekend was their 16th consecutive league win of the season in an unbeaten run that stretches back 49 games. And their frightening efficiency in front of goal has yielded an astonishing 51 goals in 16 home games this season. Good luck, Arsene.
6:47: Pep Guardiola's side hold a 2-0 advantage heading into tonight's contest but Arsene Wenger is confident his side can claw their way back into this and progress to the next round. They will need to score twice tonight to stand any chance of doing that, something they achieved on their last visit to the Allianz Arena at this stage of the competition last year.
6:45: Good evening and welcome to IB Times UK's LIVE coverage of Tuesday's Champions League action. For the right to progress to the quarter finals of the competition Bayern Munich host Arsenal in their second leg encounter while Atletico Madrid take on AC Milan at the Vicente Calderon. We will have all your updates from both games throughout the evening and team news as soon as it reaches us.