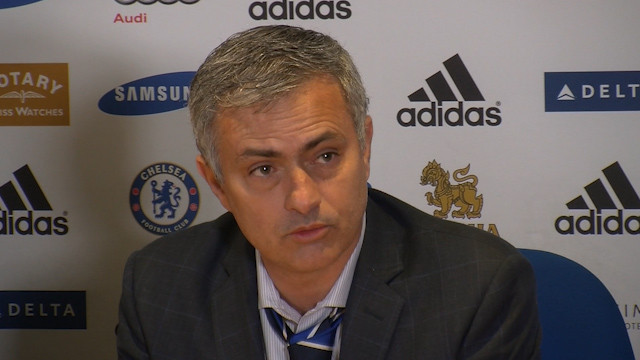 Swansea 1-3 Blackburn FT
Birmingham 1-2 West Brom FT
Cardiff 1-2 Reading FT
Chelsea 2-3 Bradford FT
Derby 2-0 Chesterfield FT
Manchester City 0-2 Middlesbrough FT
Preston 1-1 Sheffield United FT
Southampton 2-3 Crystal Palace FT

Sunderland 0-0 Fulham FT
Tottenham 1-2 Leicester FT
5:00pm: Thanks for joining us - stay tuned for all the latest on Liverpool and Bolton later on.
4:55pm: And full-time is ringing around the UK. What an afternoon it's been - Swansea and Blackburn started us off with lots of drama and a 3-1 scoreline to the visitors. Then Chelsea, Tottenham and Manchester City all got ousted by sides who were certainly far from favourites to win. Bradford, Leicester and Middlesbrough are all through at the expense of these sides, making Manchester United look successful against Cambridge during the week!
4:52pm: GOAL! Bradford... they make it 4-2. I can't believe I'm writing this. Mark Yeates has scored and they will go through to the next round. A disgrace for Jose Mourinho indeed...
4:50pm: GOAL! Leicester have turned this game around and now they will likely take the win against Tottenham, thanks to Schlupp who scores in injury time.
4:49pm: GOAL! Reading are ahead in the dying minutes through Hal Robson-Kanu.
4:48pm: Minutes left now as Tottenham, Manchester City and Chelsea scramble to get the points they were favoured to win. Frank Lampard hits the post for City in the dying minutes as they try to salvage something against Middlesbrough. So close, and yet so far.
4:45pm: GOAL! Derby are well in control as Hughes puts the side ahead 2-0 against Chesterfield. Though we thought Chelsea were in control at 2-0 earlier...
4:42pm: GOAL! It's upsets all round as Leonardo Ulloa equalises for Leicester and Tottenham are in trouble at White Hart Lane.
4:41pm: GOAL! Wow. Just wow. Andy Halliday puts Bradford ahead and it'll be game on at Stamford Bridge in these coming minutes no doubt.
4:38pm: City chuck Striker Edin Dzeko on for midfielder Fernando as they go for it too - no goals for the title holders despite their chances, can they get a last minute equaliser at the least?
4:37pm: From OptaJoe on Morais:
5 - Filipe Morais now has three goals and two assists in his last five FA Cup games. Prodigal.

4:34pm: Eden Hazard comes straight on for Loic Remy - could there be two giant-killers today? City are behind and Chelsea are panicking...
4:34pm: GOAL! Uh-oh - it's what Jose Mourinho feared the most, as Bradford even the scores 2-2 through Filipe Morais.
4:26pm: Cesc Fabregas and Willian are on for Chelsea as the side push to shut the game down. They're certainly not out of the woods yet against Bradford.
4:26pm: GOAL! Sheffield United are also getting in on the action at Preston as Diego De Girolamo equalises for the side.
4:25pm: GOAL! Reading even the scores with Cardiff as Oliver Norwood finds the back of the net.
4:23pm: RED CARD - Jack Rodwell is sent off for Sunderland and Fulham now have the upperhand in the so-far goalless game.
4:20pm: Bradford aren't going to take this result lying down against Chelsea and the side continue to push for a goal, having 3 shots on target compared to the Blues' 5. Meanwhile City are shocked by Middlesbrough's goal as Albert Adomah has a shot on goal but it's saved.
4:12pm: GOAL! Looks like we might have our upset - Patrick Bamford scores to put Middlesbrough ahead 1-0 against Manchester City. It's the result of terrible defending and terrible keeping by City, with Bamford taking advantage of an ill-timed back pass to shoot past Willy Caballero.
4:03pm: And we're back! A big second half set up for our nine fixtures this afternoon. And still room for a big upset or two!
3:48pm: And that's a wrap on the first halves.
3:46pm: GOAL! Birmingham peel one back against West Brom as Jonathan Grounds scores to take the hosts to 1-2.
3:45pm: Minutes to go in this first half which has been full of the goals we were hoping for. Bradford, Leicester and Middlesbrough are still very much in the game against the Premier League 'giants' while Sunderland and Fulham are the only match to remain scoreless besides City.
3:43pm: Controversy at White Hart Lane as Leicester are denied what was seemingly a clear penalty, with the red booking Kramaric for diving.
3:41pm: GOAL! Or will there be an upset?? Jon Stead scores for Bradford and the side are now a goal behind Chelsea, with the scores 2-1. Petr Cech tries to save it and gets a hand on it but it isn't enough and Bradford will certainly be feeling invigorated after that.
3:39pm: GOAL! And Chamakh scores again for Crystal Palace as they take a 3-2 lead over Southampton.
3:38pm: GOAL! Looks like there will be no upset at Stamford Bridge today as Chelsea go up 2-0 through Ramires.
3:36pm: GOAL! West Brom double their lead and Victor Anichebe doubles his score tally today as they go up 2-0 against Birmingham.
3:33pm: Manchester City are pushing for a goal against Middlesbrough - they've had 68% possession and six shots with one on target so far compared to nothing from the visitors.
3:28pm: GOAL! Cardiff score through Kenwyne Jones and they're up 1-0 against Reading.
3:27pm: GOAL! West Brom are 1-0 over Birmingham after Victor Anichebe finds space and fires into the back of the net.
3:25pm: GOAL! Darren Bent scores to take Derby into a 1-0 advantage against Chesterfield. That's his first goal for the side too.
3:24pm: From OptaJoe on Tottenham's Andros Townsend:
5 - All five of Andros Townsend's goals this season have come from the penalty spot. Specialist.

3:21pm: GOAL! Gary Cahill scores for Chelsea as the side go up 1-0 against Bradford.
3:21pm: GOAL! Yaya Sanogo evens the scores in Southampton v Crystal Palace... two goals apiece now and it's hardly been twenty minutes!
3:20pm: GOAL! Preston are up 1-0 against Sheffield United thanks to a goal from Paul Gallagher.
3:19pm: GOAL! Andros Townsend is on target and Tottenham are in the advantage against Leicester.
3:18pm: PENALTY - Tottenham have a spot kick after Roberto Soldado is fouled in the box.
3:16pm: GOAL! Southampton are in the advantage again but it's thanks to Crystal Palace's Scott Dann who scores an own goal. Scores now 2-1.
3:13pm: Bradford are doing very well at Stamford Bridge with Andrew Davies forcing Petr Cech into action, and his hand saves the ball. The League One side are putting Chelsea under some pressure here...
3:10pm: GOAL! Crystal Palace hit back fast and this looks like it'll be a cracking match at Southampton with Marouane Chamakh levelling the scores.
3:08pm: GOAL! Southampton are the first to score this afternoon as they go up 1-0 against Crystal Palace through Graziano Pelle, who takes advantage of an unorganised defence during a corner.
3:07pm: Etienne Capoue goes very close for Tottenham but it's just outside the top right corner.
3:05pm: Nothing on target yet for Chelsea or Bradford but Didier Drogba looks to be getting in on the action already as the talisman takes advantage of receiving a start from Jose Mourinho.
3:03pm: It's all Manchester City with the ball but Middlesbrough had a small window of opportunity as Vincent Kompany hesitated a little too long in his own area and almost gave the opposition a chance.
3:00pm: And we're off!
2:56pm: Just minutes until kick off and players are warming up in many tunnels across the UK. Manchester City have picked a strong line-up against Middlesbrough and Tottenham have equally shied away from choosing youngsters to lead the side in their pursuit of silverware.
2:50pm: Earlier today Blackburn scored two late goals to knock Swansea out of the FA Cup, as the Welsh side went down to nine men thanks to sendings off for Gylfi Sigurdsson and Kyle Bartley. It was a slight upset in a cup competition that is often full of unexpected results - will there be any this afternoon?
2:45pm: Jose Mourinho recently claimed that if Chelsea lose to Bradford today it would be a disgrace for the club, despite putting up a b-grade team being in his best interests. The manager told reporters:
To help the title race, the best thing is to lose against Bradford and to lose against Liverpool and to lose against Paris Saint-Germain [in the Champions League] and to play only Premier League until the end of the season. This is the perfect situation but not with us. Not with our mentality, not with our way of thinking about our job, not with Chelsea's DNA. We want to go the more we can.
2:36pm: And for Tottenham v Leicester:
Tottenham XI vs. Leicester: Vorm; Chiriches, Fazio, Kaboul, Rose; Capoue, Dembele; Townsend, Paulinho, Lamela; Soldado.
Leicester City XI vs. Tottenham: Schwarzer; Simpson, Morgan, Moore, De Laet; Drinkwater, King, Vardy, Schlupp; Kramaric, Ulloa.
And for Manchester City v Middlesbrough, the Man City line-up is as follows:
Man City XI vs. Middlesbrough: Caballero; Zabaleta, Kompany, Boyata, Kolarov; Milner, Fernando, Navas, Silva; Jovetic, Aguero.
2:34pm: The line-ups for Birmingham v West Brom are as follows:
Birmingham XI vs. West Brom: Randolph; Caddis, Morrison, Robinson, Grounds; Davis, Gleeson, Cotterill, Shinnie; Dyer, Nokak.
West Brom vs. Birmingham: Myhill; Wisdom, McAuley, Dawson, Lescott; Yacob, Gardner, Brunt, Sessegnon; Anichebe, Berahino.
And for Sunderland v Fulham:
Sunderland XI vs. Fulham: Mannone; Jones, van Aanholt, O'Shea, Coates, Vergini; Bridcutt, Larsson, Rodwell; Fletcher, Defoe.
Fulham XI vs. Sunderland: Bettinelli; Grimmer, Hutchinson, Bodurov, Stafylidis; Tunnicliffe; Fofana, Christensen; Ruiz; Woodrow, Dembele.
2:32pm: And the lineups for Chelsea v Bradford are as follows:
Chelsea XI vs. Bradford: Cech; Christensen, Zouma, Cahill, Azpilicueta; Ramires, Mikel; Remy, Oscar, Salah; Drogba.
Bradford City XI vs. Chelsea: Williams; Darby, McArdle, Davies, Meredith; Liddle, Morais, Halliday, Knott; Hanson, Stead.
And for Southampton v Crystal Palace:
Southampton XI vs. Crystal Palace: Forster; Clyne, Gardos, Fonte, Bertrand; Tadic, Ward-Prowse, Cork, S. Davies, Elia; Pelle.
Crystal Palace XI vs. Southampton: Hennessey; Kelly, Delaney, Dann, Ward; Zaha, Ledley, McArthur, Campbell; Chamakh, Sanogo.
2:30pm: Good afternoon and welcome to IBTimes UK's coverage of the fourth round of the FA Cup. Today we've got a mammoth nine games in the 15:00 kick-off slot as Swansea and Blackburn currently fight it out. Blackburn are ahead 2-1 and it will hopefully be a day full of goals as 18 teams take to the field soon enough.