Full time: Germany 4-0 Portugal
Full time: Iran 0-0 Nigeria
Full time: Ghana 1-2 USA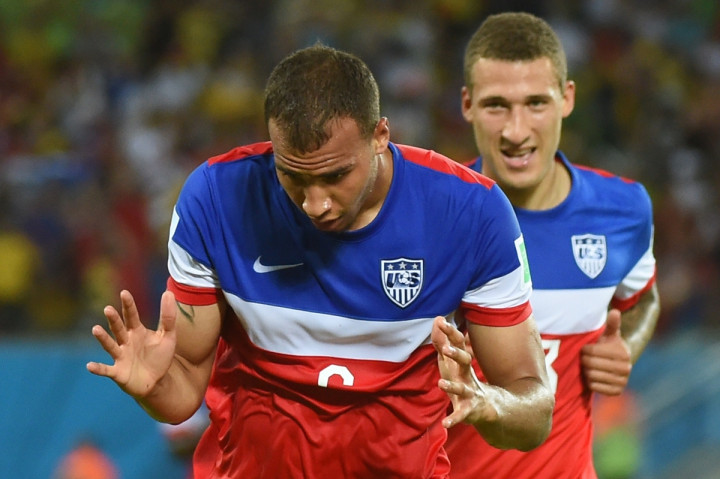 01:00: The USA hold on to start their World Cup campaign in winning fashion. Goals from Clint Dempsey and John Brooks at either end of the game, sandwiched Andre Ayew equaliser, give the 20,000 travelling USA support something to cheer about and gives Jurgen Klinsmann's side genuine hope of reaching the last 16.
Well, what a day in the World Cup. Late goals, controversy, bordom all in equal measure. Tomorrow we have the return of hosts Brazil against Mexico in one of three games. But until then, goodbye.

Full time: Ghana 1-2 USA
00:51: Five minutes added on in Natal. USA deep in the Ghana half.

00:49: Substitute John Brooks scores his first international goal and what a time to get it. Ghana level for just three minutes as a corner from the right comes through to the centre back who heads down and into the roof of the net from six yards. Late drama in Natal.

Goal: Ghana 1-2 USA (John Brooks)

00:45: No they have not weathered the stom, as Ghana grab an eqauliser with seven minutes left. Ayew exchanges passes with Gyan, whose backheel is sublime, and the he pokes beyond Tim Howard from close range. It's been coming but can they complete the comeback?

Goal: Ghana 1-1 USA (Andre Ayew)

00:42: Kwarasey clings on to Dempsey's effort as USA make a rare break forward. The Ghana threat has noticably reduced in the last 10 minutes. Have the American's weathered the storm?
00:38: Bedoya off and Zusi on for USA who are starting to get a tad leggy as we enter the final 13 minutes. Albert Admoah, more pace, on for Christian Atsu for Ghana.

00:32: The cavalry have firmly arrived for Ghana with Michael Essien joining Kevin-Prince Boateng. Their World Cup hopes rest on a late turnaround.

00:31: Kwarasey is nowhere when the corner comes in but USA can't take advantage. Ghana have had a bundle of chances but can they break through in the final 20 minutes?

00:30: Boateng has really impressed since coming on but he wastes good territory for Ghana by blasting over the bar with a half volley. USA have a corner meanwhile.....

00:25: A rare foray from USA in this second half as Jones forces a decent save out of Larsen Kwarsey. It only works as temporary rest bite though as Gyan is back into the action but Geoff Cameron blocks his goalbound effort from 15 yards. The pressure is swelling.

00:20: Asamoah Gyan is purring now and his header produces a stunning stop from Howard. Kevin-Prince Boateng into the piece now for Ghana who are coming to the boil with just over 30 minutes remaining.

00:19: Just as I say that, Ghana create ther best chance of the game. USA get caught with too many players ahead of the ball and Ghana break. Muntari crosses superbly in towards Gyan, who misstimes his jump and heads over on his way up. A bad miss but encourgement for Ghana.

00:17: Ten minutes gone in the second half in Natal and though Ghana are showing plenty of intent, there is very little threat on the USA goal, bar a shot from range from Muntari which Howard has covered. Kyle Beckerman is patrolling an American midfield which is sat in front of the back four and makes the USA look very solid indeed. Gyan, Atsu and the Ayew brothers have to come up with something.

00:06: Teams are out and we're back under way in the second half in Natal. Change for USA as John Brooks replaces Matt Besler, who was struggling with the hamstring problem during the first half.

23:53: Half time in Natal and Ghana should probably be level. Atsu gets free in behind on the right and his cross found Jordan Ayew, but his finish is tame and the USA see out the half. Clint Dempsey's early goal has the American's ahead but Ghana have shown glimpses of being able to get themselves back into the game. Still all to play for in this vital Group G game.

Half time: Ghana 0-1 USA

23:49: Handbag between Jones and Muntari in first half stoppage time. The Ghana midfielder fouls the full-back but as Jones comes down he catches Muntari on the head with a stray boot. The ex-Portsmouth midfielder almost lashes out but stops short of earning himself an early bath. Referee Jonas Eriksson calms the incident and both players go unpunished.

23:46: Five added minutes at the end of the first half in Natal.

23:43: Ghana not having a great deal of joy and USA break and almost grab a second. Johnson crosses and when Ghana only half-clear, substitute Johannsson sets himself but miss-hits his shot and it merely bounces into the hands of Kwarasey.

23:35: Tim Howard into the action and he saves well from Asamoah Gyan, pushing away his effort from 20 yards. Clint Dempsey is now in some trouble, after a high leg from Boye hs is recieiving treatment for a bloodied nose. Having lost Jozy Altidore, USA could ill afford to lose Dempsey too. After being cleaned up, he returns to the fray but looks somewhat worse for wear.

23:31: Chelsea supporters will be interested to watch the performance of Christian Atsu, whose shot is deflected just wide of Tim Howard's goal. No corner is awarded, strangely but we've seen enough from the youngster already to suggest he can be a threat.

23:28: Seen almost nothing from Asamoah Gyan in these opening minutes, who is currently applying his trade in the USE with Al Ain since leaving Sunderland. Ghana are probing down both flanks and they almsot force a mistake from Besler, who puts the ball over his own bar with Gyan lurking.

23:23: Soon after missing that chance, Altidore is laid flat on the turf having seemingly damaged his hamstring. That is essentially his World Cup over and you can see from his anguish, the Sunderland man knows it. Huge shame for the lad. Aron Jóhannsson will replace him.

23:20: Ghana have had all the play but it's USA who should have doubled their lead. A low cross from the right catches out the Ghana defence and it falls to Jozy Altidore, who falling backwards, sees his short blocked. Big let off for the African side.

23:17: That Clint Dempsey goal after 31 seconds is the fifth fastest in World Cup history and slots inbetween England Bryan Robson and France's Emile Veinante. Good place to be for the 31 year old.

23:14: As ever, much of USA's game is based on being organised and difficult to beat and such tactics have helped them into the knock-out stages of the World Cup in three of their last six tournament outings. Ghana face a tough ask to get there way back into this game. Remember, defeat tonight for either of these teams and it could be fatal for their World Cup chances.

23:10: Not a surprise that after 90 minutes of turgid football between Iran and Nigeria, we immediately see a return to the open, expansive game this World Cup has so far been defined by. Ghana it is worth noting have left two of their most experienced players in Michael Essien and Kevin-Prince Boateng, out from the start here.

23:06: Ghana were slightly more fancied in Natal tonight but are behind in no time in Natal. There first attack sees Rabiu head woefully wide from Muntari's free-kick.

23:03: Perfect start for the Americans after 31 seconds in Natal. Jones feeds Dempsey round the corner but depite having plenty to do, the ex-Fulham man skips inside, beats another player than calmly strokes beyond Larsen Kwarasey.

Goal: Ghana 0-1 USA (Clint Dempsey)

23:01: We're under way in Natal.

22:56: Right so both teams are out and we're done with the anthems. Some 20,000 USA fans packed into Natal I understand. Huge support for them. Nearly ready to get under way.

22:50: Ghana of course were cruely knocked-out four years ago in South Africa by Uruguay after Asamoah Gyan's missed penalty led to them losing on a shoot-out as they failed in their task to become the first African nation to reach a World Cup semi-final. Their side tonight contains many of the squad who featured in 2010, while there are several exciting youngsters in their squad including Jordan Ayew and Christian Atsu. They possess plenty of flair and carry with them a desire to set the record straight after the manner of their exit in 2010.

22:36: So can either Ghana or USA take advantage of Portugal's woes earlier today? Victory for either side tonight will see them become the favourites to compete with the Portuguese for a place in the last 16. Ghana are playing in a third successive World Cup after beating Egypt in the African play-offs and have progressed in each of their previous two appearances at the major finals. USA meanwhile are featuring in the World Cup for a seventh successive time and have progressed from the group on three of there last six appearances.

22:25: Quick look at both teams before we begin to preview this final match of day five. Asamoah Gyan, who scored the extra-time winner when these two sides met in 2010, starts in attack for Ghana who also include Jordan Ayew and Andre Ayew in their XI.
USA coach Jurgen Klinsmann puts his faith in Jozy Altidore, with Clint Dempsey, Damarcus Beasley and Michael Bradley in behind. Everton goalkeeper Tim Howard begins between the sticks, while Stokes City's Geoff Cameron starts at the back.

22:13: Teams:

Ghana: Kwarasey, Opare, Atsu, A. Ayew, Muntari, J. Ayew, Rabiu, Mensah, Asamoah, Boye, Gyan.

USA: Howard, Johnson, Cameron, Besler, Beasley, Beckerman, Bedoya, Jones, Bradley, Dempsey, Altidore.

22:04: Let's hope that is only a rare blip in this tournament as we head into our final game of the day in Group G, where Ghana face USA in a repeat of the last 16 tie between the two nations in 2010. Both will have been encouraged by Portugal falling to a 4-0 defeat to Germany, while they lost three influencial players ahead of their next group game. Both Ghana and USA will fancy that second place alongside Germany.

21:53: Well, we were due that sort of game we're we? Our first draw and first 0-0 in this World Cup comes as Iran hold African Cup of Nations champions in the 13th game in the tournament. If I were Argentina and Bosnia, I'd be very happy with that one. While Iran will be delighted, Nigeria showed nothing to suggest they can progress beyond the group stage. Really poor performance from them.

Full time: Iran 0-0 Nigeria

21:48: Unfortunately, there are two added minutes at the Arena da Baixada. Half chance for Nigeria as Ameobi heads goalwards and it goes out for another corner.

21:45: The less said about this game the better. Nigeria are going long ball in this final five minutes, while Iran have set camp in their own half. The structure for the remainder of this game is set. Ameobi heads towards goal but Haghighi saves.

21:37: Fulham's Dejagah, who has been almost annoymous, bar a wayward header just a moment ago, is off as iran inject some fresh leg. 39,000 have come to watch this one, and I feel for ever single one.

21:35: Entering the last 15 minutes and at the moment any foray into Iran territory is met by screams of joy in the crowd. Onazi is the latest to threaten but he shoots weakly straight at Haghighi.

21:30: Peter Odemwingie on for Nigeria and his introduction almost yeilds the opener. Cross from the left is a good one and Shola Ameobi comes in but only heads wide. He fouled the Iran defender in the build up according to the referee but some encouragement at last.

21:26: Chance for Iran. Emenike is overfought on the edge of his own box and when the ball comes in, Ghoochanneijhad takes aim but his shot balloons over the bar.

21:23: So you know what I said it couldn't get any worse? Well, it has. Nigeria have got nothing going on in midfield while Iran have no ambition of attempting to win this game. They kept more clean sheets than any other nation in qualifying for the World Cup, while Nigeria scored the fewest goals. That combination is shockingly not contributing to a classic.

21:19: Nigeria continue to struggle to break Iran down. They look slow and ponderous in midfield with Mikel and Onazi failing to suppy the likes of Emenike and Ameobi with any speed. Iran are quite happy to sit in and play out the game it seems. They seem very organised.

21:10: And with that, that is the end of Victor Moses' evening and he is replaced by the now former Newcastle United striker Shola Ameobi.

21:09: Nigeria have begun this second half like they began the first, on the front foot. Emenike strides forward but is knocked off the ball before Azeez forces a corner. Moses' delivery is woeful however and Iran survive. What has happened to Victor Moses? Since leaving Wigan Athletic, his career has taken a real nose dive, with a loan spell at Liverpool from Chelsea producing just six league starts last term. His form in this game suggests the hangover is continuing.

21:04: Players are back and we're back under way in Curitiba. It can only get better, surely.

20:50: Just the second goalless half we've seen in this World Cup, and lets be frank it's been a shocker. Nigeria began well and provided much pace and power but have abandoned that approach and decided to go more direct as the half has gone on. That has played into Iran's hands, and the Asian side have had the best chance, with Ghoochanneijhad's header having been saved by Enyeama. Musa has had the ball in the net for Nigeria, which was wrongly disallowed so and there is some encouragement it could improve in the second half. I'm clutching at straws to be honest.

Half time: Iran 0-0 Nigeria
20:43: Not a half full of chances in truth. Both have had one opportunity they will look back on and wonder what if. Nigeria have run out of ideas after dominating the early stages. Iran feeding off scraps in the attacking third.

20:35: Corner for Iran as Teymourian wins the ball and Ghoochanneijhad forces the ball behind. And Iran almost take the lead as the set-piece finds the Charlton man, whose header is brilliantly kept out by Enyeama.

20:31: After attempting to play through his injury, Oboabona is replaced by the heavily experienced Joseph Yobo with 30 minutes on the clock. Not many chances in this first half in Curitiba but Musa tries to catch Iran goalkeeper Haghighi out from a deep free-kick, but he turns the ball behind.

20:24: Problems for Oboabona, who goes over on his left foot after going up for a header and has been carried off on a strecher. He continues to have treatement in the hope he might be able to continue, meaning Nigeria are down for ten-men. He does indeed return, seemingly having changed his boots.

20:21: Carlos Queiroz has been in charge of Iran since April 2011 but his side have never played a team inside the top 48 in the world during that period. It has made preparation for this tournament awfully difficult and the Portuguese boss himself has admitted his side have not adequately prepared for the demands this tournament will produce.

20:15: Iran have reportedly been working on their set pieces, but clearly not hard enough as Heydari heads on a deep free-kick but the ball bounces out of play.

20:09: Ball in the net inside seven minutes. Haghighi makes a has of claiming for a corner and the referee awards a free-kick for his troubles. Very soft as Musa poked home. Now Emenike shrugs off Hosseini, crosses and when the ball is clesared, Onazi's effort goes just wide. Good start from the African Cup of Nations champions.

20:06: Victor Moses's effort is the first we've seen and Haghighi makes an easy save. We have had 41 goals in the opening 12 matches of this World Cup, the most at this stage of a finals since 1958. No draws yet either. Here is hoping that continues for a little while longer.

20:03: Plenty of Brazilian shirts in the crowd for this game so hard to tell what the Iran/Nigiera split is in the crowd. have seen images of evidence of both teams being represented in the stadium but at this stage, unsure of the split. Guess we might have an idea should both teams score.

20:00: We're under way in Curitiba.

19:59: Teams are out, anthems are done and kick-off is fast approaching. Stay with me, please.

19:51: I uttered a cliched earlier that Iran enter this first game as an unknown quantity, but that really will ring true. Nigeria midfielder John Obi Mikel has admitted he knows very little of the Asian side and you wonder how much contructive preparation they've been able to do before this game.

19:45: So which player should we pay particular attention to in this game? Well away from the British based players, Nigeria's attack is lead by Emmanuel Emenike, the uncompromising Fenerbache forward. He scored 12 goals and made nine assists last term for the Turkish club but he could prove a real handful for the Iranian defenders. The 27 year old has edged out the more experienced Shola Ameobi and Peter Odemwingie and much is expected.

19:41: So what of Iran, not the lowest ranked nation coming into this World Cup but certainly the country of which the least is expected. They are spearheaded by two English-based players Reza Ghoochannejhad of Fulham, who has 10 goals in 16 international appearances and Fulham winger Askhan Dejagah. The experienced Javad Nekounam is their pivot in midfield. Their only World Cup win came in perhaps the most politically charged match in finals history, when they beat USA 2-1 at France '98.

19:37: This Group G is really all about who can finish second behind Argentina, who are expected to sweep aside all-comers until the latter stages. A win for either Iran and Nigeria tonight and they will make a huge step towards the knock-out phase. Neither have won a World Cup match for 16 years but the carrot of three points ahead of a meeting with Bosnia, should mean this game is pretty open.

19:21: So what can we expect from our second game between Nigeria and Iran? Iran are playing their first World Cup match since 2006 and will looking to improve on a record which reads one win from nine matches at the major finals. They are managed by ex-Manchester United assistant and former Real Madrid manager Carlos Queiroz, who is guiding a country to the World Cup for a third time. They finished above South Korea in their qualifying group and travel to Brazil as an unknown quantity.

Nigeria meanwhile are a squad of players better known to fans of British football and are leading contenders to emerge from this group. They have featured in four of the last five finals but haven't won a game at the tournament since 1998. The currentl African Cup of Nations champions have the likes of Efe Ambrose, John Obi Mikel and Victor Moses in their ranks and will certainly be massive favourites this evening.
19:11: Teams:

Iran: Haghighi, Heydari, Haji Safi, Hosseini, Sadeghi, Nekounam, Timotian, Montazeri, Ghoochannejad, Dejagah, Pooladi

Nigeria: Enyeama, Ambrose, Oshaniwa, Oboabona, Omeruo, Mikel, Onazi, Azeez, Musa, Moses, Emenike.

19:08: Well that wasn't quiet the cracking game we hoped it would be between Germany and Portugal but now it's time to turn attention to our second game of the day. After watching Argentina beat Bosnia, both Nigeria and Iran will want to stake a claim for the last 16. Curitiba plays host to this crucial, if not top billing, game from 8pm.

19:01: The debate regarding the Pepe sending off continues to rage. ITV are having a very healthy debate about the play-acting of Muller with former Arsenal and England defender Lee Dixon in one corner and ex-Gunners captain Patrick Vieira in the other.

18:55: The torture is finally over for Portugal. Germany score four times to start their World Cup campaign with a victory for an eighth tournament in a row. Thomas Muller netted a hat-trick, including a first-half penalty while Mats Hummels got the other with a first-half header. Portugal toiled throughout and saw defender Pepe sent off in the first half and lost both Hugo Alemida and Fabio Coentrao through injury. All in all, one to forget for Paulo Bento.

Full time: Germany 4-0 Portugal
18:50: Two minutes added on in Salvador. Not much longer for Portugal to endure.

18:47: This game has reached walking pace in Salvador, and you can't blame either side really. Germany have walked all over Portugal here, who are reeling after today's game having lost three players possibly for the rest of the tournament through injury and suspension.

18:39: Bayern Munich's Thomas Muller gets his hat-trick to put the cherry on Germany's win over Portugal. Andre Schurrle gets in behind and after his cross is palmed out by Patricio, Muller reacts first to net from three yards.

Goal: Germany 4-0 Portugal (Thomas Muller)

18:36: Portugal want a penalty and they are fuming with referee Milorad Mazic for deciding otherwise. Nani shoots from 30 yards and when Neuer beats the ball out, Eder gets there first and is clearly fouled in the area. Appeals are waved away despite protestations from Ronaldo and co.

18:32: Trouble for Mata Hummels who is limping off after a nasty fall after going for a high ball. Knee damage it looks like. Has somewhat overshadowed a decent win for Germany.

18:29: Germany break and should really have added to their lead. Schurrle plays the ball across to Gotze, who cuts inside but is denied by a brilliant block from Costa.

18:26: Pepe sent off, Fabio Coentrao and Hugo Almeida off injured and goodness knows what other scars suffered by the remainder of the Portugal squad. Paulo Bento has some job to pick his players up for the remaining two group games against Ghana and USA.

18:24: More problems for Portugal. Fabio Coentrao looks in some troubel after he overstretches for a cross-field pass and looks to have suffered some serious muscle damage in his groin. He leaves the game, and probably the tournament, on a strecher.

18:22: Substitute for Germany. Mesut Ozil off and Andre Schurrle on. The Arsenal man has impressed today and is replaced by the Chelsea forward with just under half an hour left.

18:20: Chance for Cristiano Ronaldo from a nicely placed free-kick 25 yards out. He gets the ball up but the massive German wall gets in the way. Still searching for his 50th Portugal goal.

18:17: Germany guilty of overplaying a tad in their search for a fourth goal and Ozil's flick can't release Muller on the right. Portugal not doing themselves any harm by trying to get a goal back themselves but they are adding to the comedy of this performance, with Nani tacking Coentrao in the opposition penalty area and running the ball out of play.

18:11: Should be a fourth for the Germans, who last won the World Cup 24 years ago. Mesut Ozil goes through but when Patricio's save loops up in the air, Muller only heads over.

18:08: With Germany having scored three goals in the first half, it means we have had three goals in every game of this World Cup, except Mexico's 1-0 win over Cameroon which you will remember had two goals wrongly disallowed in the first half. It's been a goal-fest in Brazil.

18:04: Second half under way in Salvador. Ricardo Costa on for Portugal. Can only get better for Portugal, right?

18:00: Naturally, Portugal did not react to the red card well. Particularly Raul Meireles. Wonder if Fifa will have a look at this.

17:57: The dismissal of Pepe is really dividing opinion. Not whether the Portugal defender should have been sent off for head-butting Muller, but if the German striker should have been punished himself for his pathetic reaction to be palmed off by Pepe in the first instance. The reaction of Pepe is linked to the manner in which Muller rolled around in agony despite being barely touched. Part of the game, or something which should be abolished? Probably, both.

17:49: Germany heading for an opening group win after a stroll in the sun in Salvador. Portugal have imploded in the first half, conceeding an early penalty after Pereira fouled Gotze and allowing Thomas Muller to give Germany the lead, before Mats Hummels' header made it two. Pepe's idiotic head-butt on Muller helped reduce the Portuguese to 10-men, before Muller struck his second in first half stoppage time.

Half time: Germany 3-0 Portugal
17:47: As if it was in any doubt, Germany are home and dry here. Bruno Alves clears a cross against Muller, who reacts quickest to plunder past Patricio. A half to forget for Portugal.

Goal: Germany 3-0 Portugal
17:42: That sort of behaviour has no place in the World cup, or any sporting theatre for that matter. Hopefully Fifa decide the red card deserves further punishment than the one game Pepe will miss, with the act surely contituting violent conduct. Germany threaten to pile on the misery on the pitch, But Gotze is denied.

17:39: Wheels off for Portugal. Pepe is sent off for a stupid act of petulance. The Real centre-back hands off Thomas Muller, who makes a meal of the limited contact between the two but instead of leaving it there Pepe stoops and headbuts the Germany striker on the ground. Totally mental act and that ends Portugal's hopes in this game and all but ends Pepe's World Cup.

Red card: Pepe (Portugal)

17:35: A very ordinary first half from Portugal made a lot worse as when Nani and Ronaldo get a two-on-two, Nani gives the ball away. Now another chance for the Portuguese as Coentrao escapes the offside trap but instead of shooting he attempts to play in Ronaldo, and the ball is put behind. The resulting corner sees Eder head the ball over from nine yards. Chances are coming for Portugal, but its Germany who are taking them.

17:33: Sami Khedira somehow sees his goalbound effort deflected behind from point-blank range but Germany don't have to wait long to double their lead as the resulting corner finds Mats Hummels, who times his run to perfection and heads powerfully past Patricio. After just 33 minutes, this game looks over.

Goal: Germany 2-0 Portugal (Mata Hummels)

17:28: Early change for Portugal. Hugo Almeida looks like he has a thigh problem and will be replaced by Braga forward Eder for the remainder. Normally, you would say a team losing their main centre-forward would be a blow, but Almeida has been terrible for the opening 28 minutes in Salvador.

17:25: Better from Portugal. Germany get caught short on the right where Pereira and Nani are attacking, and the latter picks the ball up and drives goalwards and it only just soars over the croassbar. Closest they've come since going behind.

17:23: Not exactly a rip-roaring repost from Portugal after Germany storm into the lead. Plenty of attacking intent on show for the Portuguese but so far with Cristiano Ronaldo consigned to a role on the left hand side there is little source of inspiration for Bento's men. Germany taking the pace out of the game when they can.

17:18: Portugal can consider themselves fortunate to still have a full complement with referee Milorad Mazic having refrained from sending off Pereira despite him looking like the last man as Gotze went through on goal. Important Bento's men take the second chance handed to them though, but Almeida is offside from Nani's cross.

17:15: Another Portugal error, but no let off this time. Germany win a penalty as Pereira fouls Gotza, seemingly as the last man. Only a yellow card for the Portugal defender, but Thomas Muller takes full advantage from the spot.

Goal: Germany 1-0 Portugal (Thomas Muller)

Penalty to Germany

17:10: Germany guilty of overplaying in their own half and Portugal almost take the lead. Alemida feeds Ronaldo and Neuer makes a smart stop from a tight angle. At the other end, Patricio gets himself into a mess, miss-hits a clearance and the ball falls to Kherida, who shoots wide with the goal unattended. Huge let off at both ends.

17:06: Already noticable how far forward Toni Kroos is playing in the Germany midfield, at times the furthest player forward for Low's side, who are all in white. Portugal not had much of the ball yet but Ronaldo releases Alemida, but his shot is deflected into the arms of Neuer.

17:04: First opening comes the way of Germany, with Gotze heading the ball across the face of goal but Muller can't get a head on it. The resulting corner sees Gotze overhit a left-wing cross.

17:01: Anthems over with. Germany get us under way in Salvador.

16:57: Teams on their way in Salvador, where we return to after Spain's 5-1 defeat to Netherlands. This is another heavyweight encounter in this World Cup group stage and if the other games are to go by, this could be another cracker.

16:53: German chancellor Angela Merkel is in attendance in Salvador, where the stadium is sun-decked ahead of kick-off. This is a pivotal game as Group G kicks-off. Both Ghana and USA are expected to feed of merely scraps in this group so victory today for either aside will assist in helping them avoid a difficult last 16 tie, potentially against Belgium
16:50: Germany have reached at least the semi-final in five of the last six major tournament and become the first team to reach a century of World Cup matches. You know regardless of the outcome in four weeks time that Joachim Low's side will be there or thereabouts at the sharp end of the competition.

16:42: As is the fashion with the broadcasters of this tournament, let's have a quick update on England. They trained fully today for the first time since the opening group game defeat to Italy, with Alex Oxlade-Chamberlain upping his return from a knee-injury. The growing feeling is that Thursday's second group match against Uruguay comes too soon for the Arsenal man but his continued improved fitness is a bit boost. The other selection headache for Roy Hodgson revolves around Wayne Rooney, whose positioning in the team continues to spark debate.

16:35: So how will these two sides line up for the opening game of day five? Germany have famously adopted the Barcelona approach of not playing with an out-and-out forward and implementing a "false nine" to lead their attack. Except of course, there is nothing false about him. Thomas Muller is the main intrusted with leading the attack in what will often be a 4-2-3-1 formation, with Sami Kherida and Philipp Lahm at the base of the midfield.
Portugal meanwhile will have a slightly more rigid 4-3-3. Joao Moutinho, Raul Meireles and Miguel Veloso will operate in the middle, with Ronaldo, Nani and Alemida in attack.

16:30: ITV are debating the decision surroudning the second France goal agasinst Honduras yesterday. I keep hearing the words "controvercial" and "uncertain" and "confusion". Forgive me, but I can't help but feel the technology was totally clear cut ans there was no error made whatsoever. I want the technoloogy to fail as much as anyone, but let's not needlessly criticise it.

16:24: Having watched Messi ease his World Cup heartache, Ronaldo will surely be keen to respond in kind against Germany. Ronaldo has two goals in 10 major finals appearances and has similar questions over his status as one of the world's best players, having never performed on the major international stage. He helped Portugal to the semi-final at Euro 2012 and into this summer's tournament after a stunning performance against Sweden last November. His presence in the Portugal side is the difference between Bento's side being considered dark horses in this competition, and struggling to progress from the group.

16:16: Germany boss Joachim Low has failed to read the script and has left out record-chasing Miroslav Klose from his starting XI and instead begins with Thomas Muller at the head of his attack with Mario Gotze, Mesut Ozil and Toni Kroos all included for Germany's 100th match in the World Cup.
Portugal meanwhile name injury-striken Cristiano Ronaldo in their team after his knee troubles. Hugo Almeida begins through tghe middle, with Manchester United winger Nani on the otherside of a 4-3-3 formation for Paulo Bento's side.

16:10: Teams:

Germany: Neuer; Boateng, Mertesacker, Hummels, Höwedes; Lahm, Khedira, Kroos; Özil, Müller, Götze.

Portugal: Patricio; Pereira, Pepe, Alves, Coentrao; Veloso, Meireles, Moutinho; Nani, Almeida, Ronaldo.

16:00: After the coming of Lionel Messi on Sunday at the Maracana, today it's the turn of he world footballer of the year; Cristiano Ronaldo. After a breathtaking hat-trick took Portugal to these finals afte beating Sweden, the Real Madrid forward will be looking to make a lasting impact on a tournament that like Messi, he is yet to bless. Attempting to overshadow him will be Germany and striker Miroslav Klose in a facinating fixture in Salvador. The 36 year old Klose stands one goal behind Brazilian striker Ronaldo is the all-time World Cup goalscorer standings and could move ahead of the legendary forward tonight.

Neuer; Boateng, Mertesacker, Hummels, Höwedes; Lahm, Khedira, Kroos; Özil, Müller, Götze.