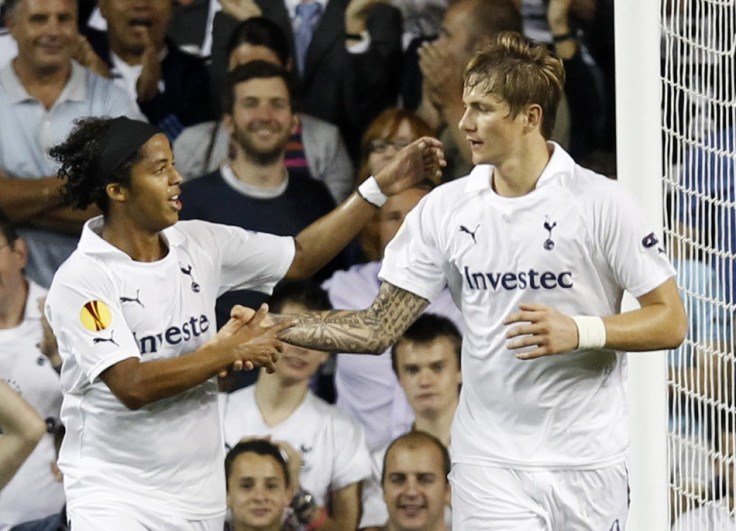 Rubin Kazan 1 Natcho 56
Tottenham Hotspur 0
Get in touch via twitter @thomasnicolson
FULL TIME: Rubin Kazan 1-0 Tottenham. A valiant effort from Spurs' second team. But are still white hot favourites to qualify for the knock out stages. MOM: Carlos Cudicini, what an effort by the 38 year old veteran keeper, but sadly the forwards couldn't do the business.
90+3: A shot from distance from Eremenko doesn't trouble Carlo. But time is running out. 50 secs left.
90+1: Great play by Defoe and Kane, with the latter delivering the cross which wouldn't quite fall for Falque.
90 min: 4 mins of stoppage time
88 min: Terrible delivery from Pienaar into the area from a free kick which the keeper collects easily. He used to be amazing at Everton I remember. 2 mins left now.
86 min: Kane does well to make space for a shot, but is blocked on the edge of the area.
84 min: Spurs now launch an attack forward and win a free kick around 30 yards out, but nothing comes of it.
82 min: Nelson Valdez the latest to be denied by the Italian great! Cudicini punches it wide for a corner.
81 min: How Rubin haven't won this game by a country mile is anyone's guess. Karadentiz has another clear opportunity to seal the points but his header is blocked.
80 min: 10 mins then to salvage something for Harry's men.
77 min: Harry Kane is on for Roman Pavlyuchenko. Kane's first job is to take a free kick, but his delivery is all wrong.
73 min: Oh dear. This doesn't look good. Gallas, who has played very well up to now on his comeback is off with an injury. 19 year old Dean Parrot is his replacement.
70 min: Spurs trying to find their way back into this game, but they seem to have gone a bit flat. There's not really much creation coming from anywhere.
Tweet from stevofitz: Thats exactly why Bassong is 5th choice CB for Spurs. Woeful defending. Need something magical to get back into this.
Harsh but fair.
64 min: Free shot for Bocchetti in the area! Should have been the Russian's second.
61 min: Great save again from Cudicini. This time from a powerful drive from Ryazantsev.
60 min: This young team needs to galvanise itself if they want to leave with any points. Pienaar tries to thread a ball through to Defoe but is easily blocked off.
57 min: So nearly 2-0 down for Spurs in quick succession. But the ball is scrambled away. The London side look shell shocked.
56 min: GOAL! Natcho takes full advantage curing the ball over the wall and into the net. 1-0 to the Russians.
55 min: Another free kick on the edge of the area, when Bassong's sloppy pass goes straight to a Rubin forward. Bassong and Defoe are booked and...
53 min: Spurs looking comfortable passing the ball around in the Rubin half. Federicks has a positive run into the area, enjoys a few step overs and shoots into the side netting. Clearly the plan is along the lines of the HT Digest.
49 min: The youngsters Carrol and Townsend link up on the Spurs left leading to a cross easily blocked by Rubin's right back.
47 min: A free-kick in a dangerous postion for Rubin. Everyone wants to have a go at trying to beat Cudicini, and it falls to Noboa who hits it straight into the wall.
46 min: Back under way in Russia.
HT Digest: Tweet from Spikey_Dee: Looking good at half time, would like to see more movement upfront #Spurs.
Spot on with that analysis.
HT 0-0: Spurs will be delighted to head in at the break still in the game, with a big pat on the back from their third goalkeeper, Carlo Cudicini.
44 min: Falque looks a promising player for Tottenham. Good touch and awareness. He's one for the future.
43 min: That has given Spurs a little bit of confidence and they're making their triangles once again in the midfield.
40 min: Spurs so close to scoring a goal against the run of play. A mazy run into the box from Pienaar, finds Defoe who cross it for Pavlyuchenko who is inches away from making it 1-0.
37 min: Spurs have managed to subside the storm, but the Russian's are still looking dangerous. Martins is inches away from connecting with a header that would put Rubin ahead. Spurs' youngsters are hanging in.
31 min: Karadeniz on the right wing who has been causing problems all night for the Spurs defence forces the Italian Spurs keeper into another one handed save.
29 min: A string of saves by Cudicini. First from Noboa then from the resulting corner. Spurs under the cosh.
Tweet from HarrisonPE: Cudicini was excellent. Wasted on the bench at #spurs
25 min: Brilliant strike from Noboa from all of 25 yards and an equally good save from Cuducini to keep the scores level.
Tweet from Yankie3537: Has Gallas really been out for 3 mnths? He's looking on the ball!!
23 min: Best chance of the game falls to Rubin. Kasaev is found on the edge of the area who takes a couple of touches before drilling over the bar. Should have hit the target.
Tweet from GlennHoggle: #spurs looking great until the edge of the box then backwards!!! waiting for that killer pass :)
20 mins: Martins nealy latches onto a through ball for Rubin but Cudicini reads the play and gathers up the ball.
18 min: Pavlechenkyo has his first shot of the game, but it's a miserable effort wide.
16 min: Glimmer of an opening for Tottenham as they look down the wing for Fredericks who cuts inside against his defender, but the Rubin keeper is quickly onto the ball. "This goal needs a game", the the general consensus.
11 min: Jake Livermore, who has played in every game this season in the Europa League, is getting a lot of the ball in midfield. Defoe also looking lively.
DjSketchE on Twitter: It'll be a difficult game away to Rubin Kazan! I'll be happy with a draw, but #Spurs to win @ 4/1? I think I'll have some £ on that!"
7 min: Huge handball shout from Rubin Kazan against William Gallas and they may well have a point. Spurs a bit lucky there.
6 min: Quiet start to the game so far. Both sides trying to find their feet.
2 min: The time difference here is 4 hours ahead, so it's already 9pm local time. The flight time is five hours in case you wondered.
1 min: Here we go then... "Do it for 'arry!" says a poster in the Spurs end.
1649: I say second string, but with five internationals in the team Spurs have a chance of qualifying for the knock-out rounds of the Europa League with a win tonight.
Preamble: With the Spurs manager fresh out of hospital after it will be up to Joe Jordon to lead the team to victory with a second string side.
Here are the teams:

Rubin Kazan: Ryzhikov, Cesar Navas, Bocchetti, Sharonov, Kaleshin, Ryazantsev, Kasaev, Noboa, Karadeniz, Natcho, Martins. Subs: Arlauskis, Kuzmin, Ansaldi, Haedo Valdez, Alexei Eremenko, Kverkvelia, Orazsakhedov.
Tottenham: Cudicini, Gallas, Bassong, Livermore, Townsend, Pienaar, Fredericks, Carroll, Pavlyuchenko, Defoe, Falque. Subs: Gomes, Kane, Nicholson, Lancaster, Pritchard, Parrett, Stewart.
Referee: Florian Meyer (Germany)