Hull City 0-2 Chelsea
Cardiff 0-2 West Ham
Everton 2-0 Norwich
Fulham 1-4 Sunderland
Southampton 1-0 West Brom
Tottenham 2-0 Crystal Palace
Manchester United 2-0 Swansea
Atletico Madrid 0-0 Barcelona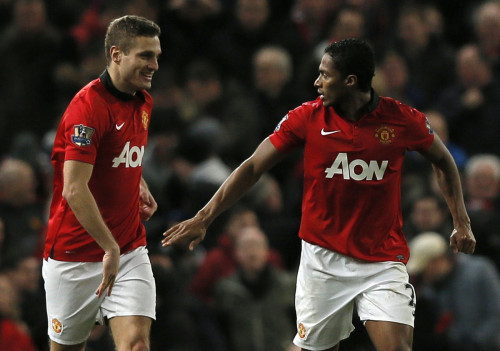 20:52: That's all from us for the evening. Wins for Manchester United, West Ham United and Chelsea were the biggest talking points from the Premier League while a goalless – yet still enthralling – draw between Atletico Madrid and Barcelona concluded the evening in Spain. Join us tomorrow for more minute by minute coverage of all your Premier League action.
FULL TIME - Atletico Madrid 0-0 Barcelona
20:45: We are entering the last few minutes of normal time and this game looks to be heading towards a stalemate.
20:40: Messi leaps into action for the first time this half, charging into the Atletico box and leaving a defender sprawled on the turf after dancing around him. He fires on goal but it's brilliantly saved by Courtois.
20:37: Garcia's presence in their is having an instant impact. Atletico launch the ball into the box and Garcia leaps not once, but twice to try and get it into the danger zone. His second attempt falls to Turan, but his half volley is a weak one and is gathered by a grateful Valdes.
20:34: David Villa is withdrawn against his former employers and is replaced by Raul Garcia.
20:27: And Messi should really be doing better with that chance. Fabregas dinks in a first time cross and the Argentine, well positioned in the six yard area leaps to connect, but directs his header wide of the post.
20:25: And Neymar is on, replacing Alexis Sanchez.
20:22: Barca regain possession after that intense spell from Atletico as whistles ring out around the Vicente Calderon. Neymar has started warming up.
20:18: Atletico enjoying an excellent spell at the moment and Costa nearly caps it with the game's opener. Turan leads a menacing counter attack before feeding Costa on the edge of the area, who hits it first time across goal. The ball drifts just wide of Valdes' right hand post. Moments later Costa is wrongly ruled offside in the Barca box.
20:15: Barcelona's Jordi Alba picks up the third yellow card of the game for a challenge on Juanfran. Atletico have a great chance to test the opposition's uncertain defence from a wide position but nothing comes from it.
20:09: Great save from Valdes! The referee had blown for offside but given the noise reverberating around the stadium I doubt he heard it. Koke's corner is cleared by Atletico force it back into the danger zone where Godin is waiting to try and flick the ball into the back of the net. At point blank range Valdes makes himself big and blocks it.
20:06: Heart in mouth moment for Barcelona fans as Lionel Messi lies hunched on the floor with a grimace on his face. Luckily to cause of his woes looked to be stubbing his foot into the ground after drifting up the byline. He's up and about a few minutes later.
20:02: And we are back underway at the Vicente Calderon and Lionel Messi has been introduced, replacing Iniesta who was on the receiving end of a battering in the first half.
HALF TIME - Atletico Madrid 0-0 Barcelona
19:44: Gabi picks up a yellow card for trying to wrestle Iniesta's shirt off his back. Prior to that, Pique was forced to head clear an excellent cross from Felipe Luis. Into the two minutes of injury time.
19:40: It's been all Barcelona for the past 15 minutes. The verve Atletico started this game with has faded and Martino's side are comfortably in control of possession. Having said that, Courtois in the Atletico net hasn't really been troubled.
19:35: Gerard Pique tests Courtois with an effort from 25 yards out. The keeper is well positioned for it but a bounce in front of his forces him to parry. Luckily Miranda is quick on the scene to ensure Barcelona don't capitalise.
19:31: Excellent chance for Barcelona. Iniesta plays a quick one two with Jordi Alba from a corner before swinging an outstanding ball into the box. Pedro's run is good, but his header isn't and it's off target.
19:26: Two excellent pieces of defending, first from Javier Mascherano and then Gerard Pique stop Diego Costa from bearing down on Victor Valdes' goal. Moments earlier there was concern for Iniesta was down clutching his knee after an awkward fall, but he was soon back on his feet.
19:23: So Manchester United collect a much needed three points against Swansea and after an excellent second display, it's much deserved. You will be bored of hearing this by the end of the season but once again it was Adnan Januzaj who was the catalyst to a change that saw United rediscover some of their attacking verve. Goals from Valencia and Welbeck were enough to seal it, but Smalling and Kagawa should have added to that and made the score line more emphatic.
FULL TIME - Manchester United 2-0 Swansea City
19:19: We are into injury time at Old Trafford and United seem satisfied with 2-0. Swansea again have enjoyed a bright spell of possession much Moyes' side are defending resolutely.
19:15: Diego Simeone's side are enjoying the better start against Barcelona, relentlessly pressing the opposition into harmless passing in the centre of the pitch, or snuffing out any hint of danger than happens to pop up. Courtois untested after 15 minutes.
19:13: Vazquez breaks clear of the United defence down the right but hesitates when presented with the chance to shoot. He regains possession but is swiftly swamped by United defenders, one of which dives in front of his second effort to deal with the danger.
19:10: Buttner on for Evra with ten minutes remaining. The Frenchman has been excellent in an attacking capacity in this second half.
19:09: Arda Turan elegantly turns on the ball before embarking on a marauding run into the Barcelona box. The Turkish winger drills an effort across goal but it's nodded out by Pique. Atletico fail to fashion anything from the resulting corner.
19:05: What a chance for United to make it three! From a corner Januzaj sets Rafael down the right flank in a wicked counter attack with Kagawa ahead of him. The Brazilian slips in the playmaker in the Swansea box and slows the ball down to cut inside and leave his man on the turf, but his delicate effort isn't powerful enough and it's hacked off the line. This really should be 4-0.
19:02: And we are underway in Spain with Barcelona enjoying possession in the opening minutes.
18:59: We are approaching kick off between Atletico Madrid and Barcelona at the Vicente Calderon. Gerardo Martino has decided to leave both Messi and Neymar on the bench tonight, opting for a front three of Pedro, Fabregas and Alexis Sanchez. David Villa starts aginst his former club alongside Diego Costa.
18:57: Swansea enjoy their first real spell of pressure this half but United's renewed confidence is also reflected in their defending. While Swansea stroke the ball around United comfortably deal with any efforts that get in behind them.
18:55: What a miss from Chris Smalling! Januzaj whips in the resulting corner which is met by the defender who is practically under the cross bar, but his effort is skied over the bar.
18:52: Practically everything Januzaj has done in this half has been magical. Rather than supplying a teammate, this time the Belgian opts to go it alone and dances his way in the box before a Swansea defender manages to hook a leg across and deflect his cross out for a corner.
18:49: Welbeck scores again! Kagawa and particularly Januzaj have been outstanding in this half and it's those two at the start of United's second. Kagawa feeds Januzaj who whips a cross into the box that falls back out to Evra who runs onto the ball and fires an effort on goal. Welbeck sticks a boot out to neatly flick the ball out of Tremmel's reach in the far right of the net, his sixth goal in six Premier League games. Old Trafford is rocking now.
Goal! Manchester United 2-0 Swansea (Danny Welbeck, 58)
18:45: Given some of the goals he's scored this season, most teams would be worried at the sight of Jonjo Shelvey in possession on the edge of the box. The midfielder leaves two United men for dead and looks to curl one into the top corner. It's slices wildly away from goal however, much to the delight of United fans who remind Shelvey of his previous affiliation with Liverpool in their own way.
18:42: Another promising move from United. Kagawa advances on goal with Welbeck dragging defender's out of his path before making himself available for the pass. The playmaker opts to have a go himself but his vicious effort flies just over Tremmel's cross bar.
18:40: United have started this half a lot better and are pushing for a second. Once again Januzaj is the catalyst. The teenager releases Evra down the left with a perfect reverse dink into the Frenchman's path. The fullback plays the ball across goal but it takes the slightest nick off a Swansea defender to knock the ball just behind Kagawa and Welbeck in the box.
18:36: Manchester United take the lead! And once again they have the prodigious Andan Januzaj to thank. Fletcher finds the Belgian just outside the penalty area and he swings in an excellent cross which is met by Kagawa who has appeared on the right. The Japan international nods the ball across to goal where Valencia is waiting to tap into the net at the left hand post.
Goal! Manchester United 1-0 Swansea, (Antonio Valencia, 46)
18:34: And we are back underway at Old Trafford.
18:33: Messi returned for Barcelona midweek with two goals, but settles for a spot on the bench this evening alongside Neymar.
TEAM NEWS Atletico Madrid v Barcelona
Atlético Madrid: Courtois; Juanfran, Miranda, Godín, Filipe Luis; Koke, Gabi, Tiago, Arda Turan; Diego Costa, Villa. Subs: TBC.
Barcelona: Valdés, Alves, Piqué, Mascherano, Jordi Alba, Sergio, Xavi, Iniesta, Pedro, Cesc and Alexis. Subs: Pinto, Bartra, Adriano, Song, Sergi Roberto, Messi, Neymar.
18:31: Even if Manchester United and Swansea can't liven your evening up, Atletico Madrid v Barcelona certainly promised too. It's first v second in Spain this evening with the two sides level on points and separated by just five points. We will bring you team news from the Vicente Calderon shortly.
18:23: And an uneventful first half at Old Trafford has come to an end. Swansea have largely dominated possession with the home side's best chances (or half chances, to be more accurate) coming on the counter attack. Januzaj is not being afforded the space to work his magic while Kagawa has been as anonymous as he was against the same side last Sunday.
Uniteds's best chance came through Januzaj when he struck the cross bar with a magnificent free kick, but Swansea have threatened to pass their way through David Moyes' side on more than one occasion with Pozuelo and Shelvey dictating their clever game.
Much improvement needed in the second half if this game is to liven up.
HALF TIME - Manchester United 0-0 Swansea City
18:15: We are into stoppage time at Old Trafford with Swansea enjoying the better end of the half. Bony picks up a yellow card for crashing through the back of Darren Fletcher.
18:11: Excellent play from Pozuelo who is at the centre of a series of intricate passing triangles that moves Swansea up the pitch menacingly. Shelvey is at the end of it but fires his shot wide.
18:08: Welbeck really should have tested the goalkeeper there. United click into gear as Januzaj releases Valencia who slides it into the path of the bombarding Rafael. The Brazilian rolls the ball across the goal but with just the goalkeeper to be beat Welbeck drags his effort wide of the far post. Terrible miss.
18:07: Valencia brings the ball down in the area and plays it back to Fletcher on the edge of the box. The Scotland international has the time to get a decent connection, but his effort is fired well over the cross bar.
18:05: The pace of the game has been typical of your average game at Old Trafford this season. United appear to be playing on the counter attack, but just can't find the openings with Swansea pressing heavily when they do relinquish possession.
18:03: Kagawa releases Evra down the left with a sumptuous lofted pass. The Frenchman gets to the byline ahead of his man but hesitates, stumbles and knocks a weak effort across goal that is collected by the Swansea shot stopper.
17:58: Half chance for United as Evra calls Tremmel into action. Welbeck bursts down the left and cuts the ball back to Fletcher on the edge of the penalty area. It's just too far behind the Scot to take on the shot on so he plays it across to Evra who drills a low effort across goal from the left, but it is saved comfortably enough.
17:57: Swansea pressing United hard at the moment and are using the ball effectively when they have it, which is more than can be said for United.
17:53: He may have lost his first Premier League game as Cardiff boss, but Ole Gunnar Solskjaer is doing all he can to stamp his authority on the Welsh club. Cardiff has just announced the signing of former Manchester United youngster Mats Daehli.
BREAKING: City are delighted to announce the signing of Mats Møller Dæhli from Molde FK. #WelcomeMats

— Cardiff City FC (@CardiffCityFC) January 11, 2014
17:51: Swansea are enjoying the greater share of possession at the moment with Jonjo Shelvey in particular dictacting play from the centre. Routledge plays a sumtuous ball with the outside of his boot over to Davies who earns a corner but it's dealt with by United.
17:47: United have stated relatively positive, but look extremely vulnerable down the left. Evra has already been caught out of position on a number of occasions.
17:44: United enjoying a good spell of possession but are nearly opened up on the right flank by Swansea. Routledge plays an excellent one two with Rangel and then another with Shelvey to break towards the byline. The winger pulls the ball back but it's behind Bony who is positioned well in the box and the chance is gone. Canas gettting treatment after hitting the turf hard following a challenge from Michael Carrick.
17:41: Januzaj cracks the bar from a free kick! Valencia's low drive is well saved by Tremmel but the referee has pulled play back after a foul on Danny Welbeck by Amat. The Belgian assumes control of it and is inches away from giving his side the lead.
17:40: Januzaj plays a hopeful ball through the middle with just Danny Welbeck ahead of him. The United man shows terrific pace and strength to get across and collect the ball and plays it off to Rafael in an attempt to keep possession, but the Brazilian's touch is off.
17:37: Januzaj swings a dangerous free kick in which falls to Vidic, but the defender's half volley is wayward.
17:36: Neat play on the edge of the United box between Shelvey, Bony and Routledge. With United defenders dropping off Shelvey is fed and hits the ball with the outside of his foot but it's straight at De Gea.
17:34: Although he's starting through the middle, Welbeck pops up on the left and bursts past the full back before swinging a ball into the box. Valencia's attempt to pluck the ball out of the air is woeful, however, and the ball rolls out for a Swansea throw.
17:31: And for the second time in a week, we are underway at Old Trafford as Manchester United host Swansea City.
17:25: The players are coming out on to pitch ahead of kick off.
17:18: United are certainly feeling the absence of their first choice strikers, but Danny Welbeck has taken his chances to discover his best run of goal scoring form in some time. The England international has five goals in his last five Premier League games and having scored twice against the Swans on the opening day of the season, United will be relying on him to find the back of the net again this evening.
17:13: With Robin van Persie and Wayne Rooney still injured, Danny Welbeck once again leads the line for Manchester United with Chris Smalling stepping into the centre of defence, replacing Jonny Evans who is injured. Ryan Giggs and Tom Cleverley drop out of the starting XI after the side's midweek defeat in the Capital One Cup to Sunderland.
Bony, who scored the winner when these two met in the FA Cup third round last week, starts up front alongside Pozuelo.
TEAM NEWS - Manchester United v Swansea City
Manchester United: De Gea, Rafael, Smalling, Vidic, Evra, Valencia, Carrick, Fletcher, Januzaj, Kagawa, Welbeck.
Subs: Lindegaard, Buttner, Cleverley, Giggs, Lingard, Zaha, Hernandez
Swansea: Tremmel; Rangel, Amat, Williams, Davies; Britton, Canas, Shelvey; Routledge, Bony, Pozuelo.
Subs: Cornell, Richards, Chico, Taylor, Lucas, Vazquez, Donnelly
17:02: A wonderful conclusion leaves West Ham in 17th, ahead of Cardiff, Sunderland and Crystal Palace to lift a bit of pressure off the shoulders of Sam Allardyce. Tottenham's win sees them leapfrop Liverpool into fifth wit Tim Sherwood's side now just a point outside the top four.
FULL TIME - Cardiff 0-2 West Ham
17:00: And Mark Noble has sealed it for West Ham! Three precious points are secured after Noble calmly slots home after being fed by a clever pass by Andy Carroll. The Hammers are out of the relegation zone as Cardiff slide in as Ole Gunnar Solskjaer loses his first game in the Premier League.
Goal! Cardiff 0-2 West Ham (Mark Noble, 90+2)
16:52: Cardiff and West Ham are still battling it out, but we are finished elsewhere in the Premier League. An Adam Johnson hat-trick helped Sunderland to a 4-1 win over Fulham and with Crystal Palace losing 2-0 to Tottenham, the Black Cats have moved off the foot of the table with Tony Pulis' side taking their place.
Fulham are now just two points off the relegation zone after conceding another hatful today with that tally now standing at 12 in their last four. An Adam Lallana goal ensured a relatively comfortable win for Southampton at St Marys and it was a similar story for Everton who cruised to a 2-0 win over Norwich.
FULL TIME
Southampton 1-0 West Brom
Everton 2-0 Norwich
Fulham 1-4 Sunderland
Tottenham 2-0 Crystal Palace
16:48: Cardiff really pushing for an equaliser now, striker Andreas Cornelius has been brought on for defender Mark Hudson.
16:45: Philippe Senderos has never been well known for his grace, but the Swiss international's challenge on Jozy Altidore in the box was particularly inept. Adam Johnson steps up to take the resulting penalty and slams t home to seal his first ever Premier League hat-trick.
Goal! Fulham 1-4 Sunderland (Adam Johnson, 85)
16:42: Tottenham are firmly in control at White Hart Lane thanks to Jermain Defoe's goal, as are Southampton despite their slender lead. We've entered the last five minutes of the afternoon's fixtures, apart from at the Cardiff City Stadium, where we were delayed due to injury in the first half.
16:39: Sam Allardyce can't catch a break. With his defensive options already stretched the last thing the Hammers boss needed was another suspension. But he's got one, Tomkins has been shown a second yellow card of the game for a very high challenge nearly took Campbell's head off.
Red Card - James Tomkins (West Ham)
16:37: Andy Carroll has made his may off the bench to replace Carlton Cole and make his first appearance of the season.
16:33: It's not quite fairy-tale stuff, but a big moment for Defoe who puts his side in a relatively comfortable position at 1-0. Receiving the ball from Lennon, Defoe does well to take the ball under control and slam the ball beyond Julian Speroni.
Goal! Tottenham 2-0 Crystal Palace (Jermain Defoe, 71)
16:30: Adam Johnson gets his second of the game to almost seal three points for Sunderland. An excellent sliding tackle from Ki saw the ball into the path of Johnson who slots under Stockdale. Sunderland off the bottom of the table by virtue of goal difference at the minute.
16:28: A wonderful save from Adrian keeps West Ham ahead, keeping out a fierce effort from Fraizer Campbell.
Goal! Fulham 1-3 Sunderland (Adam Johnson, 67)
16:25: Adam Lallana latches onto a clever through ball from Gaston Ramirez and slots it past the onrushing Ben Foster.
Goal! Southampton 1-0 West Brom (Adam Lallana, 66)
16:22: Defoe nearly makes an instant impact but he fires his effort side wide of the post. Meanwhile in Cardiff the home side are looking for a penalty after the ball appeared to strike the arm of James McCartney, but referee Lee Mason is having none of it.
16:19: Everton have doubled their lead through a terrific free kick from Mirallas. The Belgian convinces Leighton Baines to leave it to him and the Belgian proves it was the right call as his accurate effort flies inside John Ruddy's right hand post.
Goal! Everton 2-0 Norwich (Kevin Mirallas, 59)
16:16: Jermain Defoe has been brought on for Roberto Soldado. The England international - for how much longer, you may ask - will join MLS side Toronto FC at the end of February, but will have his opportunities to leave Spurs fans with a few parting gifts before he sets off for Canada.
16:14: We're back underway at the Cardiff City Stadium and Ole Gunnar Solskjaer has wasted no time making a change, bringing Caig Bellamy on Mark Hudson's effort is wide.
16:12: Marcos Alonso falls asleep at the far post allowing Steve Sidwell to nod in a cross from Damien Duff. A lifeline for Fulham.
Goal! Fulham 1-2 Sunderland (Steve Sidwell, 53)
16:10: After a turgid first half Tottenham have taken the lead through Christian Eriksen. Emmanuel Adebayor helps on a long ball into the path of the Dane who takes a touch and hammers a shot into the roof of the net.
Goal! Tottenham 1-0 Crystal Palace (Christian Eriksen, 52)
16:07: Kyle Naughton has come on to replace Kyle Walker at half time for Spurs and have enjoyed the better start of the half.
16:04: It was Carlton Cole's third goal since his return to the club that gave West Ham a valuable lead over Ole Gunnar Solskjaer's Cardiff. As things stand, ti will be enough to keep them out of the relegation zone for another day.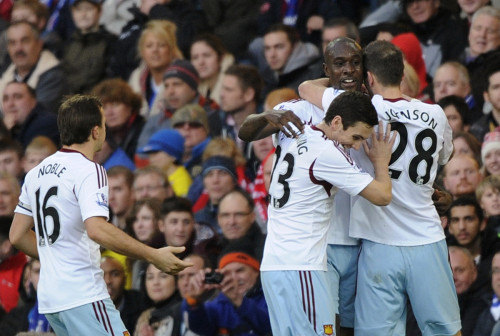 16:00: West Ham and Cardiff have left the pitch for half time just as the rest of the Premier League begin to emerge back onto it.
15:48: Play is still continuing between Cardiff and West Ham due to a lengthy after a Guy Demel injury, but we've reached the half-way point elsewhere in the country. Crystal Palace are holding Tottenham at White Hart Lane and could have had a lead if it wasn't for an abysmal missed penalty from Jason Puncheon.
Gareth Barry has given Everton - who announced the signing of Republic of Ireland international Aiden McGeady before kick-off - a lead over Norwich. Sunderland briefly lifted themselves off the foot of the table after taking a 2-0 lead over Fulham at Craven Cottage, but a Carlton Cole goal for West Ham has put them right back down there.
At St Mary's it's been very uneventful but Southampton have enjoyed the better a goalless first 45 against West Brom, who have new boss Pepe Mel watching from the stands.
HALF TIME
Southampton 0-0 West Brom
Tottenham 0-0 Crystal Palace
Everton 1-0 Norwich
Fulham 0-2 Sunderland15:45: And West Ham have taken an invaluable lead against Cardiff. Taylor plays the ball out to the left where Matt Jarvis volleys it straight back across goal. It falls in the path of Cole, who brushes off his marker to fire straight into the roof of the net.
15:43: What an afternoon this could be for Sunderland! A brilliantly executed free kick gives them a second as Adam Johnson resists the urge to go for goal and cuts the ball back to Ki Sung-Yueng who drives the ball through a crowd of players and into the back of the net.
Goal! Cardiff 0-1 West Ham (Carlton Cole, 41)
Goal! Fulham 0-2 Sunderland (Ki, 41)
15:40: Sunderland's lead at Fulham means that West Ham United have dropped to the foot of the Premier League table for the time being. It's been a bad afternoon all around for Sam Allardyce so far.
15:38: Reports from the Cardiff City stadium suggest Guy Demel has been taken to hosptial with a suspected broken elbow and additionall facial injuries.
15:36: So close for Tottenham Bentaleb hits a magnificent strike from 25 yards out and he is so unlucky as it strikes the inside of the post before being cleared from danger.
15:35: Cardiff think they have scored. An unchallenged Kim has a shot deflected onto the underside of the bar that he thinks crossed the line en route. Utilising our shiny new goal line technology, the referee decides it wasn't a goal.
15:33: Close for Tottenham - Aaron Lennon gets down the right flank and puts in an inviting cross for Emmanuel Adebayor, but he is unable to get his head on it from six yards out. .
15:31: Adam Johnson gives Sunderland the lead with a wonderful free kick from 25 yards out.
Goal! Fulham 0-1 Sunderland (Adam Johnson, 29)
15:28: Jason Puncheon isn't letting his awful penalty effort ruin his afternoon, the winger is taking on the Tottenham full backs to some success, consistently offering an option down the flank. Moments later Jerome tests Lloris with a half volley from, 25 yards out. Tim Sherwood needs to wake his side up.
15:25: Gareth Barry gives Everton the lead through a wonderful 25 yard thunder bolt after he was allowed to run at goal by a lacklustre Norwich defence.
Goal! Everton 1-0 Norwich (Gareth Barry, 20)
15:22: Nearly another injury concern at the Cardiff City Stadium. After replacing Demel, McCartney goes down after a mid air colision with Fraizer Campbell. Thankfully for the Hammers, the defender is soon back up on his feet.
15:19: George McCartney is on for Guy Demel, who is receiving oxygen as he is stretchered off the pitch. The game has been delayed for nine minutes while the West Ham man has been down getting treatment.
15:17: Fulham are enjoying the better start at Craven Cottage against Sunderland with Adel Taraabt tormenting the opposition in the early stages. Clint Dempsey is making his first appearance backn in west London having signed for the club on a three month loan deal from Seattle Sounders.
15:15: More bad news for Sam Allardyce. Guy Demel has been recieving treatment for the last five minuted after being elbowed by his teammate Roger Johnson. Medics are on the pitch taking their time to get the West Ham defender off the pitch.
15:11: To Palace's credit, they have maintained their handsome start at White Hart Lane despite Puncheon's horror show. Jedinak is dominating the midfield in the early stages.
15:08: Oh dear, Jason Puncheon. Crystal Palace have the chance to take an early lead after Mousa Demeble floored Chamakh, but the Palace forward hits what is a strong contender for the worst penalty you will ever see. He has skied it so far over the bar it will probably crash down in south London at some point this evening.
Missed penalty - Jason Puncheon (Crystal Palace)
Penalty! Crysal Palace
15:04: Good opening moments for Crystal Palace too, Jerome plays the ball across goal to Jason Puncheon but he drags his shot wide.
15:03: Very bright start for West Ham. Stewart Downing's cross strikes the post and the returning James Tomkins follows it up with an effort of his own but it's gathered by Marshall.
15:00: And we are off and underway across the country.
14:59: And Everton have confirmed that deal, Aiden McGeady has joined the club for an undisclosed fee.
BREAKING: Everton sign Aiden McGeady on a permanent deal from Spartak Moscow for an undisclosed fee #EFC pic.twitter.com/3OBns8wzIw

— Everton (@Everton) January 11, 2014
14:56: Huge afternoon ahead of us. Ole Gunnar Solskjaer is making his Premier League managerial bows while at Everton the familiar face of Aiden McGeady has been spotted. The Spartak Moscow winger is even sporting an Everton jersey in the tunnel, is the transfer going to be announced pre-match?
Benteleb makes his first Premier League start for Tottenham this afternoon coming in for Etienne Capoue while Tony Pulis has gone for the ambitious approach of starting two centre forwards at White Hart Lane.
14:51: He's back! Andy Carroll has been named on the bench for West Ham United this afternoon. Should the under pressure Sam Allardyce bring him off the bench against Cardiff he will be making his first appearance of the season.
Cardiff's new signing Magnus Eikrem also starts the game on the bench.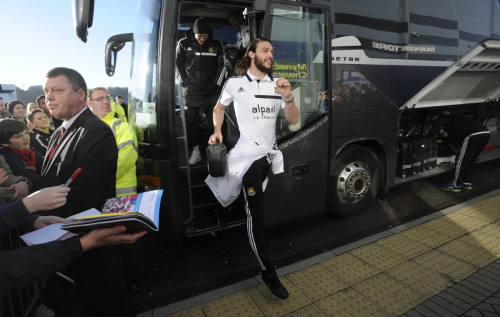 Southampton: Boruc, Clyne, Lovren, Fonte, Shaw, Schneiderlin, Cork, Rodriguez, Steven Davis, Lallana, Lambert
Subs: Kelvin Davis, Yoshida, Ramirez, Ward-Prowse, Do Prado, Hooiveld, Gallagher
West Brom: Foster, Reid, McAuley, Olsson, Ridgewell, Mulumbu, Morrison, Amalfitano, Long, Brunt, Anelka
Subs: Yacob, Sinclair, Myhill, Lugano, Vydra, Gera, Berahino
Tottenham: Lloris, Walker, Chiriches, Dawson, Rose, Lennon, Dembele, Eriksen, Bentaleb, Adebayor, Soldado
Subs: Friedel, Naughton, Holtby, Capoue, Chadli, Fryers, Defoe
Crystal Palace: Speroni, Mariappa, Gabbidon, Delaney, Parr, Bolasie, Ward, Jedinak, Puncheon, Jerome, Chamakh
Subs: O'Keefe, Gayle, Williams, Moxey, Guedioura, Price, Bannan
Everton: Howard, Coleman, Jagielka, Stones, Baines, McCarthy, Barry, Mirallas, Osman, Pienaar, Lukaku
Subs: Robles, Hibbert, Heitinga, Oviedo, Naismith, Gueye, Vellios.
Norwich: Ruddy, Whittaker, Ryan Bennett, Bassong, Olsson, Snodgrass, Fer, Johnson, Garrido, Hooper, van Wolfswinkel
Subs: Martin, Bunn, Hoolahan, Elmander, Redmond, Fox, Josh Murphy
Fulham: Stockdale, Riether, Senderos, Amorebieta, Riise, Parker, Sidwell, Duff, Dempsey, Taarabt, Berbatov
Subs: Kasami, Kacaniklic, Richardson, Hughes, Dejagah, Etheridge, Bent
Sunderland: Mannone, Bardsley, O'Shea, Brown, Alonso, Ki, Cattermole, Colback, Johnson, Fletcher, Borini
Subs: Larsson, Gardner, Celustka, Pickford, Altidore, Giaccherini, Ji
15:37: We have all your team news for this afternoon's fixtures coming up.
14:35: And that's it! After a rather sloppy first half Chelsea have taken all three points with a thoroughly professional performance against Hull. A sublime second half performance from Eden Hazard was the catalyst and he got the ball rolling with a magnificent individual effort before Fernando Torres sealed it five minutes from full time. Chelsea move a point clear at the top of the Premier League as a result with Manchester City and Arsenal not in action until Sunday and Monday.
FULL TIME - Hull City 0-2 Chelsea
14:32: Andre Schurrle and Michael Essien come on for Chelsea, which means Juan Mata won't be seeing any action this afternoon.
14:31: As it stands, Chelsea will go top of the Premier League and Petr Cech will beat Peter Bonetti's club record for number of clean sheets.
14:28: And Chelsea have sealed it! After calming the game down to a slower pace the Blues swiftly snapped into action through Torres, who bursts in from the left, sprints passed Alex Bruce - who perhaps should have done better to be fair - and fires into the bottom left hand corner. Game over.
Goal! Hull City 0-2 Chelsea (Fernando Torres, 86)
14:24: Hazard lets out a cry of anguish after he's cut down by Figueroa, who picks up a yellow card for his trouble.
14:20: Not for the first time this game, Elmohamady whips an excellent ball into the box and Koren is inches away from meeting it. Oscar, who would have been expected to score in the first half, comes off, replaced by John Obi Mikel.
14:17: A slight reminder for Chelsea that they are only one goal ahead here. For the first time all game Boyd gets the better of Azpilicueta and swings a brilliant cross into the box, but a superb defensive header from Cole gets the ball to safety.
14:15: Chelsea loop a ball into the Hull box which falls into the path of Hazard at the back post. The Belgian fires a stinging effort across goal seemingly towards the back post, but it's well blocked. Given the level of his performance in this half, you wouldn't have bet against that going in if not for the defenders in the way.
14:13: Elsewhere, Artur Boruc returns to the Southampton starting XI after a six week lay off, while Tony Pulis has opted to start with two up front - Maroaune Chamakh and Cameron Jerome - against Tottenham.
14:11: Some team news ahead of the 3 o clock kick offs. Andy Carroll has been named on the bench for West Ham ahead of their game against Cardiff. The club's record signing is yet to play for the club since making his loan move from Liverpool a permanent one during the summer.
14:08: Cahill picks up a yellow card for a deliberate hand ball trying to intercept a long ball thrown up the pitch by Hull with Sagbo threatening to break through Huddlestone has the free kick but tries to find the back of the net much to the dismay of his teammates who have crowded the box.
14:05: Chelsea are really feeling confident here. Cahill and Terry exchange clever reverse passes on the left flank leaving Hull defenders chasing shadows. Yes, that did actually happen.
14:02: Ramires is dragged down just to the left of the Hull goal and his compatriot Willian takes responsibility for the free kick. Chelsea players pile into the box but the Brazilian tries to blast the ball into the top right hand corner from a tight angle. Unsurprisingly it flies out for a goal kick.
13:59: Chelsea take the lead and it's a wonderful individual effort from Hazard. The Belgian has been tormenting the Hull defence this half. Collecting the ball from Cole he drops and shoulder to dance past his man with ease and hammer a low effort past McGregor intot he bottom right hand corner of the net. The goal was proceeded by some excellent build up play from Jose Mourinho's side and finished superbly by Hazard.
GOAL! Hull City 0-0 Chelsea (Eden Hazard, 55)
13:57: This is a much better half for Chelsea, would seem it's only a matter of time before they open the scoring here with Eden Hazard looking up for the challenge.
13:54: Chelsea win a free kick from 25 yards out and having tested McGregor at the end of the first half, Luiz assumes responsibility for it. It was a good decision; the Brazilian gets his effort up and over the wall but the Hull keeper gets down quickly to save once again.
13:50: Hazard drifts past three Hull defenders just inside the penalty area, twisting and turning with perfect balance before hitting his effort on goal, but it's cleared for a corner. It's dealt with, but not for long. Willian floats in another cross which Ramires attempts to knock towards goal with the back of his head, but it's well over.
13:47: And we are back underway at the KC Stadium. Willian combines with Hazard left before swinging in a cross that a stooping James Chester gets clear. The Blues regain possession but Luiz comically takes control and fires a wild effort into row Z.
13:45: And the teams are back on the pitch for the second half. Can Chelsea take the chance to go top of the Premier League?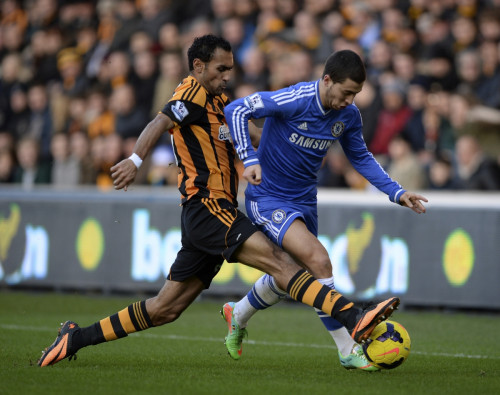 13
13:34: And we have reached half time at the KC Stadium. Chelsea were sloppy for large portions of the first 45 minutes but came closest to opening the scoring, only for a truly magnificent save from McGregor in the Hull goal to deny the Brazilian and keep it goalless. The home side were gifted a chance of their own prior to that after Terry was caught faffing with the ball deep in his own half, but Yannick Sagbo was unable to capitalise. Not the prettiest of halves from either side, but it has been a compelling contest.
HALF TIME - Hull 0-0 Chelsea
13:30: It's been a while since we have seen David Luiz hit one of his long range efforts, but he nearly caught Hull out there. Standing over the free kick the Brazilian hits a dipping effort that is moving wildly through the air. Watching it all the way, McGregor manages to palm it over the post.
13:27: It's all getting a bit aggressive as the first half draws to a close. Hazard dances past his man on the edge of the box but Bruce (Alex, not Steve) steps across to shoulder the Chelsea man out of the way. Predictably, the Belgian has hit the deck and in attempting to clear the ball Livermore collides will Luiz. Players pile in but after a spot of pushing and shoving things calm down.
13:25: Tom Huddlestone takes control of a free kick about 35 yards from goal. He can cross or take a shot on goal, but the resulting effort is somewhere in between and sails over the bar. Poor effort that will cue dozens off terrible Sampson-losing-his-hair-and-losing-his-powers quips.
13:22: Luiz sends an excellent cross field ball over everyone to Hazard, who has peeled off his man and held his run excellently. On the edge of the left hand side of the box the Belgian attempts to pluck the ball out of the air but for once his first touch lets him down.
13:20: What an incredible save by McGregor! Chelsea open Hull up down the left flank Hazard reaches the byline and cuts the ball back to Oscar who is unmarked, who has enough time to set himself and fire a fierce effort on goal. To the Brazilian's amazement, McGregor's outstretched hand somehow bats the powerful shot over bar and out of danger. Oscar really should have buried it, but take nothing away from the Hull keeper.
13:17: Chelsea recieve a free kick which is swung in dangerously from the right. McGregor is out to collect but can't gather the ball, which eventually trickles out of play. Prior to that, Hazard nearly put Ramires through with a cheeky flick but it's just out of his reach. Chelsea have been rather flat so far, but moments like that show they are more than capable of snatching the initiative at any moment.
13:14: Chelsea have been unbelievably sloppy this half. Terry has been caught in possession a little too often, Cole has been taken on and beaten by Elmohamady at every chance of asking and any periods of possession have been brief and ineffective.
13:12: Chelsea nearly hand Hull the opener! Terry has possession near the corner flag and attempts to pass his way out of trouble. He's quickly closed down by Hull and the ball falls to Sagbo just inside the right hand side of the box. The Hull striker attempts to hit it first time with the outside of his foot but his effort flies wide of Cech's far post. Big let off for Chelsea and John Terry.
13:07: Chelsea have really struggled to hold onto the ball in the last five minutes. Sagbo does well to fend of his markers and knock the ball back to Jake Livermore on the edge of the area. His shoot is well hit and is palmed around the post by Cech. Alex Bruce meets the resulting corner but nods wide. The centre half had wrestled free of Ramires and will be disappointed not to have tested the Chelsea keeper.
13:05: Elmohamady really fancies his chances against Cole today. The Egyptian goes for the simple option of hoofing it ahead of himself and takes on the Chelsea defender in a race to the ball and beats him quite comfortably. But after all that he boots his cross out of play.
13:02: Eden Hazard bears down on Tom Huddlestone and runs straight himr. The Belgian bounces off the Hull midfielder. After some protest and a spot of tuf slapping Hazard eventually gets to his feet.
12:56: Ashley Cole is back in the starting XI today and could have a tricky afternoon ahead of him. Elmohamady takes on the full back for the third of fourth time this afternoon and gets the better of him. Chelsea eventually regain possession and launch a counter attack which falls to Torres. Forced left of the goal, the Spaniard shoots, but it's deflected for a corner which is eventually cleared.
12:54: The ball falls to Elmohamady ten yards from the Chelsea box after no Blues defender sufficently cleared the ball. The Egyptian lets fly with a dipping effort that bounces dangerously en route to goal, but is collected by Cech.
12:48: Fernando Torres skips down the right flank rather clumsily and inevitably Curtis Davies clears for a corner. Hull deal with the corner.
12:45: And we are underway at the KC Stadium.
12:43: Juan Mata once again has to settle for a space on the bench with Mourinho opting for a front three of Hazard, Oscar and Willian behind Fernando Torres, with a Brazilian midfield partnership of David Luiz and Ramires providing the steel.
12:40: Having taken 13 points from a possible 15 in their recent run, Chelsea can move top of the table with a win over Steve Bruce's side thisd afternoon. But Hull are a difficult proposition for any side at home this season and the 6-0 thrashing of Fulham will still be at the forefront of the side's mind.
TEAM NEWS
HulI: McGregor, Chester, Bruce, Davies, Elmohamady, Figueroa, Meyler, Huddlestone, Livermore, Boyd, Sagbo
There is no Juan Mata again for Chelsea as Fernando Torres starts ahead of Samuel Eto'o up front.
Chelsea: Cech; Azpilicueta, Cahill, Terry (c), Cole; Ramires, David Luiz; Willian, Oscar, Hazard; Torres
12:35: It's the reversal of the opening weekend of the Premier League this weekend and we start the afternoon off at the KC Stadium where Hull City welcome Jose Mourinho's Chelsea.
12:32: Good afternoon and welcome to IB Times UK's LIVE Saturday afternoon coverage of all this afternoon's Premier League action. Later this evening we will also be bringing you minute by minute updates from the top of the table clash in La Liga between Barcelona and Atletico Madrid.