Chelsea 1-0 Everton
Arsenal 4-1 Sunderland
Cardiff City 0-4 Hull City
Manchester City 1-0 Stoke
West Brom 1-1 Fulham
West Ham 3-1 Southampton
Crystal Palace 0-2 Manchester United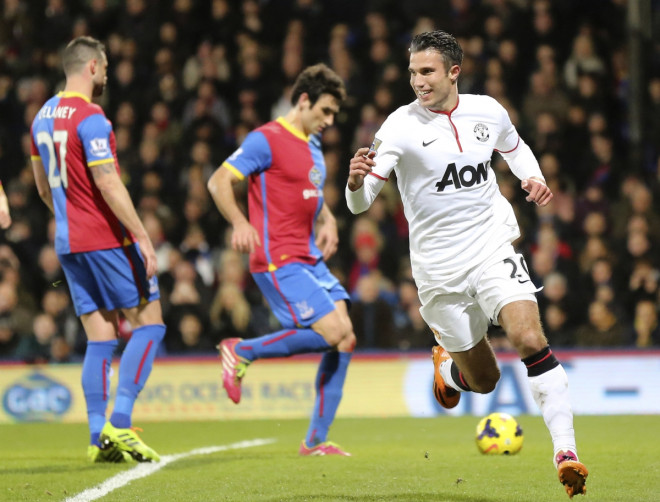 7:28: That's all from us for today. Thanks for reading and join us for more Premier League coverage on Sunday.
7:25: Here's a quick round up of all today's results.
Arsenal 4-1 Sunderland
(Giroud, 5, 31, Rosicky, 42, Koscielny, 57)
(Giaccherini 81)
Cardiff City 0-4 Hull City
(Huddlestone, 18, Jelavic, 38, 57, Livermore, 67)
Manchester City 1-0 Stoke
(Toure, 70)
West Brom 1-1 Fulham
(Dejagah, 28)
Vydra, 86)
West Ham 2-1 Southampton
(Jarvis, 20, Cole, 23, Nolan, 71)
(Yoshida, 8)
Crystal Palace 0-2 Manchester United
(Van Persie, 62, Rooney, 68)
7:20: And United secure their first away win of 2014. David Moyes' side were good value for their victory in the end after a first half where his side were nullified by an organised Palace. A penalty and a moment of magic from Rooney saw United take the lead before the pace in the contest dramatically dropped, but Moyes won't mind. United move up to nose bleed territory in 6th while Palace remain 15th.
FULL TIME
Crystal Palace 0-2 Manchester United
7:15: Giggs chases after Joel Ward and swings out a leg to trip the rampaging full back and duly receives a booking. Four minutes of time added on.
7:10: All the pace from this game has been extinguished in the last 10 minutes. Bolasie is still working tirelessly down the left and has been joined by Dwight Gayle, but United are in control. 5 minutes of normal time left.
7:06: United are comfortable now and Moyes makes two changes with Tuesday's Champions League game in mind. Antonio Valencia and Ryan Giggs come on, replacing Januzaj and van Persie.
7:03: United stifle a Palace attack and break through Januzaj who is floored by Ward. The youngster is down but United continue and only call for the ball to be played out once they've surrendered possession. Palace, weirdly enough, don't oblige. Bolasie is found of the left flank and cuts inside and fires wicked shot on goal, but de Gea reads it well and gets his whole body behind it.
6:58: That's given United the belief they've sorely been lacking. United catch Palace flat footed as Januzaj frees van Persie down the left channel. He twists and turns with Delaney for close company and from a tight angle fires on goal. The shot takes a slight deflection off the Palace defender which is enough to see it clip the bar and deflect to safety.
6:56: That's what £300,000 a week gets you! Sublime finish from Wayne Rooney who connects with a splendid half volley and arrows the ball into the top corner after an excellent run down the left from Evra.
Goal! Crystal Palace 0-2 Manchester United (Wayne Rooney, 68)
6:55: Cameron Jerome is on for Murray and instantly draws a great save out of De Gea! The big forward picks the ball up and opens his body up to curl one into the bottom corner but the Spaniard was equal to it.
6:53: Better from United and Rooney cleverly finds Mata on the edge of the box. The Spaniard feints to shoot but backheels it into the path of Fellaini whose shot from the edge of the D is well saved by Speroni.
6:52: That was as stonewall a penalty as you will see this season. Awful decision from Chamakh to even attempt winning the ball at the pace Evra was going at.
6:50: Van Persie steps up and slams it confidently into the right corner of the net. United lead.
GOAL! Crystal Palace 0-1 Manchester United (Robin van Persie, pen, 61)
6:47: Januzaj plays a neat ball inside the left channel with Patrice Evra racing to get on it. He gets there ahead of Chamakh but has his legs taken from underneath him. It appeared to be right on the line of the penalty area and Michael Olivier points to the spot.
PENALTY - Manchester United
6:45: United carefully probe looking for an opening but suddenly Vidic slips and loses possession. Murray reacts instantly and almost breaks away but the Serbian hauls the Palace striker back and takes the inevitable booking.
6:40: Chris Smalling does well on the right and finds Mata in the middle. There's hesitation in the Palace defence as the Spaniard finds Januzaj, but they quickly swamp the youngster. Van Persie is on the loose ball but is penalised for impeding Delaney.
6:38: Murray wins a knock down under zero pressure from United for Puncheon to strike, but it's straight at De Gea. All Palace in the opening five minutes of this half.
6:36: Puncheon receives the ball just on the edge of the left of the penalty box and dances past Mata with a beautiful Marseille turn before teeing up Ince on the opposite side of the box, but it's well over.
6:33: Fellaini concedes a cheap corner that is delayed as the referee calls up Vidic and Jedinak for their antics in the box. United clear, and immeadiately concede another than needs David de Gea to palm over the bar.
6:31: And Palace get us started for the second half.
6:22: It's been very pedestrian from Manchester United so far; they've largely dominated possession at Selhurst Park but as we have seen so many times this season they have lacked some real urgency. Their best chance of the game was hopelessly miss hit by Maroaune Fellaini but other than that Tony Pulis' patient and well-drilled side have coped rather comfortably.
HALF TIME
Crystal Palace 0-0 Manchester United
6:16: Rooney takes it and does well to get it up and over the wall, but it;s curled the wrong side of Speroni's right hand post.
6:15: United win a free kick 25 yards from goal.
6:13: That's an awful effort from Fellaini! The Belgian starts the move, finding van Persie at the by line who then clips it into the path of Januzaj inside the Palace box. He then lays if off for Fellaini who opens his body up to curl one in with his left foot but he scuffs it horribly and it sails wide.
6:11: Mata finds space in the middle and opts for the short pass for Rooney. He cuts inside onto his right foot and shoots from 25 yards out, but it's straight at Speroni.
6:08: Fellaini is fed by Carrick and goes down under pressure from Parr. The Belgian grabs the ball thinking a free kick is one the way and he'd be right, but it's in Palace's favour for a hand ball. Play to the whistle, and all that.
6:05: Half a chance for Glenn Murray as he leaps to connect with a glancing header thrown in from the left, but he doesn't get enough on it.
6:03: Fellaini knocks the ball away from Chamakh and Rooney takes over, brushing the Palace striker out of the way before embarking on goal. He plays a smart through ball into the path of van Persie but the Dutchman is offside.
6:01: Half an hour played and while United have enjoyed the better start, a well drilled Palace side have kept them at bay.
5:58: De Gea is forced to make a smart save after Murray's snap shot six yards out from goal takes a nick off Smalling, forcing him to leap down to his near post and make the save. There are meek shouts for a penalty from the resulting corner as Mata and Chamakh collide but there is little protest from the Palace striker.
5:56: Rooney jogs over to take a corner and is greeted by a torrent abuse from Palace fans in the corner. His effort nearly finds van Persie but it's cleared at the near post. Rooney gets the ball back and curls a beautiful ball that looked like to be heading for the top corner, but Delaney managed to get their first.
5:52: Fellaini is playing further up the field as the match progresses with Mata adopting a deeper position. Januzaj has been close to finding the Belgian on a couple of occasions at the far post.
5:48: Robin van Persie picks out Januzaj just inside the Palace area and the teenager smashes the ball into the back of the net on the half volley. It won't count, however as the youngster was judged to have controlled the ball with his hand.
DISALLOWED GOAL - Adnan Januzaj
5:45: Palace launch a dangerous counter attack originally started by Ward as Murray is nearly free, but Vidic is quickly across and calmly knocks the ball back to his goalkeeper.
5:42: United enjoying a bit of pressure now as Januzaj, whose sporting a fresh new mohawk, drives an excellent cross to the back post where Fellaini is waiting but he is put under enough pressure for Palace to clear.
5:40: Ferdinand finds Chris Smalling in a bit of space down the right and aims for the box where Fellaini has positioned himself, but his lack of match practice shows as he scuffs his effort. United win a corner, which Palace eventually clear.
5:37: Januzaj embarks down the left and swings a good cross into the box. Rooney meets it and nods across goal to van Persie who opts for the spectacular over head kick, but he connects with nothing but air, much to the delight of the Selhurst Park crowd.
5:35: Joel Ward plays a neat one two with Ince on the right flank as Januzaj fails to track his man that causes a moment of concern in the United box but Fellaini makes the interception. Good start from Palace.
5:33: Tom Ince takes the corner but it's wasteful, sailing over everyone in the box and out of play.
5:32: Jedinak pings a hopeful ball into the box and Glenn Murray does well in his battle with Chris Smalling, earning a corner for his side.
5:30: And Manchester United get us underway, playing in their all white away kit at a bouncing Selhurst Park.
5:20: Glen Murray makes his first start for Palace since May with Tony Pulis opting to pair him up front with Marouane Chamakh.
5:15: So Manchester United deploy a front four of Adnan Januzaj, Juan Mata, Wayne Rooney and Robin van Persie for the first time against Palace, with Marouane Fellaini also returning to midfield alongside Michael Carrick.
Today's starting XI v @ManUtd: Speroni, Ward, Dann, Delaney, Parr, Puncheon, Jedinak, Ledley, Ince, Chamakh, Murray.

— Crystal Palace FC (@Official_CPFC) February 22, 2014
#mufc starting XI vs @Official_CPFC: De Gea; Smalling, Vidic, Ferdinand, Evra; Carrick, Fellaini; Mata, Rooney, Januzaj; van Persie. — Manchester United (@ManUtd) February 22, 2014
5:01: Our attention now turns to Selhurst Park where Crystal Palace host Manchester United. Palace can put some real distance between themselves and the relegation zone id they get all three points this evening but David Moyes' starting XI suggests he has every intention of going for the jugular in south east London.
FULL TIME SCORES
Arsenal 4-1 Sunderland
(Giroud, 5, 31, Rosicky, 42, Koscielny, 57)
(Giaccherini 81)
Cardiff City 0-4 Hull City
(Huddlestone, 18, Jelavic, 38, 57, Livermore, 67)
Manchester City 1-0 Stoke
(Toure, 70)
West Brom 1-1 Fulham
(Dejagah, 28)
Vydra, 86)
West Ham 2-1 Southampton
(Jarvis, 20, Cole, 23, Nolan, 71)
(Yoshida, 8)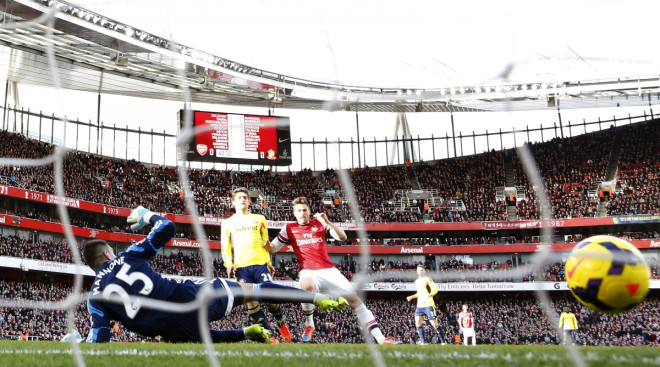 4:53: And that's it, full time whistles have blown!
FULL TIME
4:51: Great save from Stekelenburg! The Dutchman has started to atone for his earlier error by palming away another vicious effort from Brunt.
4:50: Stoke pressing for a late equaliser as Demichelis is called into make a good block before Steven Ireland fires into the side netting. Can City hang on?
4:46: West Brom equalise! The subs combine as Anichebe finds his strike partner Vydra in the box. His shot isn't a great one, but it somehow slips through Stekelenburg.
Goal! West Brom 1-1 Fulham (Matej Vydra, 86)
4:43: Jay Rodriguez wins the ball on the edge of the area and smashes an effort goalwards, but it flies past the wrong side of the post. Southampton still pressing.
4:38: Small slice of consolation as Giaccherini picks the ball up 25 yards out from goal and fizzes a low effort past Szczesny after the Arsenal 'keeper failed to clear a free kick.
Goal! Arsenal 4-1 Sunderland (Emmanuele Giaccherini, 82)
4:34: Edin Dzeko has by all accounts missed the sitter of the season. Played in by Navas the Bosnian is millimetres out from goal but scuffs the ball against his own leg and wide. Jovetic has suffered another injury setback and has been replaced by Garica in Pellegrini's last change, which is likely to be the only reason Dzeko is still on the pitch.
4:30: The Premier League in form goal scorer Kevin Nolan puts West Ham 3-1 up! Southampton have been relentlessly pressing for an equaliser of their own but all that work has been undone as Downing's cross is met by Cole who nods onto Nolan to fire past Boruc.
4:29: Cardiff misery continues as Hull add a fourth. The home side easily surrender possession in midfield as Elmohamady drives down the right before casually teeing up Livermore who slides home.
4:27: City break the deadlock through Yaya Toure who sweeps home Kolarov's cutback inside the area.
Goal! West Ham 3-1 Southampton (Kevin Nolan, 71)
Goal! Manchester City 1-0 Stoke (Yaya Toure, 69)
Goal! Cardiff City 0-4 Hull City (Jake Livermore, 67)
4:22: Southampton pressing for an equaliser as Luke Shaw nips in behind the Hammers backline at the by-line before cutting the ball back for Lallana, but it's just out of the reach of the England international. Gaston Ramirez is on after recovering from injury and immediately makes an impact by leaving James Collins red-faced with an audacious nutmeg. His shot afterwards is less impressive though as its blasted over the bar.
4:19: An excellent save from Maarten Stekelenburg denies Chris Brunt from netting one of his trademark drives to keep Fulham ahead at the Hawthorns. £12m signing Konstantinos Mitroglou has come on to make his Premier League debut.
4:16: Jelavic adds his second of the game as he meets Liam Rosenior's cross with an easy header with Cardiff's defenders completely oblivious to his presence. Cardiff are sinking.
Goal! Cardiff 0-3 Hull (Jelavic, 57)
4:12: After an improved start in the second half from Sunderland, it's gone horribly pear-shaped again. A corner is swung in and Koscielny directs a low header past Mannone to make it four. The Frenchman was completely free eight yards from goal with his marker Ryan Shawcross nowhere to be found. Dismal from Sunderland.
Goal! Arsenal 4-0 Sunderland (Laurent Koscielny, 57)
4:07: City's frustrated strikers haven't enjoyed a much better start to this half as Edin Dzeko skies a golden opportunity to open the scoring after being teed up by David Silva.
4:05: First shot on target of the second half comes from Sunderland! Fabio Borini does well to cut in from the right and test Szczensy with a well-hit effort.
4:02: Two changes from Sunderland at half time, Seb Larsson on for Jozy Altidore and Ignacio Scocco replacing Adam Johnson. Comeback on? Erm, probably not.
4:00: Nine goals from our five 3:00pm kick offs so far, not bad. We are just getting back underway across the country for the second half.
HALF TIME SCORES
Arsenal 3-0 Sunderland
(Giroud, 5, 31, Rosicky, 42)
Cardiff City 0-2 Hull City
(Huddlestone, 18, Jelavic, 38)
Manchester City 0-0 Stoke
West Brom 0-1 Fulham
(Dejagah, 28)
West Ham 2-1 Southampton
(Jarvis, 20, Cole, 23)
(Yoshida, 8)
3:47: Half time whistles have blown across the country.
3:44: Sensational stuff from Arsenal as they make it three before half time. Jack Wilshere starts the move from the right and the combination of Santi Cazorla, Olivier Giround and Tomas Rosicky exquisitely combine in neat triangles with one touch football to carve Sunderland open and free Rosicky, who clips the ball over Mannone.
Goal! Arsenal 3-0 Sunderland (Thomas Rosicky, 43)
3:42: Shane Long and Nikica Jelavic once again provide an example of their excellent understanding. The Croatian slides the ball across to Long who waits before returning the pass to his strike partner who slams home his side's second from just inside the area.
Goal! Cardiff 0-2 Hull (Nikica Jelavic, 38)
3:40: Santiago Vergini is having what is technically known as a 'mare at the Emirates. The Argentine is caught out of position and is forced into a clumsy challenge on Giroud. Luckily for the visitors, Podolski fires the resulting free kick into the wall.
3:38: Southampton were unlucky not to draw level moments ago after Rickie Lambert struck the post after connecting with Jack Cork's cross.
3:35: City are lucky to have ten men on pitch, if you were to ask Mark Hughes. The Stoke boss was fuming after nasty challenge on Peter Odemwingie. The Brazilian is booked, as is Vincent Kompany who has also been guilty of making a few silly challenges this half.
3:31: Some hopeless defending from January signing Santiago Vergini who tries to roll the ball back to his goalkeeper but instead tees up Giroud who slides the ball underneath Mannone for his second.
Goal! Arsenal 2-0 Sunderland (Olivier Giroud, 30)
3:28: Fulham have the lead! Felix Magath's side have created a number of half chances in the opening half and have made this one count. Kieran Richardson slides the ball across goal that evades Holtby but Dejagah is one cue behind him to sweep home the game's opener.
Goal! West Brom 0-1 Fulham (Ashkan Dejagah, 28)
3:24: In between the action in east London Vito Mannone was equal to a vicious long range effort from Lukas Podolski while Joe Hart made a good stop at the Etihad to deny Charlie Adam adding another screamer to his collection.
3:23: It's all happening at Upton Park! Stewart Downing whips in a corner that Carlton Cole meets with a firm header. It strikes the post but with Saints' defenders slow to react Cole sweeps home the rebound to give his side the lead.
Goal! West Ham 2-1 Southampton (Carlton Cole, 23)
3:22: West Ham are level! Big shout for offside as Matthew Jarvis sprinted onto the end of a through ball from Kevin Nolan before squeezing the ball past Artur Boruc, but linesman flag never moved.
Goal! West Ham 1-1 Southampton (Matthew Jarvis, 20)
3:19: Cardiff's impressive start counts for nothing at the moment as Huddlestone gives Hull the lead as his effort hit from the edge of area evades Marshall after some neat build up play from Shane Long and Nikica Jelavic
Goal ! Cardiff 0-1 Hull City (Tom Huddlestone, 18)
3:16: Unsurprisingly, Arsenal have dominated from the start at the Emirates, but Sunderland just had their first glimpse of goal on the break but Marcos Alonso's cross is deflected off Sagna into the path of Wojciech Szczesny.
3:13: Wilfried Zaha jinks past a series of Hull shirts before firing low on goal but McGregor makes the save at the Cardiff City Stadium. Moments later the Scot has to make another important save, this time denying Kenwyne Jones.
3:11: Stoke City have started well at the Etihad. Peter Crouch nearly capitalised on some unusually poor defending from Demichelis in the opening minutes before Charlie Adam tried his luck with a long range effort.
3:09: West Ham hadn't conceded a goal in their last four, so guess what's happened? Steven Davis swings in a free kick and some poor marking allowes Yoshida to rise and slam home his first Premier League goal.
Goal! West Ham 0-1 Southampton (Maya Yoshida, 8)
3:05: Back in the first team, Olivier Giroud gives Arsenal an early lead! Arsenal dominate the opening five minutes and make it count as Jack Wilshere finds the Frenchman with a neat through ball before the striker coolly slots past former Gunner Vito Mannone
Goal! Arsenal 1-0 Sunderland (Olivier Giroud, 5)
3:01: And we are off and underway across the country. Lots of goals please.
2:58: Big news ahead of kick off is Mesut Ozil has been left out of the Arsenal squad. Felix Magath makes his Premier League managerial bow away to West Brom and there is a space on the bench for record signing Mitroglou, but has already rung in the changes by leaving Clint Dempsey out on his last appearance for the club before returning to the MLS and leaves youngsters Ryan Tunnicliffe and Larnell Cole out of the squad completely.
TEAM NEWS
Arsenal v Sunderland
Arsenal: Szczesny, Sagna, Mertesacker, Koscielny, Monreal, Arteta, Wilshere, Cazorla, Rosicky, Podolski, Giroud
Subs: Oxlade-Chamberlain, Flamini, Fabianski, Sanogo, Bendtner, Jenkinson, Gnabry.
Sunderland: Mannone, Bardsley, Vergini, O'Shea, Alonso, Bridcutt, Ki, Colback, Johnson, Altidore, Borini. Subs: Larsson, Gardner, Celustka, Giaccherini, Cuellar, Scocco, Ustari.
Man City v Stoke
Man City: Hart, Zabaleta, Kompany, Demichelis, Kolarov, Silva, Fernandinho, Toure, Nasri, Dzeko, Negredo
Subs: Lescott, Milner, Javi Garcia, Jesus Navas, Clichy, Pantilimon, Jovetic.
Stoke: Begovic, Cameron, Shawcross, Wilson, Pieters, Whelan, Adam, Walters, Arnautovic, Odemwingie, Crouch
Subs: Muniesa, Palacios, Nzonzi, Etherington, Wilkinson, Sorensen, Ireland.
West Ham v Southampton
West Ham: Adrian, Demel, Collins, Tomkins, McCartney, Noble, Taylor, Downing, Nolan, Jarvis, Carlton Cole
Subs: Reid, Armero, Collison, Diame, Jaaskelainen, Joe Cole, Nocerino.
Southampton: Boruc, Chambers, Yoshida, Fonte, Shaw, Schneiderlin, Cork, Rodriguez, Steven Davis, Lallana, Lambert
Subs: Kelvin Davis, Clyne, Lovren, Ramirez, Ward-Prowse, Do Prado, Gallagher.
West Brom v Fulham
West Brom: Foster, Billy Jones, McAuley, Olsson, Ridgewell, Amalfitano, Morrison, Mulumbu, Brunt, Berahino, Thievy
Subs: Sinclair, Myhill, Anichebe, Dorrans, Vydra, Gera, Dawson.
Fulham: Stekelenburg, Riether, Heitinga, Hangeland, Amorebieta, Dejagah, Parker, Sidwell, Richardson, Holtby, Rodallega
Subs: Riise, Kvist Jorgensen, Kasami, Stockdale, Mitroglou, Burn, Tankovic.
Cardiff v Hull
Cardiff: Marshall, Da Silva, Caulker, Cala, Taylor, Zaha, Cowie, Eikrem, Noone, Campbell, Jones
Subs: Turner, Whittingham, Gunnarsson, Daehli, Lewis, Berget, John.
Hull: McGregor, Rosenior, Bruce, Davies, Figueroa, Elmohamady, Livermore, Huddlestone, Meyler, Jelavic, Long
Subs: Chester, Koren, Boyd, Sagbo, Harper, Aluko, Quinn.
2:45: John Terry's late winner ensures that Chelsea will be top of the Premier League at the end of the weekend whatever happens with a cushy four point gap between themselves and Arsenal, who kick off in 10 minutes.
FULL TIME
Chelsea 1-0 Everton (John Terry, 90+)
2:38: Chelsea take the lead in extra time! Lampard swings an excellent cross into the box where Terry capitalises on a deep back line line from the visitors to creep ahead and toe poke the cross past Howard.
Goal! Chelsea 1-0 Everton (John Terry, 90+)
2:36: Ramires is caught by Jagielka out on the left about 30 yards from goal. Chelsea have a free kick.
2:35: We are into the five minutes of added time at Stamford Bridge.
2:33: Close from Ramires! The Brazilian side steps the challenge of McCarthy and pushes ahead of the Irishman before letting fly with a vicious effort from 25 yards out across goal. Howard is at full stretch and thankfully watches as the ball sails just wide of the post.
2:31: Ross Barkley is one the end of a long ball and suddenly finds himself in a one on one battle with John Terry just inside the area. The Everton starlet feints to the left but the veteran reads it excellently and intercepts.
2:28: This time Schurrle cuts in from the left and fires a low effort in from 25 yards out, but Howard follows it all the way and watches it roll out for a goal kick. Two desperate attempts in the space of a minute from Chelsea.
2:26: Gareth Barry picks up a yellow card for hauling down Matic in the centre circle. The ball is lumped up forward and knocked back into the path of Torres, whose effort hit from outside the box is obscenely bad.
2:24: Martinez makes his final change, bringing Aiden McGeady on for Steven Pienaar.
2:21: Hazard finds space on the edge of the D and elegantly scoops the ball over Distin, looking to find the space to let fly with a shot. Torres takes the initiative and fires on goal but his effort rockets off the Belgian and goes out for an Everton goal kick.
2:20: Gerard Deulofeu comes for for Mirallas, who isn't too pleased to see his number come up.
2:17: Torres is perhaps lucky to not be shown a card for going studs up on James McCarthy.
2:15: Eto'o was playing a wider position before he came off with the more suited Schurrle now adopting that role. Hazard switches to the right.
2:14: It's all turned a bit scrappy in the last few minutes. 36-year-old Distin accelerates across to make a vital interception and moments later does it again as Matic nearly finds Fernando Torres. Andre Schurrle has come on for Chelsea for Samuel Eto'o.
2:12: BREAKING - Mesut Ozil left out of the Arsenal squad for the visit of Sunderland.
2:10: Chelsea have the initiative after those changes, mounting pressure on the Chelsea goal but a series of excellent interceptions and blocks deny the Blues the space to make that telling pass.
2:08: Ross Barkley comes on for Leon Osman. Attacking substitutions from both sides with less than half an hour to go.
2:06: Willian off, Fernando Torres on for Chelsea.
2:04: Brilliant from Howard! Eden Hazard gets in from the left and fires an effort on goal that Howard bats away, but the best is yet to come from the American. The ball rebounds across goal to the right hand post where Ivanovic connects with a sweet half volley across goal, but Howard is already up to make an excellent reflex save to deny the Blues.
2:00: Good save from Cech! More patient build up from Everton before Coleman finds Osman on the edge of the area. His shot may have taken a slight deflection on it's way through but Cech has to get down low quickly to bat it away. Osman peppered Hugo Lloris' goal with a number of efforts from range two weeks ago at White Hart Lane and he has been similarly frustrated here so far.
1:57: Cahill is upended on the edge of the box as Chelsea continue to dominate the start of this second half. Willian wins the argument to take it but it's skied clean over the bar.
1:55: Chelsea appeal for a penalty after Jagielka is accused of handling in the box but the referee isn't interested. Chelsea win a corner instead that causes a moment of panic in the box but the away side eventually clear the lines. For now.
1:54: Another block from Howard denies Lampard! The Chelsea veteran ghosts his way into the box and is excellently picked out by Hazard. Lampard opts to shoot first time when he perhaps had a bit more time than he thought.
1:52: Oscar did look a bit jaded in that first half and consistently lost in his battles with Gareth Barry. Ramires athleticism may prove to be a greater match.
1:50: And Everton get us back underway for the second half.
1:49: Almost back underway at Stamford Bridge and Jose Mourinho as opted to bring on Ramires on place of Oscar.
HALF TIME
Chelsea 0-0 Everton
1:32: Moments later it breaks nicely to Mirallas on the edge of the Chelsea box but his effort isn't as well hit as we have become accustomed too, bouncing off Naismith who can't react quickly enough to divert it on goal.
1:31: Everton launch a classic coutner attack as McCarthy steps past Lampard to release Naitsmith, but just as he is about to pull the trigger Cahill is across to block.
1:29: Matic finds himself in Hazard territory, looking to sneak a cross in from the byline on the left and does well to get something across but Everton knock it clear. Matic looks to retrieve it but fouls Jagielka in the process.
1:26: Willian looks to have hit his shot wildly over the bar but the referee award Chelsea a corner. The out swinging cross finds John Terry who leaps well, but his header is well wide.
1:23: Good save from Howard! Eto'o tries to wriggle his way towards goal from the right and gets a bit of luck as the ball bounces of the leg of Distin. The Cameroonian shoots low but Howard reacts quickly to block his effort.
1:19: Everton win a corner that Mirallas plays short with Chelsea sleeping, The Belgian gets it back and swings an excellent cross into the box that Jagielka meets with a glancing header, but it's wide of Cech's post. Should have hit the target.
1:16: Hazard again dances his way up the byline and swings in an inviting cross that Jagielka brilliantly clears with what I can only describe as flying back heel. Chelsea are on the end of it however as Azpilicueta shoots from just outside the box but it's comfortably saved by Howard.
1:14: Better from Chelsea ass Hazard works the ball across pitch to find Ivanovic who swings a tempting ball into the box. Samuel Eto'o does excellently to take the ball down and divert it in to the path of Willian but again Everton are swiftly on the loose ball after it's miss hit. Chelsea go again.
1:11: Hazard tries his luck on the right and looks infield to find Oscar. The Brazilian's first touch isn't great however and he is quickly swamped by Gareth Barry, who hasn't given his opponent an inch this afternoon. Hazard, Oscar and Willian have been marginalised figures for the past 15 minutes.
1:08: Chelsea manage to clear a free kick swung in from the left but McCarthy wins the battle with Hazard to retrieve the loose ball. Largely epitomises Everton's performance in the last 10 minutes when they haven't been on the ball, great industry to win possession.
1:05: This is a good spell for Everton who are stifling Chelsea into making one or two errors. Naismith again provides the lay off to Mirallas inside the Chelsea box. His shot is scuffed into the box but Cahill is across the make the block anyway.
12:58: Brilliant play from Everton draws a good save from Cech. Barry, Osman, Baines and Naismith are all involved as the Toffees make their way up field through some exquisite one touch football. The ball is played into Naismith just inside the box and the Scot knocks it back into the path of Osman who hits a first time half volley on goal, drawing a decent save from the Chelsea shot stopper.
12:56: Everton have their first sniff of a chance as Leighton Baines powers his way down the left before swinging a cross into the box where Seamus Coleman has emerged. The Irishman shapes to shoot but Terry is there to make a good interception.
12:53: Willian picks up the ball on the edge of the D and attempts to jink his way past a cluster of Everton defenders. It's too tight however and Mirallas picks up possession before being upended by Azpilicueta.
12:52: Chelsea have set the tempo to this game in the opening five minutes with their biggest threat, as you may expect, coming down the left through Hazard and Azpilicueta.
12:49: Everton will a free kick further up field that Leighton Baines swings into the box towards Steven Naismith but it's punched away by Cech.
12:47: Hazard gets on the ball for the first time down the left flank and wins a corner but Howard collects comfortably. We should be treated to a battle between the Premier League's most potent attacking threat on the left in Hazard against arguably the best right back in the league Seamus Coleman this afternoon.
12:45: And Chelsea get us underway.
12:41: We are less than five minutes away from kick off so here are those team line ups again updated after Traore's withdrawal.
Chelsea: Cech, Ivanovic, Cahill, Terry, Azpilicueta, Lampard, Matic, Willian, Oscar, Hazard, Eto'o
Subs: Cole, Ramires, Torres, Schurrle, Salah, Ba, Schwarzer.
Everton: Howard, Coleman, Jagielka, Distin, Baines, McCarthy, Barry, Mirallas, Osman, Pienaar, Naismith
Subs: Robles, Hibbert, McGeady, Deulofeu, Barkley, Stones.
12:38: BREAKING - Blow for Everton ahead of kick off as Lacina Traore is withdrawn from the starting line up with Steven Naismith stepping into to take his place. Presumably the big Ivorian has picked up an injury in the warm up.
12:31: Frank Lampard has been chalking up the landmarks and records over the past year and he is set to mark another this afternoon as he makes his 572nd Premier League appearance equalling David James in 2nd place on the all-time list. Ryan Giggs still leads the pack with a simply absurd 630.
12:23: Here's what Jose Mourinho has had to say ahead of kick off.
(At this stage of the season the aim is) to try to win the next match. Think just about this game, which is against Everton who are a difficult opponent.

"It is at Stamford Bridge where normally we are strong. If we win this match we don't need to worry about other results because we keep the same position. We have to just focus on us." [via BBC Sport.]
12:19: Ahead of their 3:00pm kick off, Arsenal have unveiled their statue of Denis Bergkamp, capturing one of the elegant pieces of skill we have seen in this league.
Dennis Bergkamp and his statue. "Sign him up" sing the crowd. #AFC #BBCfootball pic.twitter.com/SrtthzGs27

— Conor McNamara (@ConorMcNamaraIE) February 22, 2014
12:14: Premier League audiences got their first look of Lacina Traore in Everton's FA Cup victory over Swansea last weekend as the Ivorian grabbed his first goal for the club four minutes into his debut. You'd be forgiven for thinking the 6 ft 8 striker is best utilised as a target man to hold the ball up and well, he's probably not too bad at that considering. But the 24-year-old made it clear from the moment he arrived at Goodison Park that he was there to play the style of football that made Everton such a endearing attraction this season.
"I looked at the teams' styles of play and Everton are more of a passing side - their style suits my technical ability.

"Everton are also quite well off for points in the league.

"I think with that sort of emphasis on skill and passing, I am hoping I can settle in as quickly as possible."

12:08: Meanwhie Chelsea simply cannot afford to drop points with both Arsenal and Manchester City playing at home later on. Just three points separates the top three as it stands.
12:05: Steven Naismith's header gave Roberto Martinez his first win as Everton manager when these two sides met at Goodison Park earlier in the season. With Liverpool not playing until tomorrow a win for the Toffees will move them to within five points of that coveted Champions League spot.
12:02: John Terry has returned to Chelsea starting line up along with Frank Lampard and Oscar with Samuel Eto'o once again trusted to lead the line. Lacina Traore has been handed his first start by Roberto Martinez, otherwise it's as you would expect from the Toffees.
TEAM NEWS
Chelsea: Cech, Ivanovic, Cahill, Terry, Azpilicueta, Lampard, Matic, Willian, Oscar, Hazard, Eto'o
Subs: Cole, Ramires, Torres, Schurrle, Salah, Ba, Schwarzer.
Everton: Howard, Coleman, Jagielka, Distin, Baines, McCarthy, Barry, Mirallas, Osman, Pienaar, Traore
Subs: Robles, Hibbert, McGeady, Deulofeu, Naismith, Barkley, Stones.
12:00: Good afternoon and welcome to IB Times UK's LIVE coverage of all Saturday's Premier League action. We have seven fixtures this afternoon starting at Stamford Bridge where Chelsea are aiming to maintain their status as Premier League leaders against Everton. Stick with us for all your team news, match coverage and comment throughout the afternoon.