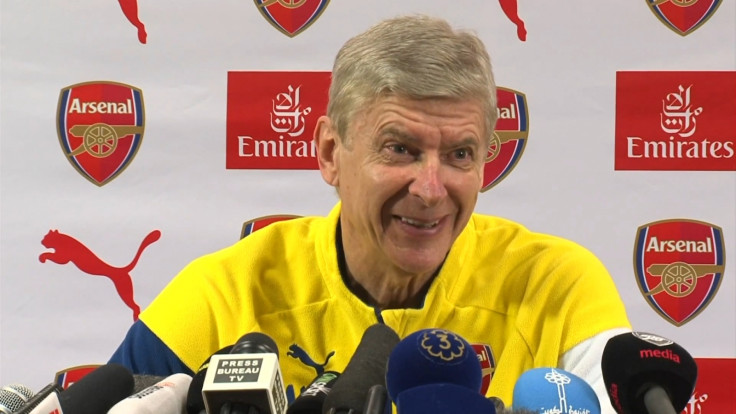 Arsenal 4-0 Aston Villa LIVE
Olivier Giroud scores in eighth minute to put Arsenal in front
Mesut Ozil doubles the lead just after half time
Theo Walcott makes it three after getting past Guzan with the help of Cazorla
Santi Cazorla scores penalty after Guzan brings down substitute Akpom in the box
Hector Bellerin makes it 5 for Arsenal in injury time
3:22pm: And that's a wrap. What a game for Arsenal, and surely the noose has tightened around Paul Lambert's neck now at Villa. Thanks for joining us.
3:20pm: GOAL! Looks like there is something to see, as Hecto Bellerin scores to make it 5-0 for Arsenal. He's absolutely clinical with his shot and Guzan looks well and truly defeated. It hasn't been a great day for the keeper on lots of accounts.
3:18pm: Just a few minutes left as both teams play down the clock now. Nothing to see here!
3:14pm: Akpom is proving to be a decent substitution for Wenger as he has another shot on goal but his header is saved by Guzan.
3:11pm: The stats certainly don't make it look like a thrashing for Villa, with the side having the majority of possession and eight chances on goal compared to Arsenal's nine. Guess it goes to show stats only tell 5% of the story...
3:08pm: Aston Villa get a free kick and it's close but Carles Gil is too high.
3:04pm: Mathieu Flamini comes on for Aaron Ramsey and Wenger will surely be considering trying a few new things and saving injuries rather than increasing this lead now.
3:01pm: GOAL! Cazorla scores from the spot and this is turning into a real thrashing. Guzan got a hand to his kick but it wasn't enough to save it. Do Villa have any fight left?
3:00pm: PENALTY - Arsenal have a chance to make it 4 as Guzan downs Akpom...
2:57pm: And Giroud is off as Wenger changes things up and sends on Chuba Akpom. Theo Walcott also comes off for Tomas Rosicky.
2:55pm: Carles Gil from Aston Villa picks up a yellow card for tripping Cazorla. Cazorla takes the free kick, and it connects with Olivier Giroud's head but goes straight into the crossbar.
2:52pm: Aston Villa change things up as Gabriel Agbonlahor comes on for Tom Cleverley and Scott Sinclair comes on for Andreas Weimann. Will it make a difference? It doesn't look likely at this point.
2:50pm: GOAL! Theo Walcott adds to Arsenal's tally, making it 3-0, and surely this game is all but decided now. Cazorla and Walcott play Guzan well, and while he saves the ball the first time the pair pass to each other and catch him unawares.
2:50pm: Aston Villa are still fighting as Delph has a shot from 20 yards but it's saved by Ospina.
2:45pm: Ciaran Clarke from Aston Villa is shown a yellow card as frustration grows.
2:43pm: GOAL! Mesut Ozil turns that momentum right around and doubles Arsenal's lead over Aston Villa. The Gunners catch Villa on the counter and Giroud's through ball is just what Ozil needed to get into position and past Guzan.
2:37pm: Benteke is straight into the action this half with two attempts on goal in quick succession but both miss. Aston Villa are starting with much more spark than the last half.
2:35pm: And we're back!
2:16pm: And that's a wrap on the first half - Arsenal were certainly on top but they haven't quite closed down the game on the scoreboard.
2:10pm: Starting to become end-to-end stuff as the half time whistle nears, and Andreas Weimann has Villa's best chance and only one on target so far as he heads the ball into the centre of the box but it's saved.
2:08pm: Olivier Giroud looks injured and there's a delay in the match as he appears to struggle with his thigh.
2:04pm: Christian Benteke finally gets sight of the net with the ball at his feet with the help of Andreas Weimann but his shot is blocked. Getting into the final 10 minutes of the half now.
2:00pm: Still nothing on target for Aston Villa yet while Mesut Ozil tries a through ball to Cazorla, but it's offside.
1:57pm: So close for Santi Cazorla as he hits the post trying to bend it like Beckham... Arsenal are pushing hard for a second goal here.
1:56pm: Tough stat for Aston Villa fans, according to the Sun:
This is now officially the worst league goal drought in Aston Villa's history. 547 minutes and counting..

1:54pm: Hutton has been Aston Villa's saviour today and as he looks for Benteke in the box the ball is collected by Ospina.
1:47pm: Still all Arsenal as they get corner after corner and build up attack after attack. At the moment Villa are looking like they'll be defending most of the day.
1:42pm: Giroud is looking his best today as he has another shot but fluffs it, and then Hector Bellerin gets in on the action too.
1:40pm: Aston Villa are seeing a bit more of the ball than Arsenal but the Gunners have had 3 shots on goal compared to Villa's singular - and they've been made to pay for one of those shots dearly.
1:36pm: GOAL! Olivier Giroud is in early and on target as Arsenal go up 1-0 against Aston Villa. After a brilliant pass from Mesut Ozil, Giroud is given just enough space and though he struggles with his balance he gets the ball where it should be. Big advantage for the Gunners now.
1:32pm: Arsenal are up and away and looking more sprightly so far with Theo Walcott and Aaron Ramsey creating a decent chance but it's muffled by Jores Okore.
1:30pm: And we're off!
1:25pm: Earlier today it was reported that Sol Campbell believes Arsenal are unable to win the title this season, with the Gunners legend saying:
They can get through [to the quarter-finals] in the Champions League if they beat Monaco, which they can do, but there are some big teams in there. They are just too many points behind Chelsea, though, and not as strong defensively as the title-winning teams of the past were.

"There has been an improvement with Per Mertesacker and Laurent Koscielny recently, but the team have lacked defensive stability. Going forward, though, there are many good players.

Arsenal certainly have a lot of work to do to challenge for the title and being even on points with Southampton they will be aiming for fourth place first and foremost.
1:20pm: The line-ups for today are as follows:
Arsenal XI vs Aston Villa: Ospina; Bellerin, Mertesacker, Koscielny, Monreal; Coquelin, Ramsey, Walcott, Cazorla, Ozil; Giroud.
Aston Villa XI vs Arsenal: Guzan, Hutton, Okore, Clark, Richardson; Sanchez, Delph, Cleverley; Weimann, Gil, Benteke.
1:15pm: Good afternoon and welcome to IBTimes UK's coverage of Arsenal v Aston Villa. Kick off is just minutes away.