Full time: Arsenal (1) 1-0 (0) Besiktas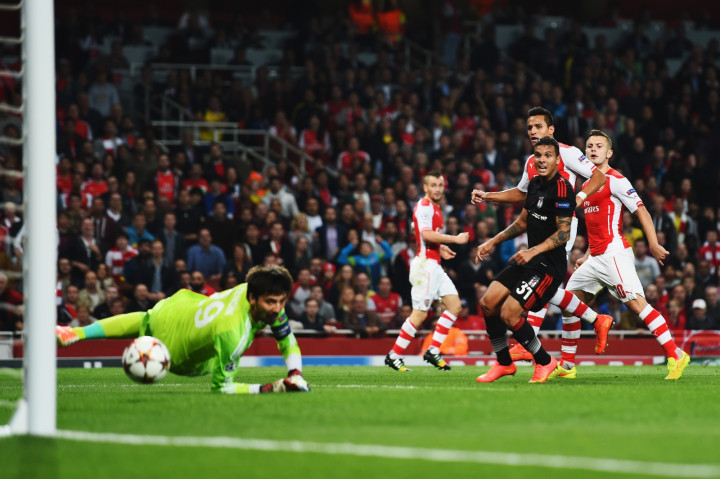 21:43: Relief for Arsenal as they reach the Champions League group stage for a 17th straight season at the expence of the spirited Besiktas. Alexis Sanchez scored his first goal for the club following his summer move from Barcelona to send the Gunners through after a nervy evening at the Emirates Stadium. Could that spark one final foray in the transfer market? Who knows.
Well, that's about all we've got time for on this Champions League live text. The Premier League will have four clubs in the Champions League proper once again this season. We'll have full coverage of the draw tomorrow afternoon but until then goodbye.

Full time: Arsenal (1) 1-0 (0) Besiktas

21:38: Szczesny plucks a cross out of the sky from Ismail as Arsenal hang on. Just over two minutes left at the Emirates.

21:35: We're into stoppage time at the Emirates and there will be four minutes. Besiktas have Arsenal hemmed in their own half and Ba almost nods in from three yards but can't make genuine contact as Mertesacker distracts him.

21:31: The Arsenal players and fans have united in adversity, as far as they're concerned in these closing stages but will it be enough. For all Besiktas' threat, Szcesney has still to be tested in the Arsenal goal. But they only need one chance right? Right?

21:28: The Emirates Stadium is a bundle of nerves now as we enter the final 10 minutes of normal time, but we'll get plenty added on as well. Hutchinson heads goalwards in a rare effort on goal, which flies across goal. Plenty riding on this final passage of play for both teams.

21:23: An amazing passage of play. Arsenal should twice have grabbed a second, first as Ozil's shot was cleared off the line when the hosts had a three-on-two before Tolga somehow denied Oxlade-Chamberlain from six yards. Now, as Besiktas break Debuchy hauls back Pektemek on the half-way line and the referee has no choice but to show a second yellow card. Calum Chambers comes on for the Gunners but is booked for entering the field of play without permission. Made few minutes, but Arsenal will face the final 15 minute with 10 men.

Red card: Mathieu Debuchy (Arsenal)

21:19: No doubt that Besiktas have made Arsenal sweat like no other team at this stage of the Champions League. The Turkish club aren't going anywhere in this tie and as we get closer towards the shy end, the more Arsenal retreat into their shell, holding what they have. Besiktas threatening but Szczesny still untested.

21:11: Arsenal make a total mess of clearing the ball from a Besiktas attack and when Flamini's clearance i charged down, Ba Reacts first and smashes the ball goalwards but only into the side-netting. Many of the Besiktas fans behind that goal on the other side think their side have an equaliser, but to no avail. Living very dangerously are the Gunners.

21:09: Olcay off and Gokhan Tore on for Besiktas with less than 30 minutes left. Been impressed by the playmaker but he makes way with the visitors needing a goal to keep their Champions League dream alive.

21:07: Once again, Arsenal should really be two up. Cazorla's fre-kick from wide on the left goes over everyone and picks out the unmarked Debuchy who can only head into the side-netting, with many of the home crowd convinced the ball has hit the back of the net. They're getting closer, but Besiktas are clinging on.

21:00: But at the other end we see the precarious nature of Arsenal's lead. Ba is seemingly slipped through but Koscielny recovers after getting his positioning all wrong and leavers the former Chelsea striker off the ball just in time.

20:58: Goodness knows how Arsenal aren't two up. Wilshere plays the ball through to Sanchez inside the penalty area but the Chilean pokes wide across goal.

20:57: Arsenal have started the second half like they ended the first and they almost double their lead. Oxlade-Chamberlain pings a pass out to Cazorla on the left, who toys with Koybasi, plays a cross-shot across the face of goal and just beyond the outstretched leg of Ozil.

20:51: Players are out and we're back under way at the Emirates Stadium. No changes at the break.

20:45: That was anything but a convincing first half from an Arsenal perspective but they have the lead and one foot in the Champions League group phase for a 17th straight season. Alexis Sanchez, who has been in and out of this game with what could turn out to be a critical goal. Besiktas will argue they should have had two penalties, even if following both replays referee Pedro Proenca looks justified in waving appeals away, but the Turks do possess a threat and won't go away easily. Still plenty of work for Arsenal to do.

20:35: Right on cue for Arsenal. Wilshere exchanges passes with Ozil and when the ball bounces off him Sanchez reacts first and slides home his first Arsenal goal. And that's half time, the perfect time to score.

Goal: Arsenal 1-0 Besiktas (Alexis Sanchez)

20:31: Wilshere, on a second life, looks to help Arsenal in a half-time lead but Sanchez can't reign in his flicked through ball. Approaching half time.

20:30: How have Besiktas not been awarded a penalty? The ball is cut back from the left and Wilshere slides in on Motta and the full-back goes to ground. It looks an almost stone-wall spot-kick in real time, but replays suggest there wasn't much contact between the two players. Motta is taking a shot at goal no doubt.

20:23: The closest Besiktas has come as Mathieu Debuchy saves Arsenal. Pektemek turns Koscielny and is through on goal but Debuchy, who is on a yellow card, comes in with a terrific late tackle to deny the forward from getting a shot away. Could have been all sorts of trouble for the hosts there.

20:21: This has been an end-to-end match for large periods of this game, but without a great deal of goalmouth action due to the frenetic passing approach adopted by both sides. One really one chance to speak of, with Wilshere dragging wide.

20:13: Remarkable how many creative players Arsenal have yet they are yet to have an effort on target, but here does come an opportunity. Ozil and Sanchez over a free-kick in the left-channel of the attacking third, around 30 yards from goal. Sanchez has a go, towards the near post but Tolga makes the save. Shot of Arsene Wenger with arms folded, and that isn't a good sign for Arsenal.

20:07: Besiktas look very comfortable at the back and though they are yet to test Wojciech Szczesny in the Arsenal goal, the Turks look vibrant and slick in attack. Demba Ba looks a different one who had slumped shoulders for much of last season and the Senegal international almost beats Szczesny to a long bouncing ball but the ball is snatched away from him.

20:00: The second leg springs into life and Arsenal should really be two goals ahead. First, Sanchez is felled 30 yards from goal but manages to smuggle the ball through to the onrushing Wilshere, who storms through on goal but only slides the ball wide. Now the normally authorotive Tolga passes the ball outside of his penalty area straight to Cazorla, but the Spaniard is unable to bend his shot into the empty net.
19:56: Arsenal as you might expect enjoying plenty of experience and but they are already looking somewhat predictable down the right hand-side, with Oxlade-Chamberlain and Debuchy representeing a two-pronged threat down that flank. Besiktas very comfortable here with goalkeeper Tolga taking two high balls already.

19:50: For those new to the Champions League and European format, after the first leg a week ago finished goalless, it's essentially winnner takes all tonight, but a score draw for Besiktas will see them through to the group phase. Anything other than an Arsenal win tonight and they'll be relying on penalties.

19:48: Under way at the Emirates Stadium.

19:45: Both sets of players are out and the first airing of the Champions League anthem of the season for me. Still, a hairs on the back of the neck moment. We're almost ready to go in north London.

19:42: After much debate over the 'sold out' Emirates Stadium last season, it is fair to say Arsenal's players are pretty confident of their progression into the group stage if the emty seats are anything to go by tonight. Swathes of room in all four corners with less than five minutes until kick-off. As I said at the top, this is no formality.

19:35: So without Olivier Giroud and Aaron Ramsey, who represents Arsenal's potential match-winner? There is no doubt the honeymoon period is over for the summer's marque summer signing Alexis Sanchez, who was hauled off against Everton after failing to impress in a central role at Goodison Park. He must surely produce tonight, while Mesut Ozil and Santi Cazorla - who were woeful as Arsenal crashed out of this competition last season to Bayern Munich - owe impressive showings too.

19:17: Plenty of discussion over how tonight's game might impact of the remainder of the Arsenal's operations in the summer transfer window. The reality of the matter is notwithstanding the financial impact, Arsene Wenger just won't be able to seduce the same caliber of players should he venture into the window between now and the 11pm deadline on 1 September. Naturally, tonight's game could impact on the club's domestic and European ambitions this season.
19:10: Both teams are in and there are three changes for Arsenal from the 0-0 draw in Istanbul a week ago, with Calum Chambers, Mikel Arteta and the suspended Aaron Ramsey dropping out to be replaced by Laurent Koscielny, Alex Oxlade-Chamberlain and Mathieu Flamini.
Besiktas make just one alteration, with Atiba Hutchinson coming in for Necip Uysal.

19:04: Teams:

Arsenal: Szczesny, Debuchy, Mertesacker, Koscielny, Monreal, Wilshere, Oxlade-Chamberlain, Flamini, Cazorla, Ozil, Sanchez

Besiktas: Tolga, İsmail, Pedro, Ersan, Motta, Atiba, Veli, Mustafa, Oğuzhan, Olcay, Ba

19:00: It's hard to know where to look at the moment if you're Arsene Wenger. Main striker Olivier Giroud is out for the foreseeable future with injury, Alexis Sanchez is misfiring despite only being weeks into his Gunners career while less than a week remains in a transfer window where the club are being urged to act fast. The French boss must dismiss all of those thoughts and concentrate on guiding Arsenal into the Champions League group stage for a 17th straight season tonight, against a Besiktas side who held them to a goalless draw a week ago. Tonight is anything but a forgone conclusion.