Manchester United v Bayern Munich
Paris Saint Germain v Chelsea
Real Madrid v Borussia Dortmund
FC Barcelona v Atletico Madrid
(Ties to be played on April 1/2 and April 8/9)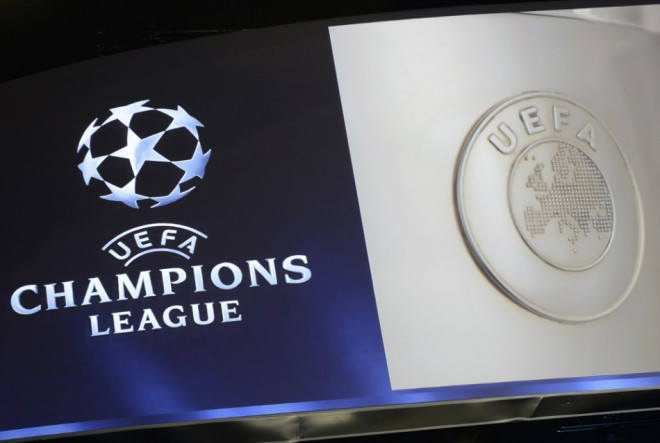 12:25: Before we leave you, here's a quick rundown of what's unfolded this afternoon. For the third time in 13 years Manchester United have been drawn against Bayern Munich in the quarter finals of the Champions League while Jose Mourinho and Chelsea must find some way of living with the exploits of Zlatan Ibrahimovic and co after drawing Paris Saint Germain.
Elsewhere, Real Madrid and Borussia Dortmund face a repeat of last season's semi-final while Barcelona and Altetico Madrid face off in a tie that is likely to have just as many repercussions on the La Liga title race as it will have in their pursuits of Champions League glory.
12:17: Elsewhere, two-time champions Porto take on Sevilla who saw off domestic rivals Real Betis last night. Valencia meanwhile take on the perennially tricky FC Basel.
12:15: After dispatching Tottenham Hotspur, Benfica pick up perhaps the most favourable tie of the last eight draw and will travel to Eredivisie outfit AZ Alkmaar for the first leg. If Juventus are to lift the Europa League trophy at their own place then they will have to overcome the challenge of Lyon, currently sat fifth in Ligue 1.
EUROPA LEAGUE DRAW
FC Porto v Sevilla
FC Basel v Valencia CF
Lyon v Juventus
AZ Alkmaar v Benfica
12:09: And we are just about ready to get started.
12:02: Juventus are hoping to lift the trophy in their own stadium this May after seeing off the challenge of Fiorentina on Thursday.
12:00: The ceremony is back underway in Nyon and we are awaiting thw last eight draw for the Europa League.
11:50: In a change from the usual scenario, it is just the quarter-final draw for the Europa League this afternoon. The semi-final draw will be made on Friday 11 April, with ties taking place on 24 April and 1 May. This year's final will be held at Juventus Stadium on Wednesday 14 May.
11:45: We still have the draw for the Europa League coming up in about 15 minutes. AZ Alkmaar, Valencia, Porto, Lyon, Sevilla, Benfica, Basel and Juventus wait to learn their fate.
11:31: Chelsea travel to Paris Saint Germain in the first leg of their last eight clash. Jose Mourinho said he wasn't too bothered which side the Blues drew, will he think differently with Cavani, Moura, Lavezzi, Ibrahimovic et al on the horizon?
11:28: What reprocussions will this draw have the the La Liga title race? While Barcelona and Atletico are tearing strips off each other in Europe, Los Blancos may see an advantage to be taken next month.
11:25: Is that the worst possible draw for David Moyes? Let us know your thoughts at @IBTimesUKSport
11:23: It will be an interesting couple of matches for Bayern 's contract rebel Toni Kroos, who remains intensely linked with a move to Old Trafford.
11:19: Bit of jump then for David Moyes' side. After scraping through against the Greek champions Olympiakos their next challenge comes in the slightly more formidable champions of Europe Bayern who will also be crowned Bundesliga champions this weekend should results go their way.
11:16: Real Madrid and Borussia Dortmund face a repeat of last season's semi final while Barcelona have been drawn against La Liga rivals Atletico.
11:15: Manchester United will take on holders Bayern Munich while Chelsea travel to Paris Saint Germain in the first leg of their last eight encounter.
Manchester United v Bayern Munich
Paris Saint Germain v Chelsea
Real Madrid v Borussia Dortmund
FC Barcelona v Atletico Madrid
11:09: And we're off!
11:06: A dapper looking Luis Figo is on stage to assist with the draw. The big man struggled to open the balls last time around, is ready for this challenge? Many have crumbled before.
11:02: UEFA get us going with a montage of all those crackers scored so far in this year's competition. Open draw, remember, there are no restrictions on clubs from the same country playing each other. With three Spanish sides, two German and two English, it's a real possibility.
10:58: Minutes away now, hopefully UEFA' pre-amble doesn't keep us waiting too long.
10:50: A few dates to jot down in your diary; the ties for the quarter finals will take place on 1/2 and 8/9 April. The semi-final draw follows in Nyon on 11 April, and those games will take place on 22/23 April and 29/30 April. The final will be held on Saturday 24 May at Estádio do Sport Lisboa e Benfica, Lisbon.
10:45: Less than 15 minutes remaining until we learn the draw for the final eight of the Champions League, which will be immediately followed by the draw for the Europa League.
10:39: Another compelling subplot that could unfold during the draw concerns Thibaut Courtois. The Belgian is enjoying his third loan season with Atletico; would he be eligible to play against Chelsea, his parent club, should the two be paired together?
10:32: While his star man Eden Hazard has his eye on draws with Barcelona or Real Madrid to test himself against Cristiano Ronaldo and Lionel Messi, Jose Mourinho doesn't seem too fussed.
Who do I want to draw? There is nothing to choose. All of the big teams are there, sometimes you have an outsider or someone no-one expects to be there with less experience or potential. But that's not the case because we know what is waiting for us. All the big teams are there and we are happy to be in there." [via BBC Sport.]
10:22: For the conspiracy theorists out there, @UEFACorruption have produced their obligatory leak of the supposedly pre-arranged draw. The pick of their shouts are:
Real Madrid Vs Manchester United

— CL Draw Manipulation (@uefacorruption) March 21, 2014
Borussia Dortmund Vs Chelsea — CL Draw Manipulation (@uefacorruption) March 21, 2014
10:17: Of the final eight, it is just the Spanish trio who have retained their undefeated status in the competition. A loss to Benfica robbed PSG of that title while Basel's wins over Chelsea and Bayern's shock defeat to Manchester City cost them in the group stages. Manchester United and Dortmund suffered defeat in the round of 16 en route to victory.
10:14: Atletico Madrid's lack of experience at this stage of the competition has seen them considered another of the competition's outsiders. But Diego Simeone's side have shown no fear in threatening to dislodge Barcelona and Real Madrid's' duopoly of La Liga and are yet to taste defeat in Europe. Like every other side left in the competition, Manchester United is the game their fans have their eye on, as a poll held by the club's official website confirmed.
POLL IN OUR WEB. These are your preferences for today's #UCLDraw: pic.twitter.com/Q75M6J3Cne

— Atleti English (@atletienglish) March 21, 2014
10:09: Manchester United's stirring second leg fight back against Olympiakos may have momentarily breathed life into their campaign, but in what will be one of the most competitive quarter finals in years the odds are not stacked in their favour. Their league position alone compared to those elsewhere suggests the other seven teams in the pot will be hoping to land a trip to Old Trafford.
Real Madrid (first in La Liga)
Atletico Madrid (second in La Liga)
Barcelona (third in La Liga)
Bayern Munich (first in Bundesliga)
Borussia Dortmund (second in Bundesliga)
Paris Saint Germain (first in Ligue 1)
Chelsea (first in Premier League
Manchester United (seventh in Premier League)
10:04: We are just under an hour away from this morning's draw.
The stage is set for the #UCLdraw in Nyon from 12.00CET. Which team are you looking out for? pic.twitter.com/tieDKXaJ5L

— Champions League (@ChampionsLeague) March 21, 2014
10:03: The race for Europa League triumph has also been cut down to a final eight of AZ Alkmaar, Valencia, Porto, Lyon, Sevilla, Benfica, Basel and Juventus; four sides who have progressed through the group stages of the tournament and four who dropped in following elimination from the Champions League. That draw is scheduled for 12:00 (GMT).
10:02: Eight teams remain in the hunt for Europe's richest competition as Bayern Munich, Real Madrid, Barcelona, Paris Saint Germain, Borussia Dortmund, Atletico Madrid, Manchester United, Chelsea wait to learn their fate. The draw is scheduled to start at 11:00 (GMT) in Nyon, Switzerland.
10:00: Good afternoon and welcome to IB Times UK's LIVE coverage of the Champions League and Europa League quarter final draws.