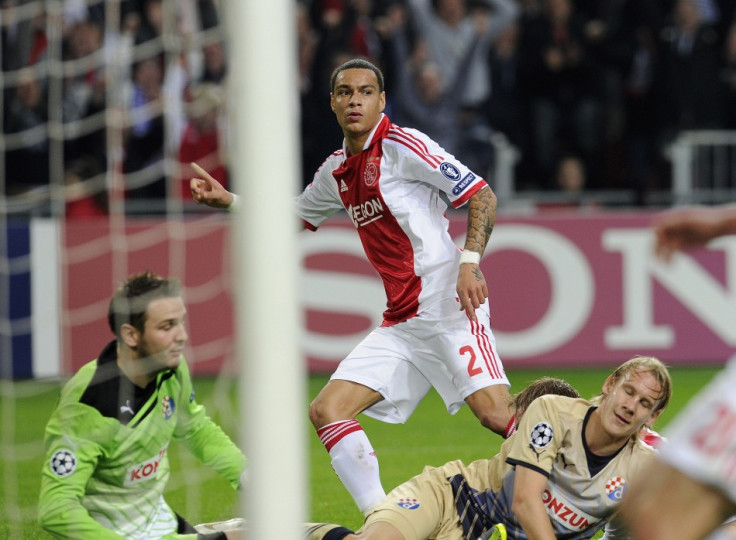 Gregory van der Wiel has admitted that he is planning on making a step up in his career in the next transfer window, with Liverpool continuing to circle the star.
Van der Wiel revealed yesterday that he would love to move to Spanish club Valencia, though he has insisted that while the club are keen to sign him next summer, the Holland international could leave Ajax earlier than that.
Liverpool have been connected with van der Wiel on many occasions, and their interest dates back to when Luis Suarez left Ajax for the Reds on deadline day last January.
Van der Wiel has established himself as a regular member of Holland's starting line-up, and the 24 year old says he's ready to move on from the Dutch club.
"I expect something to happen. I've already been at Ajax for quite some years," Van der Wiel told NUSport.
"It is my club but I'm ready for a new step in my career."
Liverpool are set to receive another big budget in preparation for the January transfer window, and Kenny Dalglish is no stranger to doing big deals in the winter - at the start of this year, just after he had taken over the managerial post at Anfield, the manager spent over £56 million bringing in Luis Suarez and Andy Carroll, and made £50 million on the transfer of Fernando Torres, all at almost literally the last minute of deadline day.
And while no deal has been agreed to with Valencia, Liverpool are still in with a shot to land van der Wiel, who believes that Ajax will want to cash in on his €10 million worth.
"I'm 24, which is a good time to go," he explained. "I also think my departure will be good for my development.
"I have one year left on my contract after this season and I think Ajax will let me go."
While he believes that a deal will likely take place next summer, van der Wiel isn't ruling out a January move.
"Never say never, but it seems best to just leave in the summer," he added.
"I can then leave in a good way and it's also good to start at a new club at the start of the season."