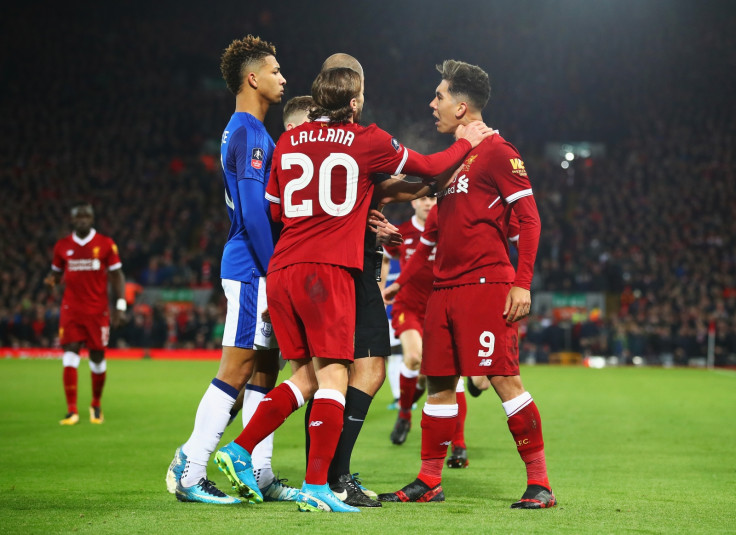 The Football Association may hold an investigation to look into allegations that Liverpool forward Roberto Firmino used a racist term against Everton defender Jason Holgate in the Reds' 2-1 win over the Toffees in the third round of the FA Cup.
The defender clashed with the Liverpool forward after his late tackle pushed him over the advertising hoardings in the first half. Firmino was furious and made his way violently towards Holgate, who burst out in anger after something was reportedly said by the Brazilian.
Holgate lost his head and had to be pulled back by several team-mates, who later complained to the referee, Robert Madley, that he was subjected to a racist term in the exchange. The match official seemed to have a discussion with the fourth official, Jon Moss, and spoke to the 21-year-old again after the game.
The incident is likely to be reported in the match official's post match report, which will then be looked into by the FA and a decision made on Firmino's future as well on any punishment for his misdemeanor.
A Liverpool spokesperson was quoted as saying by the Guardian: "The club and the player will fully co-operate with the relevant authorities to ensure the facts are established in a thorough manner if deemed necessary or requested. While that process is ongoing we will not be making any further comment."
Sam Allardyce refused to comment on the incident but revealed that Everton's director of football, Steve Walsh, would take up the incident with the media and relevant authorities after the Cup tie. Jurgen Klopp also pleaded ignorance to the incident and refused to comment on further proceedings.
"I'm telling you nothing until whatever systems are used to find out exactly what happened or didn't happen," the Everton manager said. "I am here to talk about football not controversial incidents, because football is my life and anything outside the game has to be dealt with by the authorities. Even if I had or I hadn't [spoken to Holgate] I wouldn't tell anyone in this press conference. That is for others to deal with. I have left that with the director of football and told him to sort that one out."
Jürgen Klopp admitted: "I heard about something but I can't say anything so far. The fourth official said something to me. I never heard the words so I thought they were going to investigate the Holgate foul. That's how I understood it at first. Then after the game the fourth official informed me but it wasn't that I really got what it was about."