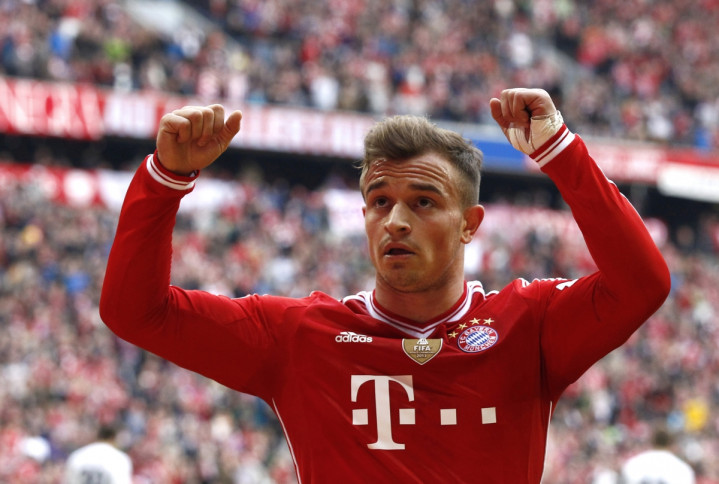 Xherdan Shaqiri has put Liverpool on alert once again after admitting he will seek talks with Bayern Munich over his future ahead of the January transfer window.
Switzerland international Shaqiri remains heavily linked with a move to the Premier League after hitting out over his lack of first team opportunities under Pep Guardiola last season.
Both Liverpool and Manchester United were credited with keen interest in the 23-year-old but despite openly discussing the possibility of leaving the Allianz Arena, he eventually opted to stay after being handed reassurances over his role.
Shaqiri later admitted Brendan Rodgers' side had made him an offer only for Bayern to block it.
However, the midfielder's struggles to hold down a first team role have continued this season having started just three of the club's seven league games, and he has indicated there will be further talks over his future in the coming months.
"I was looking for more first team action this season, everyone knows that," Shaqiri told Neuee Zuricher Zeitung. "I was looking for more first team action this season, everyone knows that.
"We had a sit down and discussed things with Bayern Munich. I received a clear message: I have to stay. I accepted that.
"We will have a look at things again in the winter. We will have to figure things out. I have a long-term deal at Bayern Munich, so it is the club that will decide.
"If the club does not want to sell me or let me go, then that is positive news for me."
According to the player, Liverpool manager Brendan Rodgers was keen to add Shaqiri to his squad during the summer transfer window. The Reds were understood to have seen a bid of £16m knocked back by Bayern, but the club's interest could be reignited if Shaqiri is made available in January.
"Liverpool made a bid for me before the World Cup but Bayern put their foot down and told me: 'We are not going to sell you," Shaqiri said in September.
"My contract runs until 2016 and I could possibly extend it. I will consider my decision during the winter break."