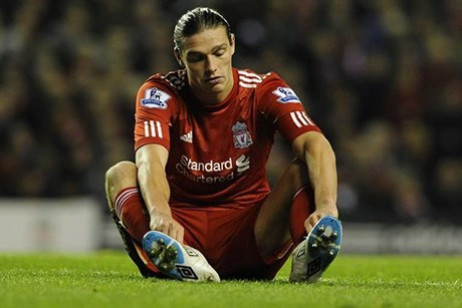 When Liverpool paid the astronomical figure of £35million for Andy Carroll it was justified by the powers that be who pointed to Fernando Torres bringing in £50m after being sold to Chelsea.
It was meant to all be relative, however, this did not stop most Liverpool supporters from questioning why a 22-year-old with very little experience in the top flight was about to become the club's most expensive player in their long and successful history.
Here was a young striker still finding his feet in the game that was going to have to replace Torres in Liverpool's attack; a forward who had become an instant hero by scoring 33 goals in his first season at the club.
It was never going to be easy but there were signs he could be a success. A double against Manchester City not only showcased his aerial prowess but the power he possessed in his left foot.
His first full season under Kenny Dalglish was meant to show the Anfield faithful just why he commanded such a hefty fee. Unfortunately for Carroll, he scored just four league goals and started just 21 games as he struggled to have any influence on games.
Gone were the power house performances that petrified defenders during his time at Newcastle, instead he lumbered about the pitch, desperately seeking that one perfect cross that he could power home.
Again there were glimpses, especially towards the end of the season when he scored against Everton to take Liverpool back to Wembley and then again in a losing effort in the final against Chelsea.
At the Euro's he headed home a fine cross from Steven Gerrard against Sweden, but these were fleeting moments of celebration for the giant forward. Upon returning to Merseyside in the summer he found a new boss with very different ideas. Brendan Rodgers demands a slick passing game and there was no place for Carroll.
Still, Carroll was presented with a chance to prove his critics wrong when he landed a season-long loan at West Ham, a side that was labelled with the long ball tag because of their manager Sam Allardyce.
Here was a boss that understood the need for a powerful forward, capable of scoring and creating goals with his domineering presence. Kevin Davies had performed the job to perfection under Allardyce at Bolton and it seemed Carroll was destined to do the same.
Yet after seven premier League starts and one substitute appearance, Carroll is yet to find the back of the net. He looked dangerous on his debut but has never threatened the scoresheet despite being reunited with his good friend, and chief provider at Newcastle, Kevin Nolan.
While his own personal drought has continued, Luis Suarez, the player signed along with Carroll in January 2011, has demonstrated that he is truly world class. He is the top scorer in the Premier League with 10 goals and looks an absolute bargain at just over £20million.
Liverpool may be short of options in attack, and some have suggested that Carroll could return from his loan in January, but this seems a pointless exercise. The Geordie striker does not suit the style that Rodgers promotes and his lack of mobility and often poor first touch is not what is needed to work alongside Suarez.
The Reds must cut their losses and learn from their mistakes when it comes to forking out massive sums of money on overhyped English players. Stewart Downing also looks to be heading for the door, while Joe Cole (who was free but is one of the highest earners at the club) is also likely to leave if any one makes an offer.
Should West Ham stay up, and it is looking increasingly likely after 12 games this season, then they have a stipulation in place that says they can sign Carroll for £20m. Liverpool should bite their hands off and immediately accept this generous deal.
If Liverpool want to emulate the fabulous Tiki Taka football of Barcelona then there is no place for a cumbersome forward like Carroll.