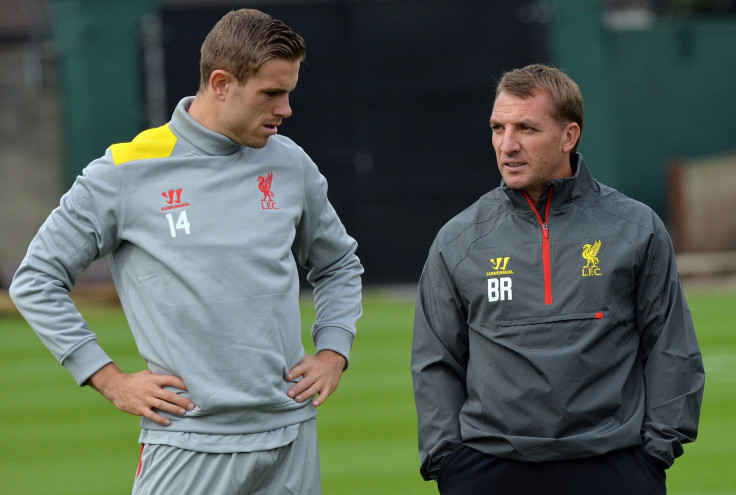 New Liverpool captain Jordan Henderson's "strong mentality" was among the characteristics that led to Brendan Rodgers selecting him to replace Steven Gerrard as Anfield skipper.
Gerrard has joined LA Galaxy after 17 years as a professional on Merseyside, and was first handed the responsibility of leading the Reds way back in 2003.
While reconstructing his Liverpool squad ahead of a renewed assault on qualifying for the Champions League, one of the challenges facing Rodgers this summer was identifying a successor for Gerrard.
Henderson was appointed Liverpool's vice-captain in September 2014, three years on from his move from Sunderland, in the aftermath of the exit of Daniel Agger.
And Rodgers says Henderson's development during the 2014-15 season convinced him to hand him the captaincy for the new campaign, added that he believes he can become a "great ambassador" for Liverpool.
"You can imagine it was in my mind last season when I was aware, in particular, that Stevie was going to be moving on," he told the club's official website.
"I wanted to look at someone who would be a great ambassador on and off the field because it's not just about captaining Liverpool, you have a huge responsibility for the players and the supporters on a worldwide basis.
"So it was going to take somebody who is going to be strong-willed and has a strong mentality, but is also a wonderful role model. Obviously Jordan was one of the players that I thought about, but once I saw him grow and develop as the vice-captain then I felt pretty sure that this would be the season he could be the captain.
"He has taken to the role very well. He's had a perfect role model in Stevie, he's been on the shoulder of Stevie for a year to see how it all works and he'll have picked up a lot from him.
"Like I said to him when I told him he would eventually be the captain – 'have your own ideas, have your own ways of doing it and do it your way'. He's an outstanding player and I think you'll see him really blossom with that captaincy."