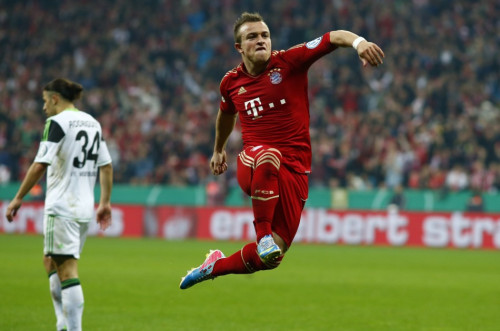 Liverpool have shifted their attention to Bayern Munich midfielder Xherdan Shaqiri after seemingly missing out on Mohamed Salah to Chelsea, according to the Daily Express.
Brendan Rodgers is in the market to bolster his squad and is looking at an attacking midfielder or a forward to alleviate the pressure on Luis Suarez and Philippe Coutinho, who have been playing day in day out for the Reds.
Shaqiri has failed to make the starting line-up on a regular basis at Bayern and Rodgers will be hoping that Pep Guardiola will allow the Swiss international to leave the club should he be presented with a reasonable offer.
The report states that a fee in the range of £17m will be enough to prise the former Basel man to Anfield but club chief executive Karl-Heinz Rummenigge believes that the manager is happy with his contribution and is unlikely to let him go midway through the season.
The midfielder has made 17 appearances this season, scoring three goals in the process and will be a major addition to Rodgers' squad should he be made available.
"Nobody has called about Shaqiri. Right now there are no plans [to sell]. The coach is completely satisfied with him. I think we will go into the season with the current squad," Rummenigge said.
Meanwhile, Rodgers has showered praise on Bournemouth for their positive approach in Liverpool's 2-0 win over the Championship club in the fourth round of the FA Cup.
"When you have a team that want to play football, they are the most courageous players on the field. It is easy to coach a team to sit back, not want the ball and defend and then just wait for a hump up the pitch," the manager said.
"The courage that the Bournemouth players showed today was fantastic - they have got better, I have watched them as the season has gone on. It is coaches like Eddie Howe who will take the game forward in this country because they believe in a way of working and they have a philosophy.
"Bournemouth are a very good side and I give credit to them first of all. Eddie is similar to myself in terms of the philosophy of football. It is not easy when you're a young manager to stick your head out to get your teams to play and pass the ball but he certainly does that," he concluded.