Liverpool's latest addition Daniel Sturridge believes he is already on the same wavelength as Jonjo Shelvey, with the England duo linking up to create the first goal of their FA Cup match up with Mansfield, in which they eventually took the win.
Sturridge completed his move from Chelsea to the Reds at the beginning of the month, and his first match under Brendan Rodgers couldn't have gone better, with the striker scoring within seven minutes of being on the pitch on Sunday.
And after receiving criticism for his attitude at Chelsea, Sturridge is determined to prove he has what it takes to be a member of the team, crediting Shelvey with the pass that created the goal.
"It was a great pass from Jonjo - the vision and the weight of the pass for the goal was perfect," he told the Liverpool Echo. "He made it quite easy for me to take the shot first time.
"We haven't had much time to work on stuff but we were both on the same wavelength. We get on well on and off the field. All the lads have been great with me and they've made it easy for me to settle in over the past few days.
"I want to say thank you to them for making me feel so welcome. I look forward to playing with them for many years to come."
Sturridge revealed he was nervous before his debut, but that when he got onto the pitch he enjoyed showing how much he wants to be a Liverpool player.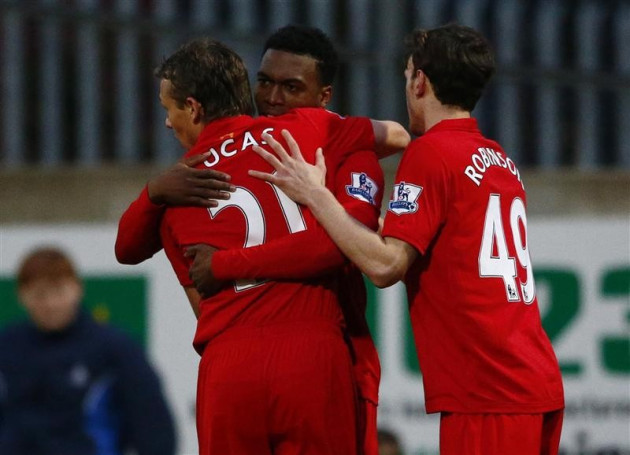 "It was enjoyable," he explained. "It was good to get to know my team-mates and great for fitness. It's the perfect start for me to score on my debut.
"I was quite nervous before the game. It's weird because I don't usually get nervous.
"People will think 'what? you were nervous against Mansfield?' But this is the kind of game where you are kind of expected to score and you have to score.
"I'm just thankful to God for making it happen. Without him none of this would be possible.
"I'm delighted with the win. The FA Cup has been kind to me in the last few years and I'm happy to have helped my team-mates win the game.
"I was quite tired out there as I haven't been playing or training much over the last few months. But I'm grateful to the boss for giving me nearly 60 minutes."