The Montenegrin goalkeeper accused of fixing a 2009 Champions League tie against Liverpool has said the match at Anfield was "the biggest of my career" and there is no truth in the allegations against him.
The match between Liverpool and Hungarian side Debrecen is currently being investigated by Europol after claims that goalkeeper Vukasin Poleksic agreed before the match to concede three goals.
In the event, Liverpool only managed to score one goal, and Poleksic made a string of important saves.
Commenting on the recent allegations, Poleksic told the Daily Mail: "Anyone who watched the match would know that what people are saying is bull. We lost 1-0 at Liverpool and I played a good game.
"I made lots of saves: a one-on-one against Albert Riera, one from Fernando Torres, one from Steven Gerrard. I remember it all. How can anyone say I threw the game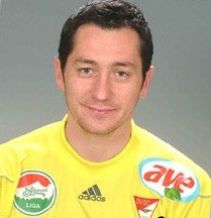 "I was just delighted to be playing at Anfield. It was the biggest match of my career. Liverpool have always been my favourite club. I love them and can't believe what people have said about me. But I know I am clean. I just worry that people will believe what is being said."
Dirk Kuyt was Liverpool's goal scorer on the night, converting one of seven shots on target for the Merseyside club. Poleksic parried a Fernando Torres drive into the path of the Dutchman, which resulted in the goal.
This is not the first time Poleksic has had to contend with match-fixing allegations. Less than a month after the Liverpool tie, Debrecen were defeated 4-3 by Fiorentina in another Champions League group game. The result was shrouded in controversy, with Poleksic receiving a two-year ban by Uefa for failing to report an approach by match-fixers.
The Montenegro international confirmed the incident and lamented his failure to contact the authorities.
"They called me a week or 10 days before the game and it made it difficult for me to play," he said. "I don't know who the people were who called me. I told them, 'I don't do this, I'd never do this, please don't call me.' I don't know where they were from but I made the mistake of not saying anything."
Poleksic stated the two years he spent on the sidelines have been amongst the toughest in his career but claims his performance was not altered in any way.
"I didn't play for two years because of this but it's my fault because I didn't report it," he said. "But I didn't fix anything. The club have been behind me the whole time, they know that I have done nothing wrong. Nobody understands what I've been through. It's been very difficult for my family too and I couldn't have got through this without them."