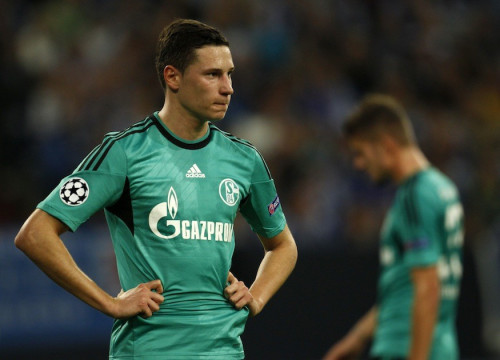 Liverpool favourite Dietmar Hamann has argued that Julian Draxler is not the type of player Arsenal need, insisting the side should pursue more of an out-and-out striker in the current window.
Draxler is highly-rated in the Bundesliga and despite signing a new deal with Schalke in the summer it would appear that his days with the German side are numbered after they admitted they would be powerless to turn down a huge bid for the 20-year-old.
Already a regular for the Germany international side Arsenal have been strongly connected with a move for the youngster this month though the Gunners face tough competition from the likes of Bayern Munich.
But Hamann, who spent a large part of his career with Bayern Munich, believes that Draxler isn't the right player for Arsenal considering they are particularly thin in their attacking line-up.
"Draxler is an exceptionally talented kid and is scoring a lot of goals for Schalke," he told talkSPORT. "He will improve Arsenal but I'm not sure he's the player they really need.
"He's an attacking midfielder and they have plenty of those already. What they need is a centre-forward.
"The way Arsenal play he could probably start up front, but it's not his preferred position."
Hamann couldn't speak highly enough of Draxler though, who has shone for Schalke and could break the Bundesliga's transfer record recently set by Mario Gotze by costing £35m if he leaves the club.
"He's very talented, he scores and sets up goals," he explained. "Whoever gets him is landing a fantastic player who will have a big impact."
One big factor Arsenal will have to deal with when pursuing Draxler is the competition from other suitors, while he will also desire to continue to get first-team action in the lead-up to the World Cup.
The young star has said that he will look at his options after the tournament takes place in Brazil this summer but with clubs already knocking at his door he might be tempted into at least agreeing a move in the coming weeks.