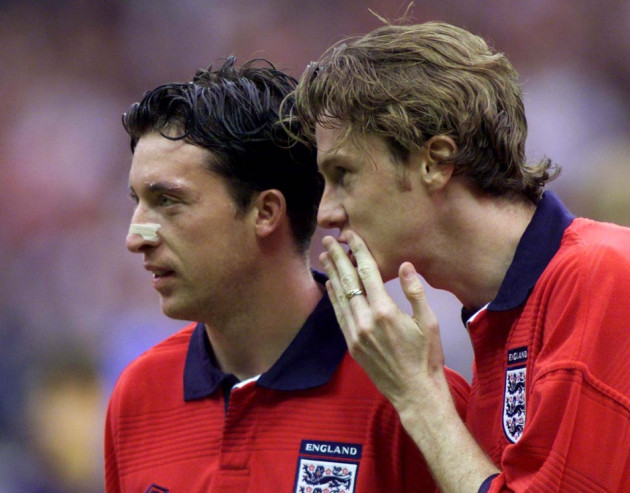 Liverpool have confirmed that former players Robbie Fowler, Steve McManaman and Rob Jones have all agreed to work with the club on a part-time basis to help nurture the next generation of talent.
The trio will work with the Under-18 and Under-21 squads at the Kirkby Academy as Liverpool attempt to bring back their rich tradition of employing former players in coaching roles.
Reds boss Brendan Rodgers is keen for his academy players to listen and learn as much as possible from the three experienced players who enjoyed hugely successful playing careers.
All three men represented England and will now pass down their knowledge as they work alongside Alex Inglethorpe and Neil Critchley by taking specialist sessions.
"It's great to have Robbie, Steve and Rob on board," Rodgers told the Liverpool Echo. "I said at the end of last season that I wanted to get more former players involved and over the off-season I spoke to a number of them about a possible role here.
"For me it's so important to have players like that around. These are players who the young guys look up to.
"The three of them have come in recently and I know they have thoroughly enjoyed having that involvement of working with the kids.
"We're starting with the older Academy players as they are ones they can really affect at this moment. It's both coaching and mentoring, and Alex Inglethorpe is managing that process. At the moment it's about individual work with the players.
"Steve McManaman is working with the wingers and attacking players, Rob Jones is doing some work with the full-backs and defenders, and Robbie Fowler is obviously working with the strikers.
"They are giving them little pointers and passing on experiences from their own careers to help the youngsters. What we are doing is providing an opportunity for the former players.
"Then further down the line we will see what their interests are in that field. The young players coming through are picking up vital bits of information. I'm pleased that it's working well."
While Fowler and McManaman have spent much of their post playing career working in the media, Jones has been away from the limelight since being forced to call time on his career due to persistent injuries when he was just 27.
His 12 year old son Declan is now in the Liverpool academy and he admits that it is great to be back working at the club.
"When Brendan called me to ask if I would be interested, I jumped at the chance to get involved," said Jones. "I really want to see the club do well and I'm happy to help the Academy youngsters in any way I can.
"There is some great talent coming through and Brendan has shown he's very willing to put his faith in youth. Hopefully we'll see more of the young players taking that step up to Melwood."