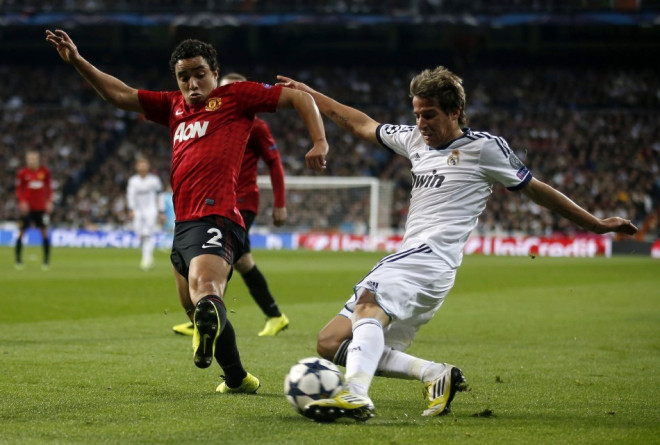 Liverpool are leading the race to sign Real Madrid left back Fabio Coentrao in the summer, according to the Sunday People.
The left back is currently out of favour at Madrid and has attracted interest from the likes of Manchester United and Monaco, who are willing to match the £11.5m fee being demanded by the Spanish giants.
The Portuguese player has made only seven appearances this season and is currently the second choice left back behind Brazilian Marcelo Vieira.
Coentrao was close to making his way to Manchester United on a loan move last summer but a problem in paperwork on the deadline day scuppered the move.
Liverpool, with guaranteed Champions League next season, are currently favourites for his signature with Brendan Rodgers moving fast to replace Luis Enrique, who has been out for most of this season with a knee injury.
Liverpool was reportedly in contact with his manager Jorge Mendes and spoke to him last week over a prospective transfer. The report states that talks are going well and that the Madrid man is likely to choose Liverpool for Champions League football than move to France for European contention.
However, the tide may tilt depending on Manchester United's position in the race for the Champions League trophy, who will face Bayern Munich at the Allianz Arena this week in order to secure a move to the semi-finals.
Meanwhile, Rodgers has challenged his team to show their mental strength against Manchester City next weekend when they take on the title rivals at Anfield to cement their position at the top of the table.
"I thought it was interesting to hear Vincent Kompany talk about we are the best team they have played. We should have won at the Etihad this season, we should have won there last season but drew 2-2. We should have beaten them at home. We were 2-1 up, then made a mistake and it was two-each so the team we have put together, the mentality is to be fearless," Rodgers said.
"It doesn't matter who we play. We have to respect them as they have world-class players but it's about ourselves and the confidence we have to play and for the youngsters to enjoy it. There is no pressure on them. Just go and play and whatever pressure we will take. The most important thing is to focus on the ball and team and not yourselves, and when you do that it will take you a long way," he added.