Liverpool and Manchester United target Christian Benteke has £32.5m release clause says Tim Sherwood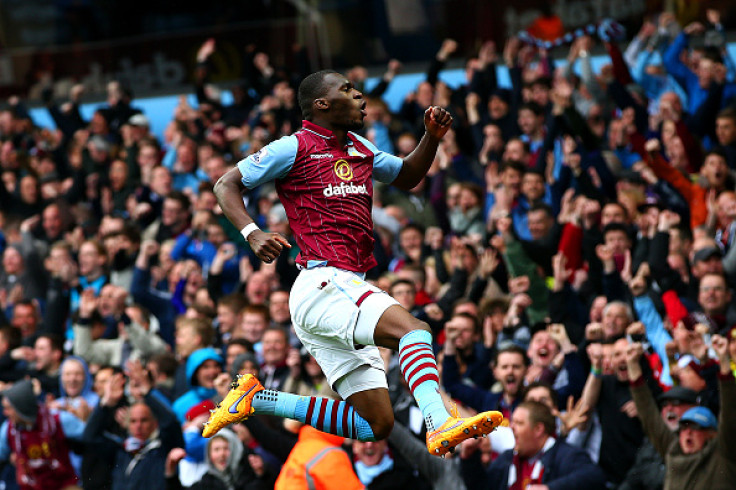 Tim Sherwood has admitted Aston Villa will not be in a position to stop Christian Benteke from leaving Villa Park after revealing the striker has a £32.5m ($49.8m) release clause in his contract.
The 24-year-old scored 12 goals in the last 12 matches and has emerged as a transfer target for Liverpool. In addition to this, arch-rivals Manchester United, are also monitoring the striker's situation.
The former Tottenham Hotspur manager has urged the Belgium international to continue at Villa Park for one more season. Sherwood believes Benteke could join Real Madrid if he manages to shine for both club and for his country during the 2016 European championship.
"There's a buy-out clause in his contract so it will be impossible for us to stop him if he wants to go," Sherwood admitted.
"Someone's got to meet that buy-out clause and if they don't it won't be considered because we don't want to lose him. Everyone has one. Most players would have it when they sign new contracts.
"He's made no indication that he wants to leave. I've not had a conversation with him. I don't think he should be moving clubs before a European Championships.
"It's a tournament Belgium will be one of the favourites to win. Playing for Aston Villa hasn't hindered him being the first choice at Belgium, up to now.
"If he ends up scoring 20 or 30 goals next season, goes into the Championships and has a great tournament, then he is probably playing for Real Madrid," he added.
Meanwhile, Villa take on Arsenal in the FA Cup final at Wembley on 30 May. It could be Benteke's final game at the club, if he decides to leave his current employers in the summer transfer window.
Sherwood has issued a warning to the goal-scoring striker as he believes Benteke could struggle if he decides to leave Villa.
"All he's got to do is look at history to see what has happened to players who have left clubs thinking they're going to pastures new, bigger and better, and they don't actually play, so they end up looking for a new home," the Villa manager said.
"I think we cross more balls into the box than any club in the league and I think Christian will tell you he feeds off crosses. There's no point going to a club where they don't cross the ball."
© Copyright IBTimes 2023. All rights reserved.