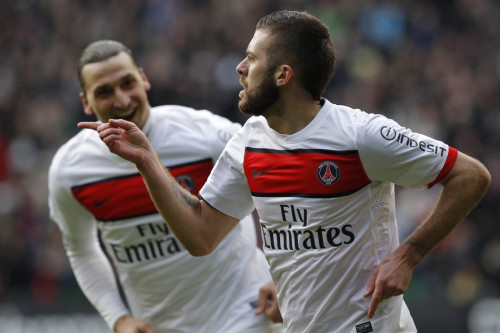 Liverpool have missed out on signing Jeremy Menez in January after his agent confirmed that the forward is willing to extend his stay at Paris Saint-Germain till the end of the season.
The France international had a spat with manager Laurent Blanc and had revealed that he was willing to leave the club should an opportunity present itself. Liverpool were reportedly in for the player and were planning a swoop in January but his agent's remarks have put a lid on the speculation, leaving the Reds with one less target to choose from.
Menez has made only nine appearances in the league this season, scoring two goals and assisting one and would have been a great addition to the Liverpool squad who are looking to bolster their attacking options.
"Jeremy will remain at PSG until the end of the season," his agent, Jean-Pierre Bernes said.
The Reds are currently fourth in the table and are looking to end their campaign with a place in the Champions league. However, they will face competition from the likes of Manchester United, Tottenham Hotspur, Everton and Newcastle for that position, with Arsenal, Manchester City and Chelsea holding the top three spots as of now.
Brendan Rodgers will take his side to play Stoke City at the Britannia Stadium in the Premier league on Sunday and will be looking to close the gap with Arsenal to three points who play late evening against Aston Villa the next day.
Liverpool have been linked with moves for Mohamed Salah from Basel and Andriy Yarmolenko from Dinamo Kiev and the former Swansea manager will be looking to get a deal done as soon as possible to supplement their charge in January.
Rodgers has told fans that they have prepared very well for the transfer window and will buy players should they be made available.
"I'll be confident over the next few windows. You saw last January we were fully prepared for what we needed and we got that business done early. We are fully prepared this time also. A lot of great work has gone in to prepare for this January window but it all boils down to the availability of the players," the manager said.
"Where we're at this January as opposed to last January is that the team has evolved and grown and developed. It's a different team to what it was last January. Now there is greater demand on the types of players that we want to bring in. They have to be available first and foremost," he concluded.