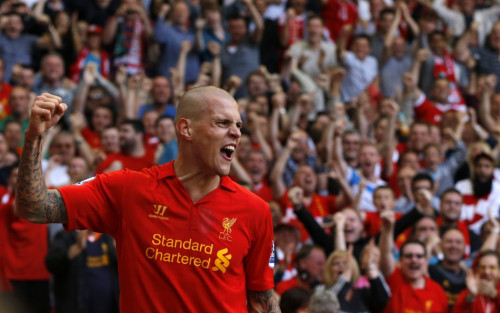 Liverpool defender Martin Skrtel has expressed his desire to continue his services for the Merseyside club for a "long period."
The Slovakia international was signed by the Reds from Zenit St Petersburg in 2008. The 29-year-old has been a key figure in Liverpool's back four over the past few season, but failed to feature regularly during Brendan Rodgers' debut season at Anfield.
However, Skrtel has been in impressive form for the Reds and a key figure in Liverpool's back four, starting in 22 league games this season. The 29-year-old is now keen on extending his stay at Anfield.
"I never thought I would stay here for six years, so I'm happy and proud to have been here for such a long period. We will see how many more years I am at the club but I hope it's going to be for a long period," Skrtel told Liverpool's official website.
"Never [thought he would be at Liverpool for six years], to be honest. When I came here I was such a young player and no-one knew me because I had come from a small country in Slovakia to a massive club like Liverpool," he said.
The centre-back admitted that he faced difficult time during his early years with the Reds, but quickly adjusted to the conditions after featuring regularly for the Anfield outfit.
"It wasn't easy for me at the beginning because I didn't know the language and I had to learn new things on the pitch and off it. When I started playing regularly, the feeling was easier and I've enjoyed my time here," he said.
"Every time I play it's a special feeling because I'm proud to be a Liverpool player and I enjoy every single game," he added.
Despite being regular under Rodgers this season, Skrtel claims that he is keen to give his best in the training sessions in order to retain his place in Liverpool's starting lineup.
"I try to do my best every day in training and in the games as well, and then it's a question for the manager who he picks to start whenever I play alongside Daniel Agger, Mamadou Sakho or Kolo Toure I just always try to do my best," Skrtel added.
"It doesn't matter who is next to me as I am just happy to be in the team and try to stay in it for as long as I can. I'm in the team now and I will do everything to stay in there," he said.