Swansea centre-back Ashley Williams has held little back after launching a scathing attack on Liverpool striker Luis Suarez in his new book My Premier League Diary.
In Williams' book, which was released on Tuesday, he claims that Suarez dives more than any other player he has come up against, whilst also accusing the strikerz of being a serial cheat and and claiming that he became so aggravated by the actions of the Uruguayan that he wanted to 'knock him out'.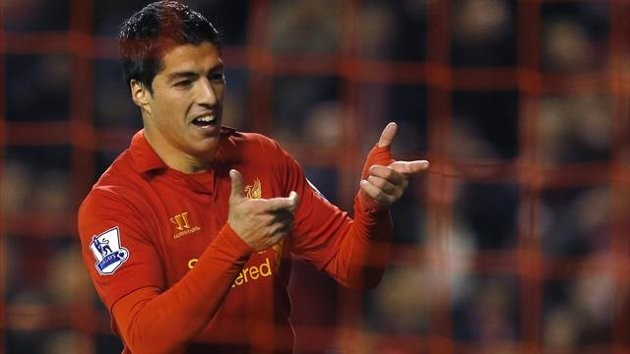 The comments are bound to add some extra spice to the weekend's action as Liverpool head to Swansea on Sunday in a fixture that marks manager Brendan Rodgers' first competitive return to the Liberty Stadium.
Williams is almost certain to start against the Reds and it could make for an interesting encounter after the claimsof the defender who speaks about facing the striker in the 0-0 draw at Anfield last season.
"Suarez has that aura about him that says, "I'm untouchable", and his manner and behaviour made me want to knock him out," reads the quote from Williams book.
"I'd go as far as to say that the manner in which he approached the game, with utter contempt for us all, means that he's streets ahead of any player I've truly disliked since we've been in the Premier League.
"He dived more than any other player I've played against before - it was so bad I was genuinely shocked. 'Throughout the game, he just dived down and screamed at any given moment.
"Now, obviously, diving has crept into the game more and more in recent years and, as a defender, you have to be aware of it.
"But even the players you know that like a dive at least wait until there is some sort of challenge or contact. Not Suarez. A couple of times I'd hear the scream, see him writhing on the floor and for the life of me couldn't see where the contact could have been."
Williams then went on to discuss his second encounter with Suarez which came in Swansea's 1-0 win over the Reds.
"They won a corner, and I appealed to the ref to say that it had come off him last. He said something to me with a bit of a snarl, so I just told him to shut his mouth.
"I don't like the superior manner he brings on the field with him. Basically I have no time for the guy at all."
The comments from Williams may not come as such a surprise to Rodgers who actually gave his blessing for the defender to write the book while he was in charge of Swansea.
Suarez is currently one booking away from picking up a ban and Rodgers will have to hope that the comments do not get under the skin of the forward on Sunday.