Jordan Henderson says he is more motivated than ever to retain his place in the squad for Liverpool, after the 22 year old handed his first league start of the season against Swansea at the weekend.
Brendan Rodgers is currently stretched with his selections, with the manager admitting after the transfer window closed that he had failed to land as many new faces as he might have liked.
While Henderson's future was speculated in the summer, as Rodgers sought to move most of Kenny Dalglish's big money signings on, the England international says he still believes he will stay at Liverpool for the long term.
"I think anybody my age is still learning the game," he told the Liverpool Echo. "I still have a lot of things to work on. I have to keep working hard and believing in myself and then hopefully I will get more chances.
"When I signed for Liverpool I definitely wanted it to be long term and I still do. I signed a four year contract and I will do my best every time I put the shirt on. I will give it everything I have got."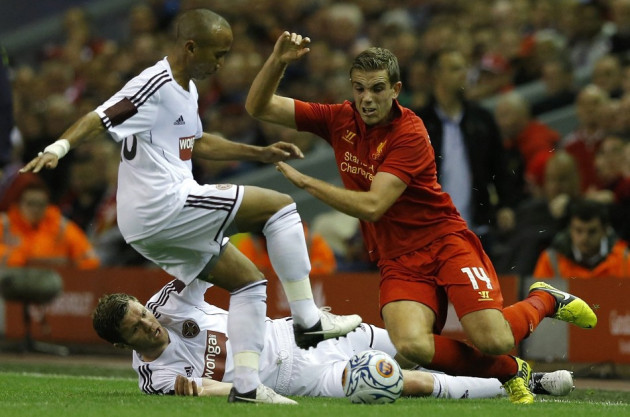 While Henderson looked to have a struggle in front of him to reckon in Rodgers' plans this season, experiments in selection have given him the opportunity to show how good he can be, and he says that he was delighted to show his worth on the pitch against Swansea.
"Sunday was my chance to get my first start and I was happy with the way things went," he explained. "Defensively, I thought I was solid and did what the manager asked. I worked hard and tried to get forward as much as I could but in the final third I need to get better.
"The manager has helped me a lot with my game and I can definitely see improvements, especially tactically, which the manager is always on about.
"I can see that when I am watching games back. When I am in games I feel a lot more confident, so I can definitely see improvements.
"Not playing gave me an extra incentive to really push on and prove I can play in the league. I think the manager has seen that I have improved since he came into the club and I need to keep doing that."