Ajax playmaker Christian Eriksen has revealed he would have no qualms over signing for Manchester City in the summer. The 21-year-old had been previously linked with Manchester United and Tottenham Hotspur but latest reports suggest Liverpool are now favourites to land the midfielder.
Eriksen has refused to extend his contract with Ajax and is almost certain to make his way out of Netherlands in the summer. City, who are planning a reshuffle of the squad at the end of the season, are interested in the player but most youngsters are unsure of a move to the Etihad, owing to the club's inability to offer them regular game time.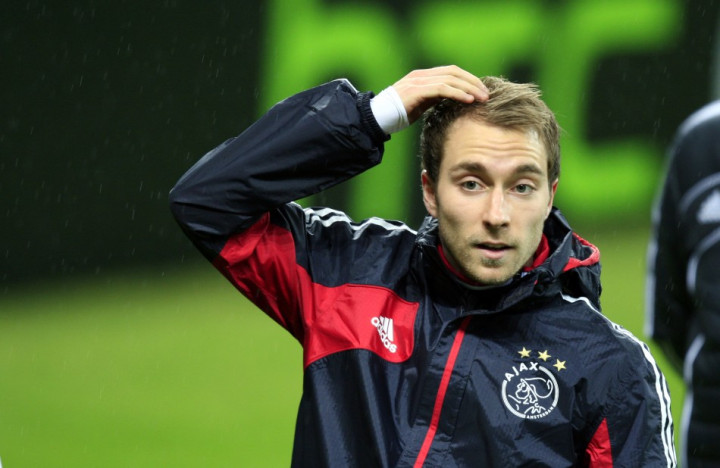 Summer signings Scott Sinclair and Jack Rodwell have learnt this the hard way, with both players managing just six starts between them in all competitions this season, following their moves from Swansea City and Everton. Adam Johnson, who left City to join Sunderland last summer, had publicly castigated the champions for their hard-handed attitude towards some players and dissuaded youngsters from moving to the club.
However, Eriksen does not seem to have any problems in this regard and claims he has a good feeling about the club.
"If I could play for a club like Manchester City - why not? For me it feels important that I have a good feeling of the club. There I should be able to play football and then I could develop. I would be a better player," Metro quoted him as saying.
The midfielder, whose contract with Ajax ends at the end of next season, could cost around £20m, according to the report, but City are expected to offer only £10m up front, with a fringe player, such as Abdisalam Ibrahim or Dedryck Boyata, likely to be added to the transfer to sweeten the deal.
Eriksen may be brought in to replace Samir Nasri, whose attitude this season has irked the manager and has been linked with a move to PSG in the summer. However, Nasri's agent has played down the speculation and believes the Frenchman will fight to keep his place in the City squad.