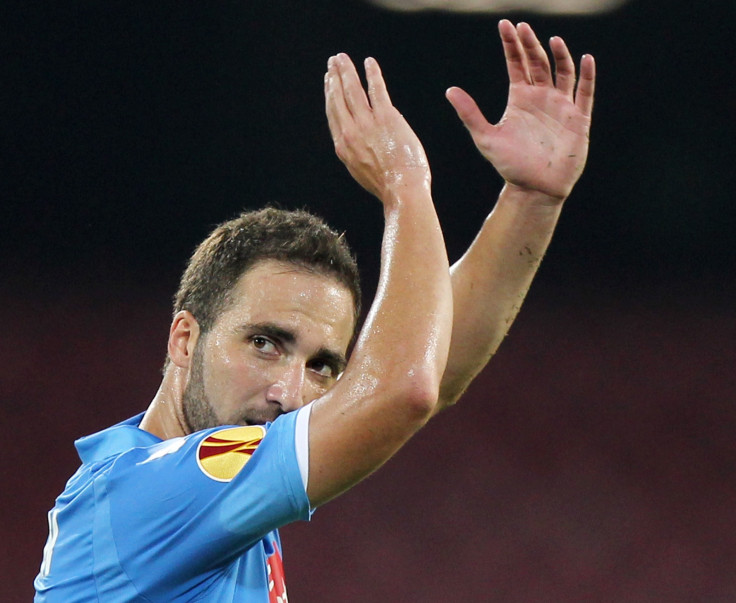 Liverpool have been dealt another blow in their pursuit of Gonzalo Higuain with Napoli owner Aurelio De Laurentiis insisting the striker is not for sale.
Higuain made a £35m move to the Italian club from Real Madrid in 2013, despite rumours claiming he was definitely set for a deal with Arsenal.
The Gunners insisted they were never interested in the Argentine and since the deal was done Liverpool have been strongly connected with a bid for Higuain as Brendan Rodgers seeks more power up front in the aftermath of Luis Suarez's exit.
The manager purchased Mario Balotelli from AC Milan in the summer but the Italy international has failed to live up to his Premier League reputation and another frontman could be sought before the January window closes.
But De Laurentiis says Higuain is definitely not available, telling Football Italia: "I have no intention of selling Higuain.
"We are strengthening the team and will buy other reinforcements. We have to do this in a methodical manner, not by chance.
"If we can't find the right ones in January, we'll get them in June. I know we must reinforce the midfield and the defence."
In 27 appearances for Napoli this season Higuain has scored 14 goals and helped the side to their current third position in the table. They are currently in contention for a Champions League place though with three points separating themselves from Fiorentina, Lazio and Sampdoria in the table it will be a tight fight for a top three spot come the end of the season.
And it would appear that while Liverpool are desperately in need of a striker to catapult them back into the top two of the Premier League, they may have to look elsewhere as Napoli look to hold onto their best talent in the lead-up to summer.