Liverpool are considering a move for Inter Milan midfielder Wesley Sneijder. The 28-year-old playmaker is already the subject of an £8.2m bid from Turkish club Galatasaray but the Mirror believes he is stalling the move in the hope of an offer from a Premier League club.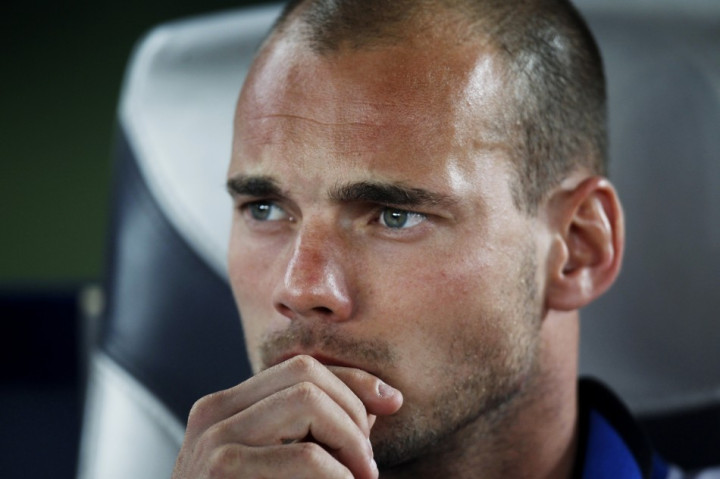 The only problem for the Reds and manager Brendan Rodgers is the Dutchman's salary. The former Real Madrid star is believed to earn close to £200,000 per week at the Giueseppe Meazza and his unwillingness to take a pay cut is the reason he is looking for a new club.
Should the Anfield club be able to come to an agreement, though, it will represent an unbelievable marquee signing for the Merseyside club. Liverpool have released Turkish international Nuri Sahin from a loan agreement with the club (the 24-year-old was on loan from Madrid but has now joined Bundesliga champions Borussia Dortmund on a long-term loan)
Sneijder, a Dutch international, is a hugely experienced and ambitious option for Rodgers and the treble-winning star (the Serie A, the Champions League and the Coppa Italia in 2010) would be a world-class addition to the Reds' midfield.
The midfielder has also been linked with a move to Premier League leaders Manchester United, as a replacement for veteran Paul Scholes. However, it is believed that a poor relationship with compatriot Robin van Persie (who signed for Sir Alex Ferguson's side in the summer) means a move to Old Trafford is now very unlikely. Tottenham were also linked with a move but given chairman Daniel Levy's stance on wages, a move to White Hart Lane is also unlikely.
Gerrard on Handball Goal
Meanwhile, Liverpool captain Steven Gerrard has admitted he too would celebrate a goal even if a handball was involved. Liverpool striker Luis Suarez has come under pressure after a blatant handball allowed the Uruguayan to score the match-winning goal in a midweek FA Cup fixture against Mansfield Town.
"I celebrate. I'm not going to lie and say I would run to the linesman or referee and say I've handballed it at Old Trafford. What would Wayne Rooney do? What did [goalkeeper] Roy Carroll do all those years ago when the ball was four yards over the line? I didn't see Alex Ferguson or Roy Carroll run to the referee or linesman and say it was over, did you?" the Reds' captain told the Guardian.