Brendan Rodgers has denied reports of a move for unwanted Inter Milan midfielder Wesley Sneijder but has confirmed Liverpool will look to add to the first team at Anfield.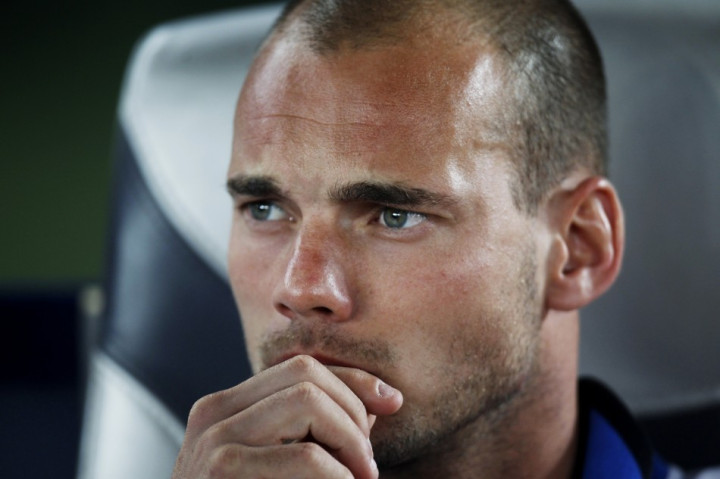 The Dutch international has been linked with a move to Anfield and is also the subject of a bid, in advanced stages, from Turkish giants Galatasaray.
The Turks have confirmed they have submitted a £6.3m bid to Inter and have offered the former Real Madrid star a deal below £5m per year. However, Sneijder is reportedly unwilling to commit to Fatih Terim's side while there is the chance to move to the Premier League. This has led to a four-day deadline from the Turks.
"We'll wait another three or four days for Sneijder. If the deal collapses, we have alternatives. The figures quoted in the media are wrong. Our deal with Inter is worth €7.5m (approximately £6.3m)," Galatasaray president Unal Aysal stressed, adding, "The player knows our proposal. Inter are now calculating things with him. Our offer for his wages is below €5.5m (approximately £4.6m)."
Unfortunately for Sneijder, Rodgers' recent comments seem to rule out the possibility of an offer from Anfield.
"You could probably rattle off about 20 names and the answer would be the same. The club have been linked with a whole host of players, but I couldn't see that [Sneijder] happening," the former Swansea City manager explained.
Liverpool have made only one signing so far this month, with 23-year-old England international Daniel Sturridge moving to Merseyside from European champions Chelsea. The Reds were strongly linked with a move for Blackpool youngster Thomas Ince but recent reports suggest a breakdown in relationship between the two clubs. Also linked to the club is Jack Butland, Championship club Birmingham City's 19-year-old goalkeeper.
The club has seen Turkish midfielder Nuri Sahin leave Anfield. The 24-year-old was on loan from Spanish champions Real Madrid but failed to establish himself in the first team and has now moved on a long-term loan to former club Borussia Dortmund.
"We'll see what happens over the course of the next few weeks. Daniel was our main priority and we'll have to see what else is available. There's no doubt we need to support the group. We had 20 players training this morning, of which some of those are our younger players, so we know we need to reinforce and top up the group. That's something we'll look to do. If we can do it then great and if not, then we'll wait until the summer," Rodgers explained.