Liverpool duo Stewart Downing and Luis Suarez have both insisted that they will stay at the club beyond the January transfer window, despite the former admitting that he's frustrated at a lack of opportunities.
Downing has been disappointing since his 2011 summer move to Merseyside, with the winger struggling to make an impact under Kenny Dalglish or Brendan Rodgers so far.
Rodgers in particular has been publicly honest over his disappointment in Downing this season, and though the winger says he's equally disappointed he hasn't been given many chances for Liverpool during the current campaign, he wants to show he's committed to the club.
"It has been frustrating at times and I have been disappointed this season not to have played more games," Downing said in The Sun.
"But I am just trying to do my best when I play and to get a goal. It is a great club to play for. Hopefully it long continues."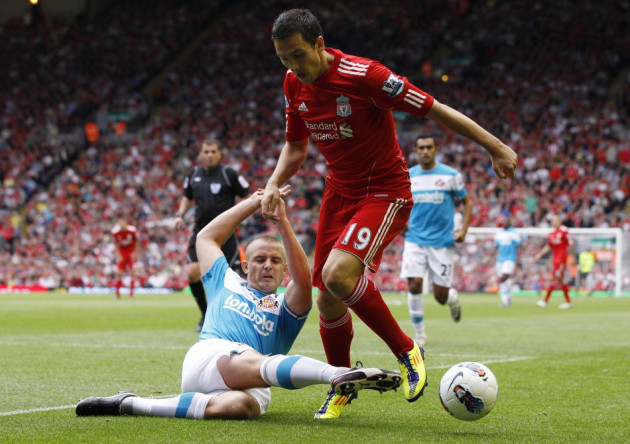 Meanwhile, Suarez has also been connected with reports of an exit from Liverpool this season, with the striker standing out both for his club and across the league as he carries their front line.
A disappointing summer transfer window left Liverpool in a position where a lot of pressure was put on Suarez's shoulders to deliver, and Juventus are believed to be circling with the offer of Champions League football.
But the Uruguay international insists he's happy at Liverpool, though he is flattered by interest from one of Italy's most ambitious clubs.
"Serie A is very nice and a competitive league with great teams and great players," he explained to Mediaset. "I know [Conte wants me at Juventus] because it's been talked about quite a lot and I always read a lot of stories in the newspapers.
"But I'm very happy at Liverpool. It is a club where many people would like to play."
Liverpool will no doubt be fighting a lot harder to keep Suarez than Downing amidst interest from other clubs, but should Downing be able to turn his season around quickly, as the likes of Jordan Henderson and Joe Cole have done with their recent performances for the club, he may yet be able to convince Rodgers of his talent.