LIVE FA Cup and Premier League As it Happened: Liverpool 3-2 Manchester City, Hull 5-3 Sheffield United, Swansea 0-1 Chelsea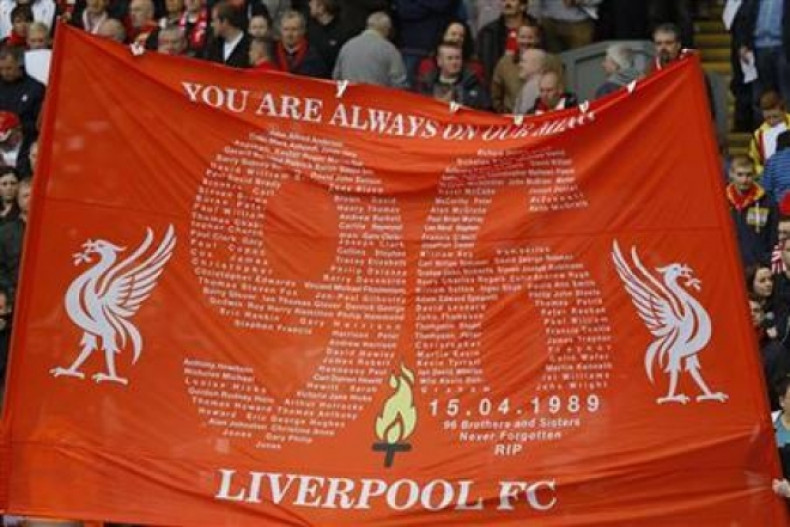 6:04: And it's all over at Stamford Bridge too. In the final few minutes Samuel Eto'o had yet another chance to seal the game after being teed up by Oscar but his control let him down. It doesn't matter two much as Demba Ba's second half effort was enough and the Blues move to within two points of Liverpool.
FULL TIME
Swansea 0-1 Chelsea
6:00: What a semi-final that was. Steve Bruce's half time calls worked a treat and Hull will meet Arsenal in the FA Cup final.
FULL TIME
Hull City 5-3 Sheffield United
5:58: Hull catch Sheffield United on the break! Pushing for an equaliser Porter dances his way past two defenders on the edge of the box but his shot on goal is blocked. From that, Hull hurl the ball up field and suddenly it's five on three! Livermore, running up the inside left channel, slides a simple ball into the path of Meyler who retains his composure and lifts the ball into the back of the net.
Goal! Hull City 5-3 Sheffield United (David Meyler, 90+2)
5:55: Murphy drills home after a diving header is blocked on the line. Three minutes of time added on, can Sheffield United find another?
Goal! Hull City 4-3 Sheffield United (Murphy, 89)
5:52: Eto'o is down after the ball is blasted into his chest from a couple of yards out. After catching his breath again he is up and in a shooting position a few moments later, but drags another fairly woeful effort wide.
5:49: Scougall and Baxter are off for Sheffield United as Chris Porter and Ben Davies enter the fray.
5:47: Ba chases down a hopeful ball and appears to nick it out of the hands of Vorm, but wins a corner anyway. Moments later he does well to hold off the challenge of Amat before firing a shot just over the bar. It's his last action of the day as he is replaced by John Obi Mikel. Get the hint Mourinho might be happy with the scoreline as it stands?
5:45: Aluko has had a fantastic half since coming on for Hull and looks to add some gloss to it as he embarks on a jinking run down the inside left channel, but his effort from 20 yards out fails to trouble Howard.
5:41: Howard in the Sheffield United goalkeeper turns sweeper to come out of his box and head away a Hull long ball with Fryatt lurking.
5:37: Chelsea finally have their lead! Nemanja Matic slides one through for Ba who side steps Ashley Williams before firing on goal. It's not the most emphatic effort you'll see all weekend but it somehow gets through Michel Vorm and the Blues, for now, have closed the gap on Liverpool.
Goal! Swansea 0-1 Chelsea (Ba, 69)
5:32: Hull are flying here! Meyler down the left slides an inside ball into the path of Livermore who swings a perfect cross into the six yard area into Quinn who nods into the net. It's a wonderfully simple goal from Hull, and from another substitute! It's fair to see Steve Bruce has absolutely nailed his second half decisions.
Goal! Hull City 4-2 Sheffield United (Steven Quinn, 66)
5:30: Jake Livermore meanders in from the left to the edge of the D, looking for the right pass to slide Fryatt in. It's not there, so instead he opts to find Huddlestone a yard behind him, whose vicious shot is hammered straight at Howard, who gathers after initially spilling the effort.
5:27: Chelsea spurn another chance! This time Samuel Eto'o is presented with an opportunity on the edge of the box after some woeful Swansea defending, but his directs his shot the wrong side of the post. Swansea respond by fashioning a chance of their own as Routledge's shot takes a nick off John Terry to take it wide of the far post.
5:24: Sheffield United come close to their third! Scougall finds Ryan Flynn with an excellently timed pass inside the right channel. Flynn shapes to shoot from 18 yards out but an excellent challenge from Liam Rosenior blocks his effort.
5:21: Great chance for Chelsea to make their numerical advantage count as Ba meets a flashing cross, but he can't get enough on his header and ball flies wide of the post.
5:19: Hull lead for the first time! Huddlestone advances deep and plays a neat one two with Meyler. His first touch on the return pass is a beauty and it sees him evade the challenge of a Sheffield United defender who is left on his backside. Into the box, the former Spurs midfielder cuts inside onto his left foot and curls one past Howard. Excellent finish.
Goal! Hull City 3-2 Sheffield United (Tom Huddlestone, 54)
5:17: Aluko finds a gap to slide a ball into the path of Fryatt who rounds the goalkeeper with ease and slots home... but the offside flag has been raised. Replays show he timed his run well and was on side, however.
5:14: Hull are immediately back in it! A corner is lobbed into the danger area and Sagbo is first to the knockdown. He holds off his marker before sliding the ball to James Chester whose effort pings into the path of Fryatt, who has just come off the bench. Under pressure, he coolly slots the ball past a cluster of Sheffield United players on the line.
Goal! Hull City 2-2 Sheffield United (Matt Fryatt, 47)
5:13: Jose Mourinho has wielded the axe, Samuel Eto;o and Oscar on for Schurrle and Ramires.
5:11: We are back underway at Wembley and Sheffield United are 45 minutes away from joining Arsenal in the FA Cup final. Chelsea get us started again at the Liberty Stadium.
5:00: Swansea have been reduced to ten men after Chico Flores was shown two yellow cards in the space of a couple of minutes, but Chelsea have been unable to capitalise with Mohamed Salah spurning the best of their few opportunities.
In the FA Cup, Hull City were level for about a minute following Jose Baxter's early opener but Sheffield United took an enormous leap into the final through Stefan Scougall, who was up the other end to restore his side's lead immediately after.
HALF TIME
Hull City 1-2 Sheffield United
Swansea 0-0 Chelsea
4:55: Oh dear Salah. The ball falls invitingly for the Egyptian inside the box but rather than trying to place it who opts to try and burst the ball and hammers it wildly over the bar.
4:52: It's all happening at Wembley! Jake Livermore plays a neat one two before spraying an inviting ball over to the far post where Sagbo is well placed to hammer a left footed effort into the roof of the net. Hull's celebrations are short lived however as United march straight down the other end through Jamie Murphy who swings a low ball into the box where Scougall is arriving late to bury his side's second.
Goal! Hull 1-2 Sheffield United (Stefan Scougall, 43)
Goal! Hull 1-1 Sheffield United (Yannick Sagbo, 42)
4:49: Demba Ba and Ramires nearly work a one two through the middle but it's done at such a pace the Brazilian is unable to take the ball in his stride under pressure from Rangel. Moments later Wayne Routledge intercepts a cross field ball by plucking it out of the air and instantly bringing it forward on the instep. It was a wonderful piece of skill.
4:47: Shelvey attempts to recreate Rooney's half way line effort after spotting Cech off his line. To be fair to him it's not a bad effort but it drops rather comfortably into the Chelsea keeper's hands in the end.
4:45: Hull continue to enjoy the greater share of possession but are yet to fashion much of it. It looked as if Huddlestone had a sly kick as Doyle after giving away a foul, but it has gone unnoticed.
4:42: Phil Dowd's decision was fairly justified but it has worked to extinguish the bright start this game had. Willian sums that up by spraying a perfect ball into the path of an advertising board.
4:39: Demba Ba tries in vain to hold off the challenges of three Swansea defenders swarming around him. He's not pleased when a goal kick is awarded. Swansea, as you may expect, are sitting fairly deep now but with Routledge and Dyer capable of springing on the break they are still very much in this contest.
4:36: Hull City have a corner cleared that falls to Tom Huddlestone but his 25 yard drive is nodded away for another corner. It's another wasteful delivery however as Davies is penalised for a push on Howard.
4:34: Jonjo Shelvey plays a neat one two with Rangel down the right flank but Azpiliceuta is across to intercept in the nick of time and is bundled to the floor for his trouble. Shelvey naturally responds by shouting at the linesman.
4:32: Sagbo looks to respond to his side falling behind immeadiately as he charges at the opposition defence but he's soon stopped in his tracks.
4:31: Garry Monk responds by bringing Jordi Amat on for Hernandez, Swansea fans respond by relentlessly booing Schurrle anytyime the German touches the ball.
4:29: Sheffield United have the lead! And it came from nothing really as a throw in lands at the feet of Brayford who whips a cross into the box. Jose Baxter is across James Chester in a flash and pokes home!
Goal! Hull 0-1 Sheffield United (Jose Baxter, 19)
4:25: Chico is caught flat footed up against the pace and power of Schurrle and clips the German on the edge of the box. Minutes after showing the Swansea man a yellow card, Phil Dowd mulls his decision over but after appearing to have handed the Spaniard a reprieve, he reaches for a yellow and Chico is off after 16 minutes.
Red Card - Chico Flores (Swansea)
4:24: David Meyler is booked for a challenge on Connor Coady. The free kick is pumped into the box but Hull clear. Not much quality to speak of in this one yet.
4:23: Good save from Cech! Rangel swings in a cross from deep and, from a good 15 yards out, Bony meets it with a looping header that the Chelsea keeper has to palm over the bar. The corner is wasted and Chico earns himself a yellow card for a cynical challenge to break up a Chelsea counter.
4:21: Hernandez tries to weave his way past Azpiliceuta and Cahill with some neat foot work but he's muscled out at the last minute. The Swansea man wants more than a corner, but the referee isn't listening to him.
4:19: Ivanovic is suddenly nowhere to be found as Shelvey bursts down the inside left channel but his cross - I think it was a cross - lands nowhere near Wilfried Bony and it's a goal kick.
4:17: Elmohammady this time has space to run into down the wing but he overruns it and it's a goal kick. Sloppy start from both sides at Wembley so far.
4:14: Oh what a miss by Salah! Schurrle and Ivanovic brilliantly combine down the right and the ball is cut back into the box where Salah has peeled off his man. From 12 yards out it looks like a simple opportunity to pass into the back of the net but the Egyptian steers it wide!
4:11: Hull venture towards the Sheffield United goal for the first time as Figueroa reaches the by-line but his delivery is poor and Mark Howard colects.
4:10: Bright start from Swansea as Nathan Dyer comes out on top in his initial battles down the right with Cesar Azpilicueta. He works the ball inside to Hernandez who draws a decent stop out of Cech.
4:07: Swansea get us underway at the Liberty Stadium.
TEAM NEWS: Demba Ba leads the line for Chelsea ahead of Mohamed Salah, Willian and Andre Schurrle.
LINE UPS:
Swansea: Vorm, Rangel, Chico, Williams, Davies, Britton, Shelvey, Dyer, Hernandez, Routledge, Bony.
Chelsea: Cech; Ivanovic, Cahill, Terry, Azpilicueta; Ramires, Matic; Salah, Willian, Schurrle; Ba.
Hull City: Harper, Rosenior, Figueroa, Davies, Chester, Huddlestone, Meyler, Livermore, Boyd, Elmohamady, Sagbo.
Sheffield United: Howard, Harris, Brayford, Maguire, Flynn, Doyle, Baxter, Collins, Coady, Scougall, Murphy.
3:33: What an incredible Premier League match that was. City made the game a contest once again with an imperious start to the second half but one of the worst mistakes you'll see this season from Vincent Kompany allowed Philippe Coutinho to add what turned out to be the winner. Liverpool are five points clear at the top of the Premier League with four games remaining. Chelsea have the chance to close that gap against Swansea City with kick off just less than half an hour away.
We will also find out who will met Arsenal in the FA Cup final as Hull City and Sheffield United meet at Wembley. We will have team news for both games coming your way shortly.
FULL TIME
Liverpool 3-2 Manchester City
3:30: Replays show Martin Skrtel punching away a City corner moments ago! Seems no one in a City shirt noticed however as there was no sign of an appeal.
3:27: Jordan Henderson is shown a straight red card and it's completely justified. After overunning the ball the midfielder is high and late on Nasri. No complaints for Liverpool. Lucas on for Sterling
RED CARD - Jordan Henderson (Liverpool)
3:26: Five minutes of added time. City have a corner, but Mignolet catches with ease.
3:24: Chelsea's Victor Moses comes on for Liverpool to replace Coutinho.
3:22: Coutinho takes down Zabaleta near the right corner flag. It's met by Johnson but is header is sent high rather than wide but Mignolet makes the clearance.
3:20: That imperious rhythm City had before Coutinho's goal has diminished somewhat but they are still searching here. Garcia does well to work the ball across the field to Silva who loops a cross to the back post for Aguero, but under pressure from Johnson it bypasses him and goes out for a goal kick.
3:17: City are shell shocked for a couple of minutes but begin to find their feet again as they win a corner. Demichelis is on the end of it but his header is hacked away comfortably a few yards off the line.
3:14: Liverpool have another and it was gift wrapped by Kompany! A throw in in their final third is hurled into the box and under no pressure, Kompany completely slices his clearance. Coutinho is on the loose ball in a flash and curls a brilliant strike into the bottom corner.
Liverpool 3-2 Manchester City (Philippe Coutinho, 77)
3:11: City so close to a third! Skrtel commits himself to a sliding challenge that Aguero rides with ease and cuts in from the left. He slides a ball into the box where Silva is stretching but he can't get enough on it and it rolls just wide of the post. Brilliant chance, but it was somewhat surprising that Aguero didn't cut in further and have a go himself.
3:08: More good work from City's backline again as they step up in unison just before Flanagan's threaded through ball finds Henderson. The Liverpool midfielder plays it across goal for Suarez to tap home but the whistle has long been blown.
3:05: It's incredibly tense around Anfield now. Suarez thinks he is through on goal after Liverpool quickly work a throw in in field but the offside flag is up. Hart makes the save anyway.
3:03: Moments earlier Daniel Sturridge went off for Joe Allen. Since then Sergio Aguero has entered the fray for Dzeko.
3:02: Liverpool's penalty appeal is turned down! Flanagan slides a ball through to Suarez who is ahead of Kompany in the box but his touch takes it slightly wide. Kompany is pulling on his shirt and the Uruguayan collapses rather theatrically, which may be what costs him. Mark Clattenburg waves away appeals once again.
3:00: Anfield is silenced! Silva has been exceptional this half and this time he is picked out after a neat exchange from Milner and Nasri. Silva shoots on goal but it's deflected past Mignolet by Johnson.
Goal! Liverpool 2-2 Manchester City (Glen Johnson OG, 62)
2:57: What a challenge from Zabaleta! Sturridge leads a counter and drives into the box with two for company running ahead of him. Ignoring Suarez he cuts inside on to his favoured foot but the Argentine disposseses him brilliantly.
2:56: Silva has burst into life here; the Spaniard brilliantly works his way across goal from the centre and fires an inviting ball across goal that is just out of the reach of Dzeko. Liverpool are looking nervous at the back now.
2:54: Game on. It's remarkably similar ton his effort disallowed moments earlier as Milner works it in from the right. Silva's lifts the ball into the corner of the net past Skrtel and City are right back in this.
Goal! Liverpool 2-1 Manchester City (David Silva, 56)
2:51: David Silva has the ball in the back of th net but it is disallowed; the ball had gone out of play before James Milner cut the ball back across goal.
2:49: Suarez, on a yellow, takes a blatant dive over Martin Demichelis. Mark Clattenburg could easily show Liverpool's top scorer another yellow but chooses not to despite protests from City.
2:48: A ball from James Milner finds it;s way through the City backline and Fernandinho on a bursting run is almost on the end of it! An excellent sliding tackle from Skrtel takes the ball off his toe.
2:46: James Milner is on, replacing Jesus Navas.
2:44: Brilliant from Sterling. The teenager wins possession and expertly spins past his marker and brings the ball up field, dipping past City defenders with ease. About 25 yards from goal it all goes wrong however as he shanks a shot well wide.
2:42: City look to find an opening down the right through Silva and Garcia but Flanagan intercepts to break it up.
2:40: City get us back underway in the second half.
HALF TIME
Liverpool 2-0 Manchester City
2:24: Mignolet redeems himself with a terrific save! From another corner the ball falls kindly to Fernandinho who lashes a half volley on goal, but the Belgian reads it well and gets a firm hand to it.
2:23: Glen Johnson off the line! Mignolet misses the corner but his right back twice nods attemps off the line to save the Belgian's blushes.
2:21: First piece of incisive attacking from City. Silva expertly cushions a ball into the path of Nasri who leads the counter. He sprays the ball into space down the right where Navas is bursting through and the Spaniard swings decent cross into the middle that is met by Silva who has galloped into the six yard area. It rolls just wide of the post but the referee awards the corner.
2:19: Sterling skips past his man down the left but his ball into the centre is gathered by City. They don't have it for long however as Kompany loses possession and suddenly Coutinho is presented with a great opportunity on the edge of the area. He has Suarez pulling into space but the Brazilian shoots and screws another wide of the target.
2:15: With no Toure, Silva takes the free kick but it's weakly driven into the wall. City regain possession and work the ball wide to Clichy but his looping cross is easily gathered by Mignolet.
2:13: Dzeko gets a decision this time as he side steps Coutinho before being tripped by the Brazilian on the edge of the box.
2;11: Big shout for a City penalty as Sakho recklessly dives in on Dzeko at the by-line. The Liverpool centre half completely missed the ball before clattering into his opponent, but the referee awards City a goal kick.
2:10: City have a corner but it's confidently punched away by Mignolet.
2:08: Liverpool are tearing City to shreds here. Dzeko has an air kick on the edge of the Liverpool area and the home side leap into action. Coutinho finds Suarez with a sublime ball and the Uruguayan plays another to the far post for Strurridge. Hart looks to be in control but he's deceived by the weight on the pass and the Liverpool striker is almost in again! He instead cuts back to Sterling whose effort is blocked by Zabaleta. City look positively petrified when Liverpool are on the attack.
2:06: Anfield has errupted. The corner is swung in and Skrtel has space to leap and flick a header into the corner of the net. That's his fifth goal in his last ten games.
Goal! Liverpool 2-0 Manchester City (Martin Skrtel, 26)
2:04: Hart denies Gerrard from a point blank header! The Liverpool skipper is unmarked but Hart gets a firm hand to it. Another corner.
2:01: Fernandinho is caught out of position as Daniel Sturridge leads a counter through the middle with Garcia for company. He works the ball to Sterling who attempts the return with a clipped through ball but Demichelis makes the crucial interception.
1:59: David Silva comes to life for the first time and clips a clever ball out wide with the outside of his boot. It's worked to Navas on the right who reaches the by line and wins a corner. It's mopped up by Liverpool however and Silva is penalised for a foul on Suarez.
1:57: Javi Garcia crashes through the back of Jordan Henderson and earns himself a yellow card within minutes of coming on.
1:55: Oh dear, Toure falls to his knees again clutching his groin. His afternoon is over as he limps off as Garcia comes onto replace him.
1:54: What a chance for Strurridge! It's excellent again from Sterling who dances through the inside right channel before looking for his teammate at the back post. His ball is near-perfect but Sturridge opens his foot up and steers his effort wide.
1:52: Dzeko does well down the right, reaching the by-line before squaring to Nasri. The Frenchman looks to his right and slides across to Toure who hits a surprisingly woeful effort well over the bar. But more worryingly for City, the Ivorian immediately clutches his knee having stretched to hit that effort on goal. Javi Garcia has started warming up, what a blow that would be for City.
1:50: Coutinho appears to have been handed a deeper role today and has needed no invitation to get stuck in in the middle of the park, sliding in to nick the ball away from Yaya Toure. The Ivorian is penalised moments later in the Liverpool area for a push
1:48: It;s great play down the left from Liverpool as Henderson bursts into space before dinking the ball into the path of Sturridge. The striker reaches the byline and tries to lift a cross over to Suarez in the six yard area but it's hacked away by City.
1:44: What a finish from Sterling! Moments after being booked Suarez gets his body in the way of Demichelis and slides an excellent ball in from the inside right channel. It finds Sterling who cuts inside, then cuts out again expertly, leaving Kompany on his backslide before sliding it into the net. It was brilliant composure from the teenager who sold both the City skipper and Joe Hart as he worked space for himself. Anfield is working.
Goal! Liverpool 1-0 Manchester City (Raheem Sterling, 6)
1:43: Demichelis neatly steals possession from Suarez in the Liverpool final third and the Uruguayan responds by lunging in on the City centre half. He's rightfully shown a yellow card for the late challenge.
1:41: Liverpool probe outside the City box before Coutinho is picked out in space on the edge of the D. His shoots for goal but drags a poor effort well wide.
1:39: The atmosphere around Anfield is predictably electric as the game gets off to a brisk start. Vincent Kompany is given an early opportunity to test the strength of his knee as he sharply turns to win possession before sliding to dispossess a pass from Jordan Henderson.
1:37: After a minute of silence perfectly observed by all in attendance, we are underway at Anfield.
1:20: A win today will be Liverpool's 10th on the bounce and will leave them firmly in the driving seat to end their 24 year wait for another league title. With his side's form in mind, Brendan Rodgers has opted to sticking to that winning formula.
There is no need for us to change. We've had an outstanding season. The players have been great and confidence is high. The players have worked well this week.
We know it is a significant game with only five games left but that is not something that will hold us back. We are not daunted by it, we are looking forward to it. We know it will be a huge test for us."
1:10: It didn't look too good for Vincent Kompany yesterday but he starts today. His manager Manuel Pellegrini also confirmed that Sergio Aguero will have a role to play in the second half.
Vincent Kompany will warm up with the team and then we will see if he has a problem but I think he will be fit to play.
Of course there is always a doubt but the doctors said he will be ok.
He had a problem with his knee yesterday because another player fell on him and he twisted his knee a little bit but not so much.
We are always prepared to make changes but I hope he will play. I don't think it is good for Sergio Aguero to start. He will play the second half.
Three points against another team playing for the title, I say is six points. It is a very important game. I hope we can win it. But for both teams it is not the last game of the season." [via BBC Sport].
TEAM NEWS:
Liverpool: Mignolet, Johnson, Flanagan, Sakho, Skrtel, Gerrard, Henderson, Coutinho, Sterling, Suarez, Sturridge
Manchester City: Hart, Zabaleta, Kompany, Demichelis, Clichy, Toure, Fernandinho, Navas, Nasri, Silva, Dzeko
BREAKING: Liverpool remain unchanged from side that beat West Ham 2-1 last week and Vincent Kompany starts for Manchester City who make just one change.
12:40: This fixture is rightly billed as a potential title decider, but it will be a oignant afternoon at Anfield as the 25<sup>th anniversary of the Hillsborough disaster is observed. A minute silence will take place ahead of kick off during which fans in the Kop End will hold up a mosaic with a message reading, '96 25 years.'
Floral tributes will be made by Manchester City and Cekltic before kick-off and half time while City officials will present a wreath of flowers and 96 red and blue roses to Liverpool icons Kenny Dalglish and Ian Rush.
12:30: Despite limping out of training on Saturday after a collision with teammate Micah Richards, Manchester City captain Vincent Kompany is expected to start this afternoon.
12:20: Good afternoon and welcome to IB Times UK's LIVE coverage of Sunday's Premier League and FA Cup action. On what will be an emotional afternoon and Anfield Liverpool can underline their title credentials with a victory over Manchester City, while Chelsea will attempt to maintain pace as they take on Swansea City.
With Arsenal booking their place in the FA Cup final in dramatic fashion yesterday, Hull City and Sheffield United will battle it out for the right to join them at Wembley next month. Stick with us for all your team news and updates throughout the afternoon.