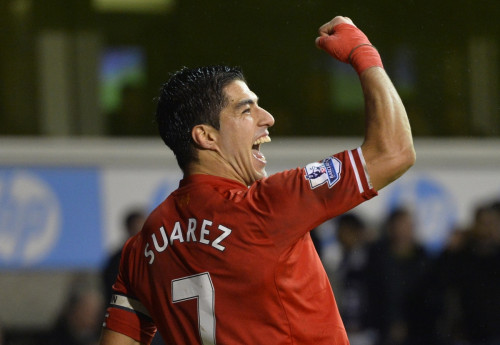 Liverpool striker Luis Suarez believes moving on from the "only two mistakes" he has made in his career has been the foundation for his spectacular form this season.
The Uruguay international has been irresistible in front of goal this campaign, scoring 23 goals in just 21 Premier League games to spearhead Liverpool's top four ambition and perhaps even a challenge for the Premier League title.
It marks a remarkable turnaround for the 26-year-old whose chequered history in both the Premier League and Holland's Eredivise before tarnished his reputation as one of the best forward's in world football.
Suarez describes the moment where he bit an opponent while playing for Ajax in 2010 and an identical incident involving Chelsea's Branislav Ivanovic last season as the two "only mistakes" he has made in his career and believes the fallout from both episodes was the catalyst behind his new-found maturity.
"Let me tell you, I've made only two mistakes in my career. My first was when I was playing for Ajax and I bit an opponent. My second was when I bit (Branislav) Ivanovic," Suarez told Sport 890 AM.
"Those two were my only two mistakes as a footballer.
"I said I'm sorry and that was all, end of story. I've nothing else to regret. All the other things were like a movie that people in England believed in."
However, Suarez maintains the incident where he was charged for racist abuse aimed at Manchester United's Patrice Evra in early 2013 was unjust.
"The case with (Patrice) Evra was all false. I was accused without proof. But that's in the past. I was sad at that moment, but I'm happy today.
"I have grown up. I have thought more about things before doing them.
"Now people in England can't talk about me because I'm not doing anything wrong. They have to talk about me only as a footballer."
Suarez's Uruguay enter next summer's World Cup boasting one of the most fearsome attacks in the competition with the Liverpool man and Paris Saint Germain's Edinson Cavani set to lead the line in Brazil.
The Liverpool striker's spectacular form this season has many tipping him as a candidate for the tournament's Golden Boot award, but having seen both Edinson Cavani and Theo Walcott's World Cup hopes potentially ended by knee ligament damage, Suarez admits he is worried he may see his tournament ended by injury during the final four months of the Premier League.
"The truth is that I am scared of what happened to Falcao and Walcott," Suarez added.
"But you live in the present and you always give your best for your club - you can't be thinking about that all the time.
"It is a unique opportunity and we all want to be there, but I prefer to focus my mind on the English league. The moment to think about the national team will arrive later."