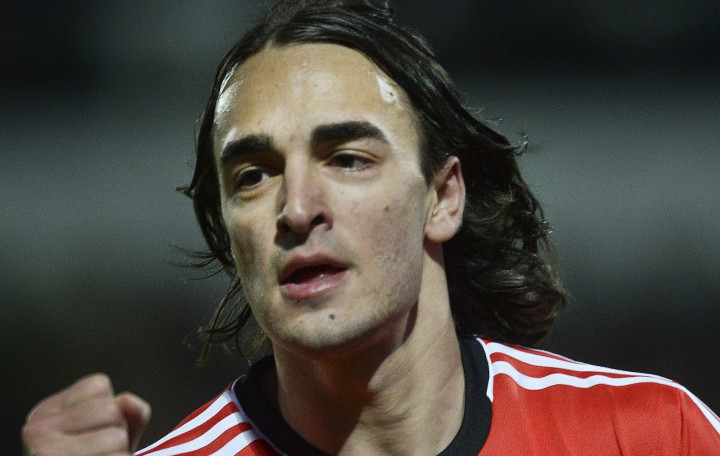 Liverpool winger Lazar Markovic is expected to recover from injury in time for the Premier League season opener against Southampton after an ankle ligament problem.
The Serbian international has featured just once for the Reds in a friendly against Olympiakos since completing his move from Benfica this summer and fears were rife that he would miss the start of the campaign.
But manager Brendan Rodgers has calmed fears over an extended period on the sidelines and says that should Markovic not be fit for the match against Saints on Sunday, he will be available for Liverpool's trip to Premier League champions Manchester City.
"He'll hopefully be around then [against Southampton], but if not then he certainly will for the next game," said Rodgers after his side's 4-0 friendly win over Borussia Dortmund.
"He had a slight problem with his tendon, but he's up to speed.
"He's working with our sports science team, he's looking very strong and if he just misses out, he certainly should be available for the next game."
However, the news on Daniel Agger is less positive, with the Danish defender – for whom Rodgers confirmed the club have received no interest in during the summer transfer window – still nursing a knee injury and the Liverpool boss was unable to confirm a date for his return.
"Dan is still getting some work done on his knee," he said. "He's been unfortunate since America, so he's still getting treatment."
Liverpool have made seven summer additions in the form of Markovic, Dejan Lovren, Adam Lallana, Rickie Lambert, Divock Origi (who has been loaned back to Lille for this season), Emre Can and Javier Manquillo.
Further signings are expected and Rodgers faces the task of blending the new faces with a squad that finished second in the Premier League last season.
"I have been really pleased with all of the signings because they have all come in as part of our strategy and the types of profile of players that we want," said Rodgers.
"One of the pleasing things for me today was that I could make changes in the game and bring players on and still feel that we were strong.
"That hasn't been the case since I have been here just because of the lack of depth. But today we could make changes and keep that desire and commitment within the team and the quality, very importantly.
"There are maybe one or two more to come but come the end of August, I think we will hopefully have depth in our squad and be ready to challenge."