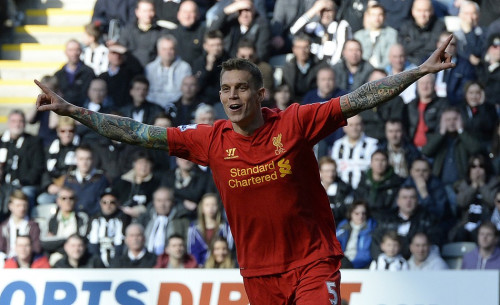 Daniel Agger is remaining calm over his Liverpool future despite falling out of favour with Brendan Rodgers.
Despite starting the season as an integral member of the Reds' defence, the Dane has started just three Premier League games since the end of September, with Rodgers opting for the combinations of either Mamadou Sakho, Kolo Toure or Martin Skrtel.
Agger's absent from the first team has encouraged Napoli to sound out the possibility of taking the centre half on a loan when the transfer window opens next month, although Rodgers has been quick to play down speculation of any departures from Anfield.
And despite admitting his continued absence from the starting line-up is far from ideal, Agger is confident he will find himself involved with first team duties once more sooner rather than later.
"That's how football is sometimes," Agger told TV3 when quizzed on his lack of first team action recently.
"It is the small details and the little coincidences that determine things and it is obviously not optimal. But I'll get my chance. I feel that I'm good enough, that's the main thing."
Agger has featured just nine times for Liverpool all season having originally fallen out of favour after suffering a freak gym injury in September. Despite Rodgers' seemingly preferring his other three central defensive options, he maintains he is not planning on allowing anyone to leave.
[In terms of] players going out, we don't have to move anyone out," Rodgers told the club's official website. "If players aren't in the team, then they need to fight to get back in the team. That's the beauty of the squad.
"You saw the spirit in our team as well at the weekend. If you looked at our bench when we were scoring the goals and when we were winning, it was a happy bench.
"I've always said to the players that aren't playing that it's their responsibility to support the players that are playing. If you're out of the team, of course it's difficult and I always acknowledge and recognise that by supporting them."