Maker of smart pens Livescribe has released one which transfers written text directly to your iPhone or iPad.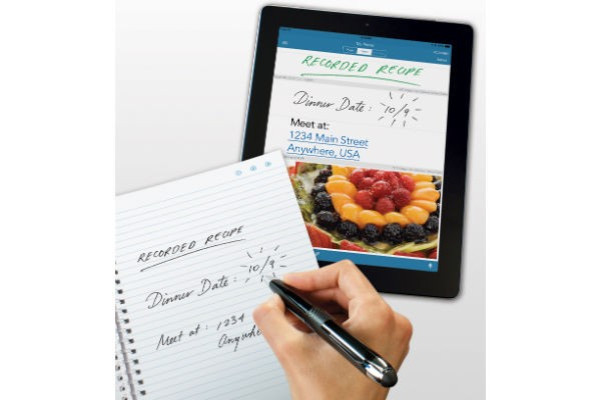 The Smartpen 3, which will go on sale on 6 November costing £129.99, will allow you to see your notes and drawings appear on your iPhone, iPad or iPod touch immediately using a new Livescribe+ app which is launching today.
Like all Livescribe pens the Smartpen 3 will require users to use special notebooks which works in conjunction with the infrared camera which sits next to the pen's nib and which monitors exactly what is being written.
This is the third generation of smart pen from Livescribe with previous versions requiring a USB cable or Wi-Fi connection to sync the notes to a desktop app.
Another key feature of previous versions of the Livescribe series has been the ability to record audio while taking notes and the Smartpen 3 is no different. However unlike the last two generations, the pen itself is not doing the recording this time around.
Audio recording
Instead, audio is recorded by your iPad or iPhone and later synced with notes you have taken. You can then listen back to audio from a particular point simply by pressing on the note you took at that time.
The Smartpen 3 connects to your Apple devices using low energy Bluetooth Smart wireless technology which helps produce the pen's claimed 14 hour battery life.
"People shouldn't have to choose between their pen and their digital devices. The Livescribe 3 smartpen sends everything they write on paper to their tablet or smartphone, where our mobile application makes this information useful in truly innovative ways" said Gilles Bouchard, CEO of Livescribe. "It's simply the most elegant and versatile pen we've ever made."
Android
Livescribe said it was working on an Android app to work with the pen, but because there are so few Android smartphones or tablets which are compatible with the low energy Bluetooth Smart Ready standard, the company went with iOS devices first.
However not all iOS devices are supported, with the list of devices including the iPhone 4S or later, third-generation or later iPad, iPad Mini, and the fifth-generation iPod touch or newer. You will also need to have your iOs device running iOS 7 to download the free Livescribe+ app from the App Store.
The app uses optical character recognition to allow you to convert your notes into digital text, and will identify email addresses and phone numbers giving you the option to add them directly to your contacts. Additionally it will recognise dates and times and add them to your calendar.