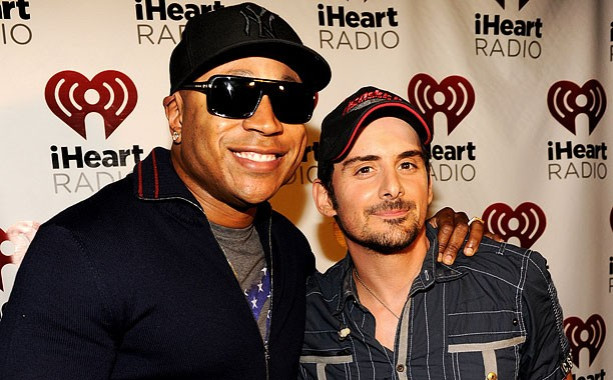 US country star Brad Paisley and rapper LL Cool J have provoked controversy after releasing a new collaboration titled "Accidental Racist."
The track, which appears on Paisley's ninth studio album Wheelhouse, addresses the unspoken discrimination that the singer struggles to deal with as a white man living in the South.
In the six-minute ballad he talks about people "walking on eggshells" whenever the subject of slavery and racism arises.
Paisley sings lyrics such as: "I'm just a white man comin' to you from the southland. Tryin' to understand what it's like not to be.
"I'm proud of where I'm from but not everything we've done, And it ain't like you and me can re-write history
"Our generation didn't start this nation, We're still pickin' up the pieces, walkin' on eggshells, fightin' over yesterday.
"And caught between southern pride and southern blame."
LL Cool J,45, responds in his rap verse saying: "Just because my pants are saggin' doesn't mean I'm up to no good.
"You should try to get to know me, I really wish you would.
"Now my chains are gold but I'm still misunderstood."
Online reaction to the inflammatory song was harsh, with many critics branding the song simplistic, misguided, and worse.
"Important subject for sure, but like a lot of country music, it reduces it to a Hallmark card...bummer," one commentator said.
Despite the ruckus Paisley has defended the song, insisting it was meant to shock people .
"I don't know if any of you noticed, but there is some racial tension here and there," Paisley, 40, says in an interview which airs tonight (9 April) on The Ellen DeGeneres Show.
"I felt like when we were writing this song it wasn't necessarily up to the media ... or talk radio or anything like that to deal with that anymore. I think it's music's turn to have the conversation."
Listen to Accidental Racist Here: