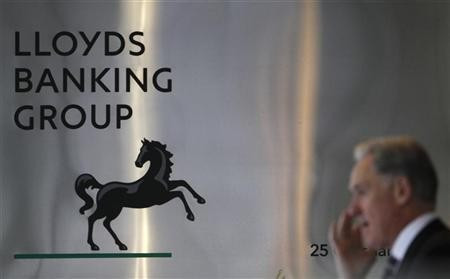 Lloyds Banking Group reported a rise in first quarter profits after cutting costs through restructuring.
According to its first quarter interim financial statement published on its website, Lloyds said first quarter costs fell by 6% compared with the previous year and expects to cut costs further, by £9.15bn (€10.8bn, $14.2bn) by 2014.
Further cost costing would mean a reduction of £2bn from 2010.
Lloyds, which is 39% owned by the taxpayer, reported a surge in underlying profit, rising to £1.48bn in the first quarter, from £497m in the same period last year.
"Underlying and statutory profits improved significantly, and our core loan book returned to growth earlier than expected," said António Horta-Osório CEO at Lloyds in a statement.
"Margin increased, and costs and impairments continued to fall rapidly, with this progress underpinned by a further strengthening of our balance sheet."
On Monday, Lloyds agreed to sell its Spanish retail banking business to Banco Sabadell in a cash and stock deal, as the British bank looks to offload its troubled assets in the crisis-hit nation.
The Spanish retail and private banking operations and the investment management business to be sold include Lloyds Bank International S.A.U and Lloyds Investment España SGIIC.
As consideration, Lloyds will receive a 1.8% stake in Banco Sabadell, representing 53.7 million ordinary shares worth about £72m out of the Spanish bank's treasury holding.
In addition, Lloyds would get up to £17m in cash within the next five years depending on the performance of the sold assets.
The bank was also keen to promote its role in "supporting customers and the UK economic recovery."
"We are delivering real benefits for customers, colleagues and shareholders by investing behind our simple, UK customer-focused retail and commercial banking model, and are now further ahead in our plan to transform the Group, as reflected in the enhanced guidance for costs and capital we are giving today," said Horta-Osório.
Lloyds increased small to medium enterprise net lending by 4% in the last twelve months despite a market contraction of 4%.
It also added that it will "continue to address existing legacy issues" and that payment protection insurance complaints were falling in line with expectations.
Last month, the Financial Ombudsman Service revealed that Lloyds is still at the top of the list for Britain's most complained about bank as complaints surged by a few hundred percent in the last six months of 2012. Lloyds TSB bank received more than 45,000 complaints, which is a 274% rise from the first six months of the year.
Related Articles:
Lloyds to Sell Spanish Retail Banking Business to Banco Sabadell