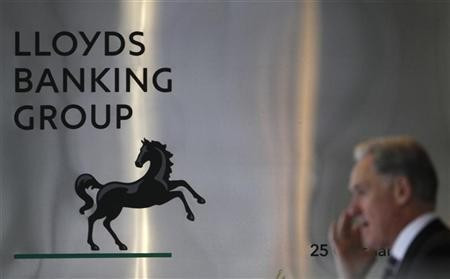 Lloyds Banking Group has added an extra half a billion pounds into its payment protection insurance mis-selling fund after being hit by rising costs in compensation and administration and to deal with a regulatory probe.
According to the group's half year results statement, Lloyds, which is 39% owned by the taxpayer, has added £450m (€571m, $758m) to deal with the financial industry's most expensive scandal of recent years.
Around £250m will go towards redress costs, while the remaining £200m will account for administration charges.
"Costs in the second quarter continued to be higher than expected due to the acceleration of the settlement of cases currently held with the Financial Ombudsman Service, VAT ruling, and slightly higher uphold and settlement rates," said Lloyds chief executive Antonio Horta-Osorio in the bank statement.
"We have also been informed that we have been referred to the Enforcement Team of the Financial Conduct Authority (FCA) for investigation over our governance of a third party supplier and failings in the PPI complaint handling process.
"We have made a provision of £50 million with regards to the likely administration costs of this exercise."
Lloyds new total for dealing with PPI is at £7.275bn, and £1.510bn of this accounts for administration costs.
However, it warned that total PPI costs could rise in the future, after the FCA finishes its investigation.
"The total amount provided for PPI represents our best estimate of likely costs, and a number of risks and uncertainties remain, in particular pro-active and reactive complaint volumes, uphold rates, average redress costs, and the outcome of the Enforcement Team investigation," said Horta-Osorio.
"The cost of these factors could differ materially from our estimates, which could result in a further provision being required."
'Most Complained About Bank'
Lloyds has already set aside the largest amount of money for PPI than any other lender.
Lloyds revealed earlier this year that it has employed 6,000 people to process these cases.
PPI was originally designed to provide loan repayment cover, should the customer fall ill, lose their job or have an accident. However, millions of customers complained after saying that they never wanted or needed the policy in the first place.
Overall, the Financial Services Authority revealed in March this year that UK banks have already shelled out £9bn (€10.3bn, $13.4bn) over the past two years to compensate customers mis-sold PPI.
However, this number has risen significantly, judging by the raft of updated bank data released this week.
The Financial Ombudsman Service told IBTimes UK that it still receives 2,000 PPI complaints a day.
While Lloyds says the volume of PPI complaints "continues to fall in line with expectations," with average monthly complaint volumes down 12% on the first quarter, Lloyds is still at the top of the list for Britain's most complained about bank as complaints surged by a few hundred percent in the last six months of 2012.
The FCA investigation will likely centre around revelations that staff at one of Lloyds' centres, which handles payment protection insurance complaints, are told to 'play the system' and ignore possible fraud by the bank's salesmen